Getting the best Acer Chromebook for you is a complicated task. Several factors will come into play like your computer needs and the cash you are willing to spend on it. Not to worry though, because we can help you make a good decision with our list of 5 Best Acer Chromebooks To Buy:
1. Acer Chromebook Spin 13: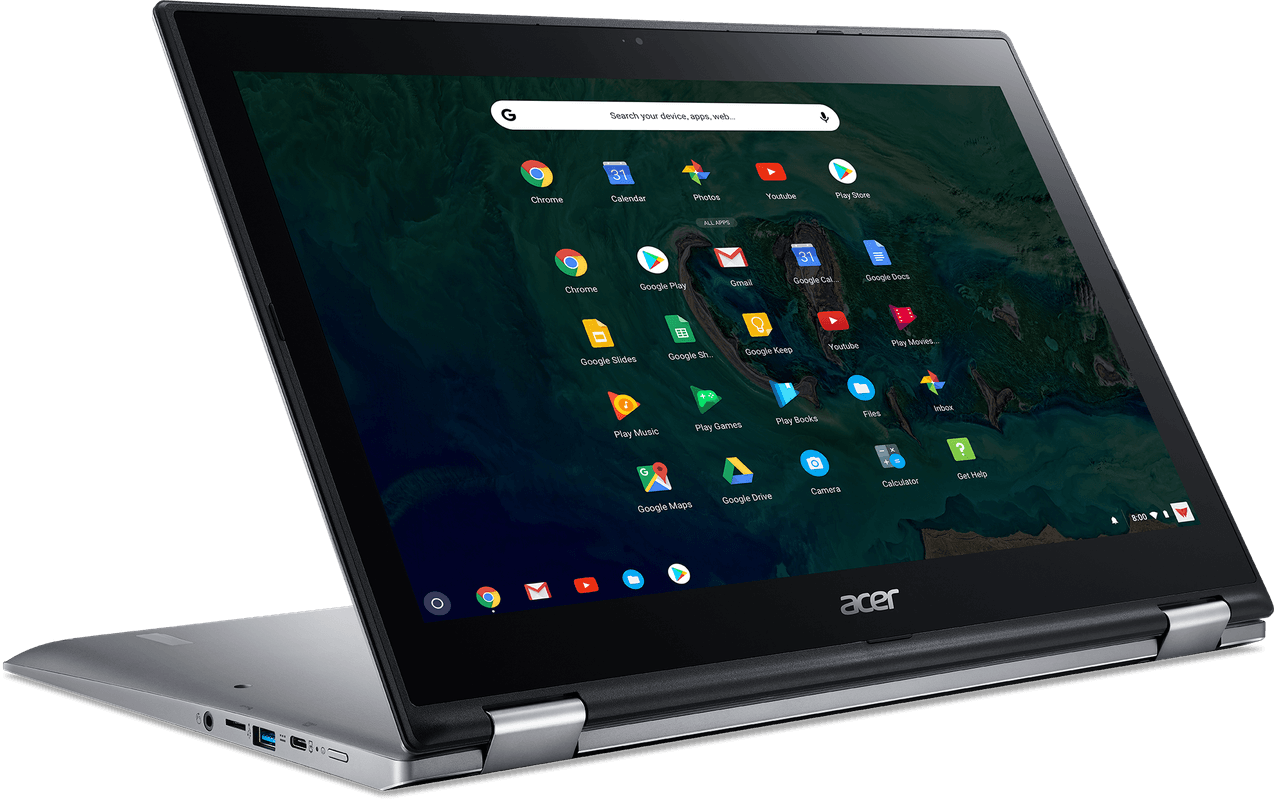 This Chromebook comes with an aluminum design that makes it sturdier and more stylish than other plastic options. It is also blessed with specifications that should normally come with top-end Windows/macOS laptops.
Must Read: 5 Best Chromebook Touchscreen To Buy
It is home to an Intel Core i7 processor, 16GB of RAM, 128GB of storage, and a brilliant 13.5-inch 2256 x 1504 screen. Its keyboard is also sharp and it has a touchscreen.
2. Acer Chromebook 13:
This is another stunning high-end laptop for whoever needs a top performance and design without breaking the bank.
Must Read: How To Customize Your Chromebook's Desktop
It features an Intel Core i5 processor, 8GB of RAM, and 64GB of storage and it also comes with an aluminum body plus a 13.5-inch 2256 x 1504 screen. It could be quite costly, but it is surely one of the best Acer Chromebook devices.
3. Acer Chromebook Spin 11:
Anyone searching for a good Acer Chromebook with a 360-degree swiveling display will adore this option. It is also a bigger device if you want something cheaper and portable. As the name hints, it comes with an 11.6-inch screen and it is very portable.
Must Read: How Do I Remap My Chromebook's Keyboard?
Its specifications are not that great but you can expect an Intel Celeron processor, 4GB of RAM, and 32GB of internal storage. It is also blessed with a touchscreen and a stylus for screen input.
4. Acer Chromebook 14:
If you need a budget Chromebook, this has to be one of the best options around. It might cost less than $300, but it still provides an aluminum body plus a 14-inch FHD display. Other specifications include an Intel Celeron processor, 4GB of RAM, and 32GB of storage.
5. Acer Chromebook 514:
This Chromebook gives you the basics, decreasing the price accordingly, even if it is surely no slouch. Its components should be more than enough to ensure Chrome OS runs seamlessly for a long time.
Must Read: 5 Best HP Chromebooks To Buy
Its design also blends style and functionality in ways you will appreciate. It is home to complete support for Android applications from the Google Play Store.
More Information On Chromebook:
A Chromebook is a laptop or tablet running the Linux-based Chrome OS as its operating system. The devices are primarily used to perform a variety of tasks using the Google Chrome browser, with most applications and data residing in the cloud rather than on the machine itself.
All Chromebooks released since late 2017 can also run Android apps. Some Chromebooks can run Linux apps.
The first Chromebooks for sale, by Acer Inc. and Samsung, began shipping on June 15, 2011. In addition to laptop models, a desktop version, called a Chromebox, was introduced in May 2012, and an "all-in-one" device, called a Chromebase, was introduced in January 2014, by LG Electronics.
By March 2018, Chromebooks made up 60% of computers purchased by schools in the United States.
In April 2017, the Electronic Frontier Foundation accused Google of using Chromebooks to collect and data mine "school children's personal information, including their Internet searches", without their parents' consent, two years after EFF had filed a federal complaint against the company.
Classed as small form-factor PCs, Chromeboxes typically feature a power switch and a set of ports: local area network, USB, DVI-D, DisplayPort, and audio.
As with Chromebooks, Chromeboxes employ solid-state memory and support Web applications, but require an external monitor, keyboard, and pointing device.
There you have it – a comprehensive list of 5 of the best Acer chromebooks to buy. If you have any personal favorite or other recommendations, feel free to drop them in the comment section below.