In the past, being anonymous was the norm on the net. We lived in an era when people chatted secretively via aliases on Yahoo Chat rooms or ICQ Messenger. Simply put, these social platforms really enhanced the power of being anonymous. However, in recent years, that changed a bit, but luckily for us, the trend is coming back again. To help those that fancy it to go with the flow, let's see out list of 5 Apps That Allow You To Express Yourself Anonymously:
1. Secret
This is an app that lets people share messages anonymously with a friend, the friend's buddy and even with the general public. It is different from other anonymous sharing applications because it allows you to share secret posts, join conversations, share your opinion, chat in private and make new friends.
2. Smartican
This one connects users with identical or conflicting interests and brings everyone together with topics. It is home to more than 2,000,000 people and it is quite addictive. It also has a video sharing feature named Smartiwood, which makes video sharing very comfortable for you. The most amazing part is that it is a dual identity network since you have the choice to be anonymous or not.
Must Read: 5 Ways (How) to Become Completely Anonymous Online
While you air your opinion here, your audience will be visible and they will be listening to your every word, some even respond.
3. Nimbuzz "Masque"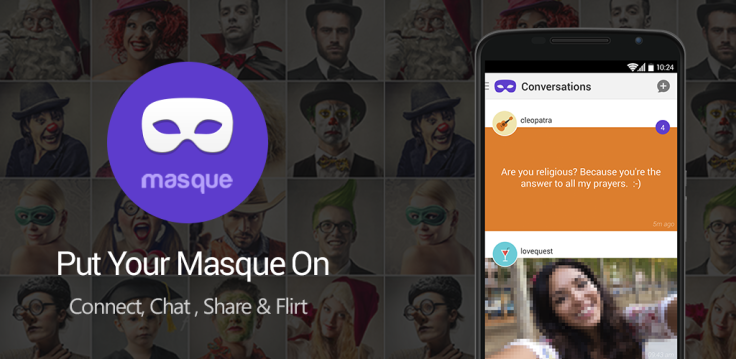 This app works like a mask. It is a free anonymous & special app that assists you to find fun people to chat with. You will be doing this without an identity (except when you fall for a mask) and you can chat, flirt, and talk about anything you want.
Must Read: 10 Best Anonymous SMS Apps for Android
It is also possible to connect with various strangers & chat with all of them simultaneously. Users are even allowed to share selfies and audio notes without the fear of revealing themselves.
4. Whisper
This app lets you engage in discussions, reach out to like-minded individuals and explore the amazing world you live in. It is a well known anonymous sharing application and it was launched in 2017.
Must Read: 10 Best Chat Room Apps For Android
Students love this one since they can use to share their confessions to see reactions without revealing who is sharing them. The app can be used on your iPhone or Android device.
5. Confess
As the name hints, it is an app for those that want to share secrets without revealing who they are. In this app, you will have access to all kinds of confessions from users all over the world.
If you want to follow up on a confession, you can reach out to the anonymous person that posted it or you can just comment on the post. The app can be installed on the Play Store.
There you have it – a comprehensive list of Apps That Allow You To Express Yourself Anonymously. If you have other recommendations, feel free to drop them in the comment section below.