Without coding, our computers can do absolutely nothing. They would be of no use to no one. This is possible because the source code is the set of instructions that directs your computer on what to do. It is a vital knowledge to have whether you are old or young. So if you are still finding it tedious to get what coding is all about from the tuition centers and you feel you need more quality support in learning the process, then I have a solution for you. Here is a list of 10 Best Coding Apps For iOS 2019:
1. Udacity
This coding app presents nano degrees with different topics, so you don't necessarily stick to just coding if you don't intend to. They stand out because they develop their courses in partnership with a huge corporation like Google. While some go for free, you'll have to cough up some money for others. Premium courses grant you feedback from top professionals who have been in it for a long period. You also get to share ideas with students like yourself as you learn. If enough time is devoted to Udacity, remarkable progress in coding is pretty much guaranteed. Those that seek top jobs in computer programming can take advantage also.
2. Tynker
This is not a course like Udacity. It is a game. The game's purpose is to aid kids to learn how coding works. The interface is mostly an easy drag-and-drop concept, and if the user fails to complete a level, steps to follow on how to improve will appear, and they'll be given a new chance to replay the round. The interface on this app makes coding so much easier to learn. It goes as far as enabling kids to build complete apps while still giving them the basics of coding. This app is not for the very young. The kids in question must be able to read and own their mobile device.
3. Khan Academy
Pretty classic app. It is a popular way to grasp knowledge on coding, and it is free. The only issue people might have with this app is the fact that courses are user-created, so they might not be at the same level of quality as other alternatives. Khan Academy has courses for almost all the popular coding languages. Languages like "Intro to HTML/CSS: Making web pages" and "Intro to JS: Drawing and Animation." Learning how to build web pages can also be done with this app.
4. SoloLearn Learn Series
This is not just one app; it is a series of apps. And each one has a precise coding language. SoloLearn Learn Series is not to be looked down on as it is one of the highly rated in the Google Play and App Store. The app is interactive, educating and provides an easy way to learn all you need to know about coding.
They follow a particular kind of lesson plan, with quizzes from time to time. You also receive your score after completion of each section, which is merely to make you strive for a better score each time you try. You even get to view an online leaderboard where you can see the dozens of others and improve yourself.
5. Mimo
This app taught you how to write code and was even named one of the best self-improvement apps by Google Play. This app is available for iPhones, and it offers colorful lessons to make learning code less tasking. It is focused on breaking lessons down into two-minute segments. The ability to read and a basic computer vocabulary is needed to use it successfully.
6. L2Code CSS
With this app, you get to have control over the look and formatting of web pages straight from your iPhone and iPad. Excellent knowledge of CSS is what you will be working with here and once you get a good grasp of it, the easier it gets to practice it. You also receive step-by-step instructions and practice tutorials to help you get familiar with layout, colors, fonts e.t.c.
7. Circuit Coder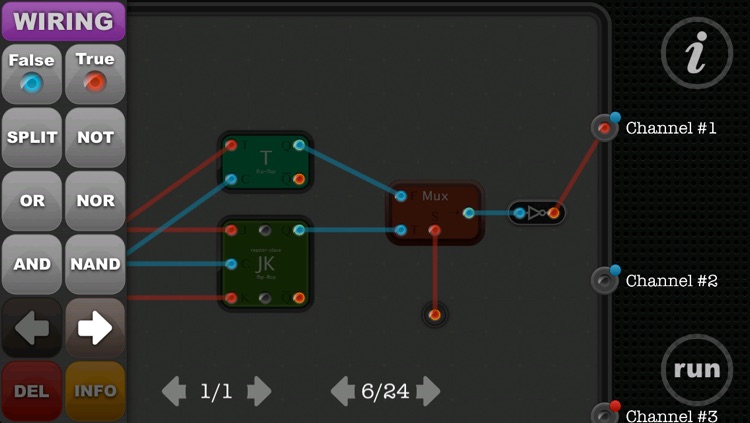 This is a game for building digital circuits. You'll be provided with particular input, and your job is to convert that to a specific output by working with various components like flip gates and the rest. The game consists of more than 50 problems, ranging from complicated to simple. Free circuit simulation is also available.
8. Lightbot
This is a programming puzzle game that focuses on using game features with ideal foundations in anything programming concepts. ICT lessons on design, write and debug programs that accomplish specific goals also come in handy for whom it might interest. The teacher is not left out when it comes to apps like this; they can use this app to give a detailed explanation of algorithms and the ways they can be used as programs on devices.
9. Hopscotch
This is for kids as well. Simple and exciting ways of coding are embedded in this app. They get to create games, animations, and other programs while also having massive fun with the colorful and interactive setting Hopscotch provides. Kids get to program their characters to do whatever they want while still retaining total control over them. This app was inspired by MIT's Scratch, and it affords children the opportunity to gain the basic knowledge of computer coding.
10. Codelyf
You get to Learn the most used computer languages in the simplest possible way for free with several tutorials, QnAs & quizzes, etc. I'm talking about programs like Java, Python Programming and so on. C Programming is a very decent choice, to begin with if you are still a novice in the programming world. It is appropriate for software development these days. Knowledge of C++ can also be gotten.
There you have it. You have just been served with the best coding apps for iOS. You can go on an unleash the programmer in you.