Freezers are part of our daily lives. We rely on them during the week and on weekends. They ensure our meals are served fresh and our drinks, chilled. Most of us look out for specific things when we want to purchase one, and rightly so, as some are very effective but very costly at the same time. For the best freezer out there, at reasonable prices that will not hurt your pocket, here is our list of 10 Best Deep Freezers To Buy In Nigeria:
1. Haier Thermocool Large Chest Freezer BD-719 R6
This is a dependable high top freezer that gives you the high performance you want in freezing any food item to ensure they are kept fresh. It is a proper freezing function that keeps everything in it fresh that even when electricity is not available, it remains cool, preserving your stuff for a long period of time. The freezer provides the right space for several items to be stored because it is built to allow you to store large quantities of perishable and non-perishable goods. You are not obligated to shop almost every day since your food is in the right place for your future use. Features include Low noise operation, 75mm insulation thickness, 100-hours (4 days) freezing capacity after a power outage. It costs ?361,100.
2. LG 253 Liters Fast Freezing Chest Freezer FRZ25K
LG is known for dazzling us with their amazing products. It does not matter if your style is modern or low key, they have freezers to make your feeding easier in your kitchen and your bedrooms. Features of the LG Chest Freezer are Multi Air Flow, LED Lighting, Fast Icing, different sizes of volume. Its Dimension is 906 x 725 x 855, it has a Pocket handle, the freezing capacity is 1kg, and 5 Days passes by while it maintains the temperature. It cost  178,000.
3. Scanfrost Deep Freezer SFL411
It comes with a four-way cooling unit and an amazing cooling compressor for maximum cooling performance.
This freezer is also lockable and has a removable storage basket. Scanfrost have a very good reputation when it comes to what they churn out as well, they deal in cookers, microwave ovens, refrigerators, air conditioners, washing machines too and their customers have always had good words to describe them and experiences. It costs 232,500.
4. Samsung Chest Freezer ZR31FARAEWW 260 LTR
Your food and drinks can be saved from germs with this freezer from Samsung. It offers the best food storage and preservation you will find out there. They should be in every modern kitchen for it to be complete. It comes with a very robust compressor which will operate even at 50 degree Celsius to ensure your meals are in the best condition at all times. Other features are 110 Hours Freeze with no electricity, an Inbuilt Stabilizer, 2 Times Fast Freezing e.t.c. It costs 140,000 Naira.
5. Nexus Chest Freezer NX-265 197 Litres
This freezer is important for all homes as it caters for the right standard of quality, durability, and utility. You are sure of the best performance one should get from a freezer. It is very durable and you will definitely get the service your money paid for. Does it cost? 83,000.
6. Midea Chest Freezer 260C – 200L
This freezer guarantees quality performance and the durability you desire. The Midea brand focuses on the highest standards required and will meet up to your expectations with its remarkable features.
These features include Adjustable thermostat, simple to clean interior freezer design, a Removable storage basket, an Anti-rust body, and a Tropicalised compressor. It costs ?79,000.
7. Samsung Duracool Chest Freezer
It is made with high-quality materials so you can expect to use it for a long time. The door is airtight which is why cool air gets trapped inside the right way. Your food will remain frozen for more than 110 hours after PHCN interrupts power. It also has a Stabilizer Free Compressor, 2 Wire Baskets, 2 Times Fast Freezing, a Cool Pack and so on. Does it cost? 110,400.
8. Haier Thermocool HTF-429H Chest Freezer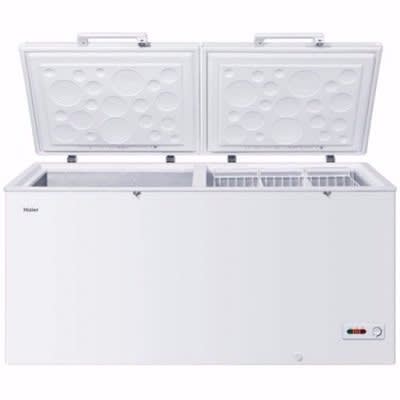 This freezer has 429 liters storage capacity and it lasts 100 hours (4days) after a power outage. It operates quietly with its Low noise operation and it comes with a 75mm insulation thickness, plus it is Anti Rust Protected. Your freezing is superb and the money paid for it will never be a waste. Does it cost? 247,205.
9. LG 253 Liters Freezer
It possesses a Linear Compressor and a freezing fan for additional cooling. Your food items stay frozen for above 100 hours after a power outage.
Other features include 253 Liters gross, silver color and it comes with a Lock and Key for your food security, just the way you want it. it costs 178,000 Naira.
10. Bruhm 100-Litre Glory Series Chest Freezer
This freezer possesses an interior light, a power on indicator light and a foam filled electric door for quality temperature preservation. It operates quietly as well. It is simple to clean and very reliable. Features include an Anti-rust Exterior, an External Condenser and a 12 Months Warranty. It costs 54,370 Naira.
There you have it – a comprehensive list of best deep freezers to buy in Nigeria. If you have other recommendations, feel free to drop them in the comment section below.
Get the most important happenings in your inbox weekly