Spending money on an electric scooter comes with several advantages. So if you want one and have the money to part with, congratulations, we all do. Without wasting your time, to make the right choice as you prepare to own one, check out our list of Best Electric Scooters For Adults.
1. Xiaomi Mi Electric Scooter
This one is all about simplicity. It is an award-winning scooter due to its reduced but effective design. This uncomplicated design makes it simple for anyone and everyone to learn to ride it. It is quite safe as well. It possesses two brakes and has a disc braking and eABS regenerative anti-lock braking system that will aid you to arrive seamlessly at your destination.
Another advantage is how smooth it is to lift and store the scooter, since it weighs only 26.9 pounds. It has a 250W motor that lets it climb up to 15.5 mph. After a full charge, this scooter will cover about 18.6 miles before you get to charge it again. A complete charge will take five hours.
2. Gilon Dolly Adult Electric Scooter
This scooter does not need too much upkeep. There are no chains or gears and it possesses rubber tires with no air so you do not have to bother your head about not filling them. It can be folded easily which makes storage as uncomplicated as possible. It comes with a charger and a pedestrian bell. This scooter charges completely in just 3.5 hours. It goes 15 miles with a full charge.
3. Gotrax GXL Commuting Electric Scooter – Ver 2
This scooter is brilliant for battling big city crowds. It is the option to go for if you aim to get past cars and pedestrian traffic? It has unique features that can be found with it alone. For instance, this version has a cruise control feature that maintains your speed always. There is also a hand brake that aids seamless halting and moving.
It can climb about 15.5 mph and hold up about 220 pounds. After a complete charge, it can go about 12.5 miles, plus it takes 4 hours to charge fully.
4. Razor Eco Metro Electric Scooter
This scooter is different. If you want something comfortable and simple then you are looking at your best option here. It has a seat so you do not ride it while standing. There are adjustable handlebars as well. As you move, if you plan to rest your feet as you sit, there is a sleek bamboo deck to make that happen. A basket is attached for you to keep all your stuff. A full charge will give 40 minutes of quality service.
5. Evo Powerboards Uberscoot 1600w 48v Electric Scooter
If you need a scooter that can take a lot of weight and stand firm in the face of steep hills and unbalanced terrain, this is your option. It can carry about 260 pounds. That's definitely more than what other scooters will do.
It possesses a 1600 watt brushless motor, and you will agree with me that guarantees its remarkable power. Your scooter can go 12 miles after charging fully. Charging is complete after 6 – 8 hours
6. Razor E200 Electric Scooter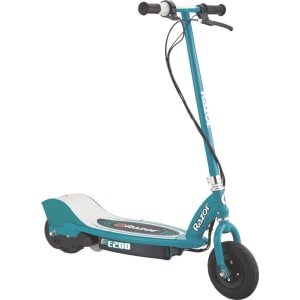 This is the most appropriate scooter for families that intend to have fun on one. It is also a decent mode of transportation. Even a teenager can handle this scooter. It possesses a bright blue color which is very cute to look at and it is very quiet. 12 hours is what it can take for a complete charge but we recommend a full day just to be sure.
7. Razor RX200 Electric Off-Road Scooter
If you do not stay in a location with roads that are paved but you still fancy owning a scooter that you can move around with, look no further. It is designed for riding on trails, through dirt and so on. The weight restriction is 154 pounds and it does 14 mph speeds. Whenever it is completely charged, you get 40 minutes of amazing riding experience.
8. Razor E300S Seated Electric Scooter
This scooter has all the brilliant features you will expect from a Razor product. It helps you to enjoy your ride without needing to stand always. It comes with a seat and can hold up to 220 pounds.
It has high torque, chain-driven motor, the wide 10-inch pneumatic tires, and a rear brake, and all of this caters for some seamless stopping and moving. As for acceleration, it can get up to 15mph and when it is completely charged, expect 40 minutes of a dope riding experience. Charging fully will take about 12 hours.
9. Razor E100 Electric Scooter
Still, on the topic of Best Electric Scooters For Adults, the Razor E100 is an electric scooter, with a weight limit of just 120 pounds. But that should not turn you off as an adult because it could pass as the perfect gift from you to the younger ones you care about. Sounds like a plan right? It possesses a high torque, chain-driven motor which makes your rides fee very rapid.
There is also a twist-grip throttle plus a spring-loaded kickstand to prevent the scooter from falling over. It will take half a day to charge this scooter fully, but like before, go one full day to be on the safe side. Fully charged? You get 40 minutes to have some fun till you have to charge again.
10. GugaByke Groove 750 Watt Motorized E-Bike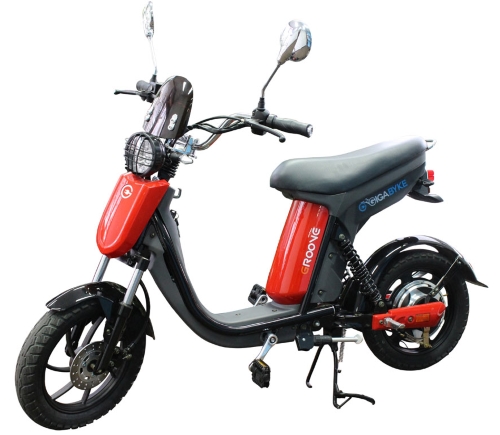 If you fancy something more extravagant then this is a reasonable choice. It is kinda like an electric bike. You have nothing to worry about if you intend to ride on the streets because it is perfectly legal. A license is not needed as well to use it on the road. It can get to 20mph speed and will do 35 Mike's as long as it is completely charged. You get to charge fully for just six hours.
There you have it – a comprehensive list of Best Electric Scooters For Adults.. If you have other recommendations, do let us know in the comment section below.