As you search for electric smokers, you might be budgeting $500 or even $1,000 for a great model that can do what you want. But I bring you good news. There are more affordable ones out there that can serve you even beyond your expectations. To highlight the best options you can go for, here are  Best Electric Smokers Under $300.
1. Masterbuilt Smart Digital Electric Smoker
This is the only model you will see in this price range that uses Bluetooth technology. That tech lets you access every feature of the unit through an application that is used on your mobile device or tab. It also comes with a full-length window that lets you check your meal, add extra smoke or decrease the temperature according to the way your food appears. The door is involved here has a proper latch that traps the smoke flavor within. It possesses 800 watt heating elements for persistent smoking of about 275 degree.
2. Bradley Smoker Original
This electric smoker has an enticing design that is beautiful to look at. It possesses a sold black cabinet with the company's name and logo on the front. It can be used effectively with wood pellets instead of wood chips. This is a unique model that can be used as a roaster and a smoker. As soon as you select a lower temperature, you will be able to spin roast all your preferred meals.
3. Char-Broil Deluxe
When you spend that extra money, you get to enjoy the added feature such as the large window option, this model is a clear example. The door has a very robust latch which ensures that smoke do not escape by keeping the door closed. The door also possesses a wide window that lets you see a complete view of all the meals placed inside, so you know when you have to get rid of those items. The insulation traps the smoke adequately and also assists in maintaining an even temperature.
4. Dyna-Glo 30"
Dyna Glo are responsible for some of the best and less costly electric smokers around. This particular version is 30-inches-tall. As you open the door, an over 700-square-inches of cooking space.
The company behind it blessed you with various shelves that effortlessly slide in and out of this smoker.
Two amazing features that you will fancy on this model are its a digital thermostat and it's an integrated thermometer. The digital thermostat is great at letting you see what that temp reduces. As for the integrated thermometer, you are able to confirm the temperature of any good inside without touching the door or allowing heat to escape.
5. Smoke Hollow 36-Inch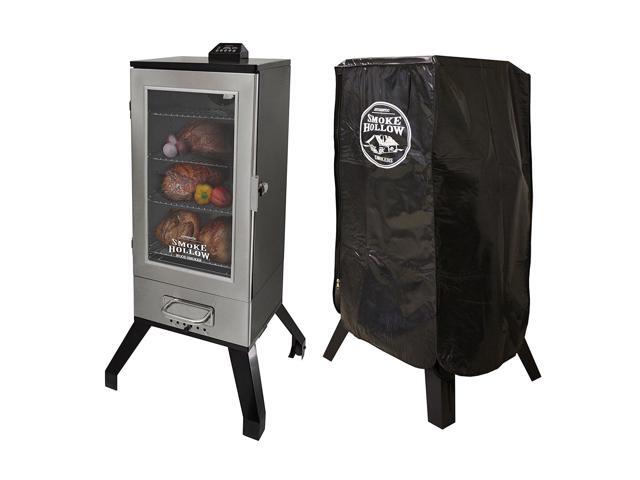 It has a complete-length window in front of its door. The door uses a latch that keeps the door tightly shut. Your watching window can be used to view your food as it cooks, so you are aware of when exactly to make adjustments to the smoke and temperature levels. It has a digital electric control that will let you decide on the cooking time and select a temperature. With the timer feature, your cooker instantly shut itself down immediately the time elapses.
6. Old Smokey
It has a stand-out design. It is a flat top smoker that enhances the flavor of your meals. Old Smokey possesses a 1250-watt heating element, it is controlled by a heat thermostat, it is 29 inches in height and has a drip pan. Do not expect that natural juices of your meals to go missing with this one. It is also very simple to clean and effortless to assemble.
7. Char-Broil Vertical
This smoker possesses 505 sq. inches of cooking space and a couple of chrome plated handle. It comes with a lid-mounted temperature gauge with bezel triple chrome-plated racks.
One thing you will like about this cooker is that it is well insulated and you do not have to bother about anything getting burned. Also, it's heating is persistent. The controls it comes with are also very uncomplicated to work with.
8. SmokeHouse Little Chef
This smoker possesses a 250-watt heating element, and it also has a front wood chip loading. A chrome plated grills are present as well as a dishwasher safer drip pan. Looking at it, you can already see how durable it is. There is enough cooking space with this one. It is a smoker with a 1.75-pound bag of wood chips and it needs no assembly.
9. Little Chief Front Load Grill
This smoker is already assembled for you. It is great for minimal use at home and is very effective for starters. The temperature maintains itself the way it should so there is no cause for worry there. If Little Chief is too small for you, go for Big Chief which possesses additional easy-slide grills, but with sane features. It is priced under $99.
10. SmokinTex 1100 Pro Series Electric Smoker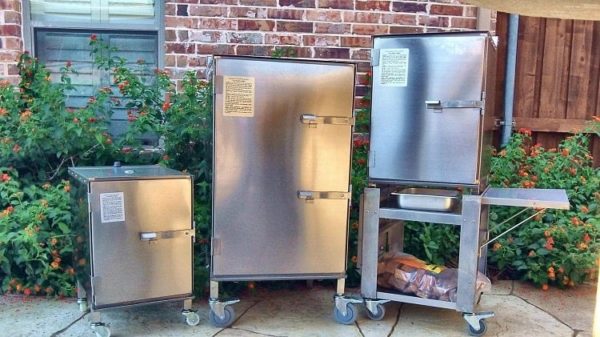 Though a little old school now, it is a lightweight smoker with an attractive look. It is made with stainless steel, and it doesn't rust or decay.
This smoker weighs about 50lbs and it is very simple to move around. It also comes with optional wheels to boost mobility even more. Despite its apparent low weight, it possesses a cooking capacity of about 23lbs.
There you have it – a comprehensive list of best electric smokers under $300. If you have other recommendations, feel free to drop them in the comment section below.