Health is wealth. If you intend to monitor your heart rate and enhance your health in 2019 you should read this and get it across to loved ones as well to ensure everyone stays fit and healthy for as long as possible in the new year. What makes this so amazing is it can be done directly from your mobile. Here is our list 10 Best Heart Rate Monitor Apps For iOS 2019:
1. Runtastic Heart Rate Monitor & Pulse Checker
This app provides information about how fast or slow your pulse rate is at all times. You do not need to give any extra heart rate monitor straps to enjoy the features that come with the app. All you have to do is place and hold your (index) finger subtly against the back camera lens and flashlight and your pulse heart rate will be shown to you as soon as possible. Kindly ensure you do not press too hard as this can alter the results you seek. Runtastic also has Graphs that will illustrate your pulse rate measurement in a way that lets you understand everything. You also get to upload your results on the app.
2. Sleeptracker 24/7
This app makes your bed a smart one. This is the first cloud-based, non-invasive IoT sleep optimization solution powered by AI and used in an intelligent home. It offers sleep graphs every single day. It also helps in tracking the sleeper's respiration rate, heart rate, and movements all through the night. It also has a sleep coach that gives you tips and steps to take to improve your sleep. This app even checks the number of times you woke up in the middle of the night. You also get a sleep score.
3. HRV4Training
This app helps you achieve your goals and aids the prevention of excessive training by measuring your Heart Rate Variability and offering apt feedback on your physical status. This app does not need a heart rate monitor, since it can correctly assess your HRV via the phone's camera. The app also detects immediately if your mobile device is supported or not so you need not worry about wasting your money. HRV4Training aids you to ensure your trainings are alongside ideal recovery plans. It is also great for tagging of your siesta, mental energy, muscle fatigue and stress.
4. Instant Heart Rate
This is one of the most accurate heart rate monitor. To prove this, huge research institutions like UCSF for cardiology research training and UCSF Health eHeart Study use this app for their accuracy. It does an excellent job as regards measuring your pulse and heartbeat after bed rest, as you exercise or during training.
It does not need heart rate straps to function. Blood circulation can be monitored also using this app. It operates like pulse oximeters, as it notices a change in your finger to give you accurate heartbeat measurements. Some of its additional features include PPG graph (similar to ECG / EKG / Cardiograph) – see every heartbeat and BPM, Google Fit support (heart rate and heartbeat data) and Share heartbeat.
5. Elite HRV
This app monitors your recovery stress levels. It is also useful for enhancing your endurance and your nervous system via guided breathing and live HRV biofeedback. Within just 120 seconds daily, you have a more in-depth knowledge of the state your body's recovery and ability to handle more stress is at. Your mood, body weight, and exercise can also be measured.
6. Qardio
This app helps to monitor your blood pressure and all weight related data. It allows you to select the most revealing health journal that discusses all things involving your blood pressure or weight data in a manual manner.
You get to transfer your data from other applications like Google Fit, Samsung Health e.t.c or sync them via Qardio's award-winning devices. You can view charts, set reminders and even share your data. This app is excellent for natural health tracking purposes and it does not cost you a dime. The app functions with iOS and Android 4.4 "KitKat" devices.
7. Cardiograph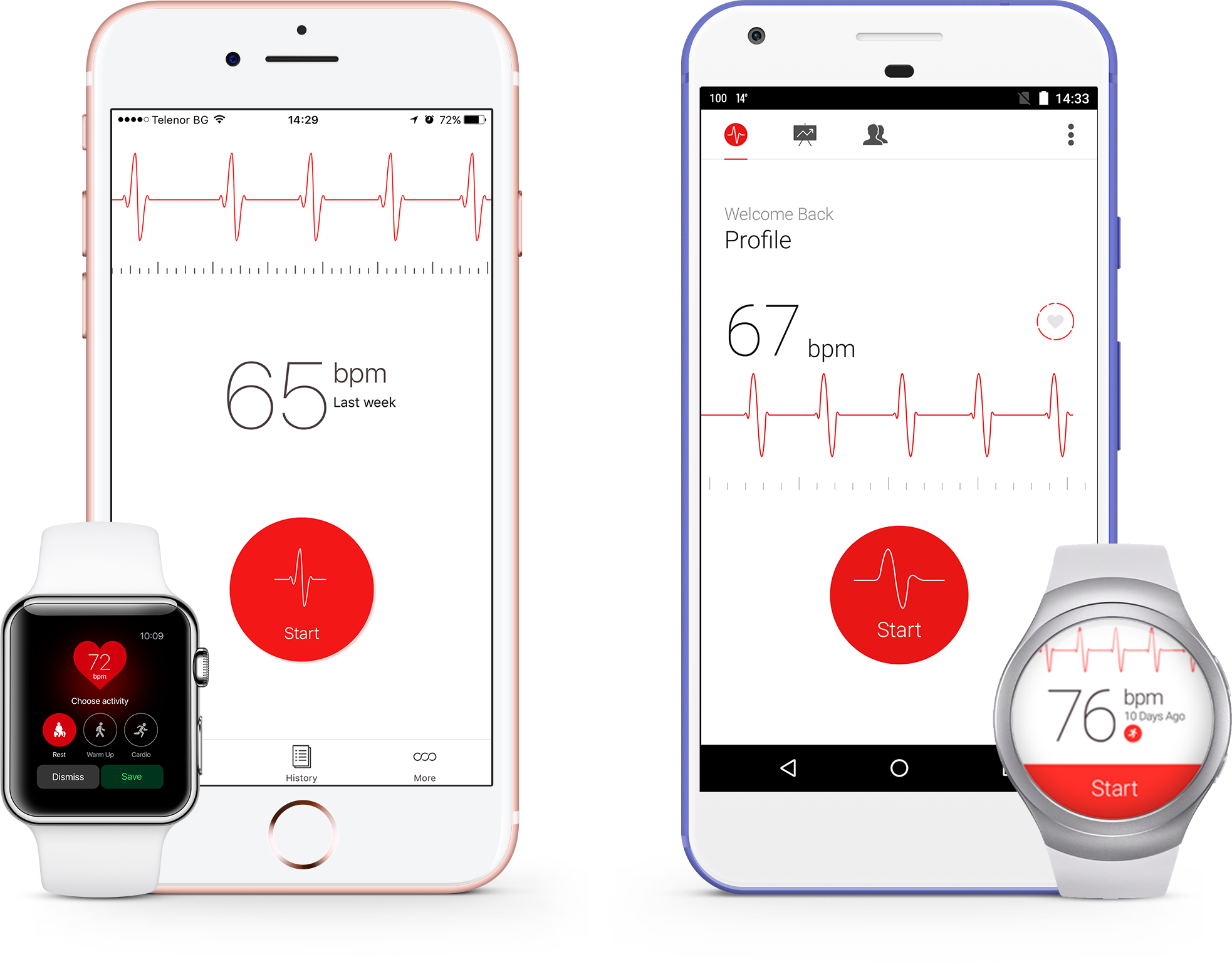 It measures your heart rate and allows you to save your results for the future. It uses your phone's built-in camera or dedicated sensor to bring out your heart's rhythm – the same way professional doctors do it. It is very effective while you exercise. You are fully aware when you're under stress, if you have any heart-related medical condition. You can even set up profiles for each of your family members or friends so they know their health statuses as well.
8. Polar Beat
This is one of the best free sports and fitness tracker app you'll find out there. Running, cycling, exercising, walking, dancing, any of your favorite activity can be done while you reach your goals and enhance your health. You can make a personal training plan, have a set target and do all you can to ensure they are met. You receive voice guidance as you train, get to see personal records you've set, monitor your live heart rate and calorie burn e.t.c. You also have the sharing option for Facebook and Twitter.
9. FITIV Pulse: Heart Rate Monitor + Workout Tracker
This app was developed to motivate you, engage you and update you on your fitness. It uses clear heart rate graphing and displays in-workout videos to inform you about what you need to work on as per the results you desire.
You get to monitor your workout via your favorite Bluetooth heart rate monitor from popular brands like Polar and Wahoo to track your progress from time to time. Users are allowed to customize their heart rate zones, track their calories and control the music in-app.
10. MotionX 24/7
This app is a pedometer, sleep tracker and a heart rate monitor at the same time. These three features function amazingly. The app is great for users that are interested in monitoring a particular heart rate measurement, such as their resting heart rate, or heart rate during workouts. As a sleep tracker, it detects snoring and or sleep talking alongside an alarm to wake you up in the morning.
There you have it. You have just been served with a comprehensive list of best heart rate monitor apps for iOS. You can also check out this recent post on FindReviews (Medical Alert Systems) to expand your knowledge. If you have other recommendations, feel free to drop them in the comment box below.