A keylogger is a type of software that can be used to record all the keys that a user punches on their keyboard, usually secretly, so the owner has no idea that they are being tracked.  A very effective keylogger should not be discovered on the target phone, so you will have complete access to all the phone's owner searches online, websites he or she visits, the people they chat with and so on. To ensure you pick the right app for keylogging purposes here is our list of 10 Best Keylogger Apps For iPhones (iOS) 2019:
1. MaxxSpy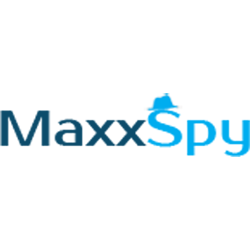 This is a monitoring app that runs quietly in the background of the target device, but remote installation is not available and it will only function on jailbroken iPhones. But if you seek a simple monitoring app for a jailbroken iPhone then MaxxSpy is an effective option. Your MaxxSpy account can be logged into at all times to know all there is to know about the iPhone's owner. Some of its features include, SMS and emails tracking, instant messaging and social media monitoring, view of contacts, media files, app usage; GPS tracing. One disadvantage to note though is that it does not function well with lots of IM applications.
2. MobileSpy
This is an amazing keylogging and tracking app with loads of features to ensure you aware of what a target iPhone is up to. Although, if the iOS device is not jailbroken, then stay away from this app. Some features on it include, GPS location monitoring, call tracking, texts tracking, emails overseeing e.t.c. Contacts, calendar, notes, media files can be accessed. Instant messaging and social media apps tracking. There is also notification in case of shady activities on the device.
3. Highster Mobile
This is an application that makes use of OTA (over-the-air) method for downloading and installation. As installation is ongoing, you are to type in the phone number of the target phone, and after using the activation key given to you when you have paid, everything is ready for you to start monitoring.
You get to log into your account from any device with internet connection. You will require access to jailbroken iPhones. An Apple ID and a password will be needed for non-jailbroken types. You can view call logs, texts, emails and browsing history. Instant messaging and social media apps are not left out. There is GPS location tracking as well.
4. FlexiSpy
This website might say they are the best monitoring app on the market, but with no remote installation and it not being able to work on jailbroken iPhones, you are right to doubt that. Other apps will cater for these two features but that does not mean FlexiSpy is absolutely useless as it still has some good features that can aid all forms of monitoring. You can track calls, both call logs and live call listening and recording. Texts, emails, IM and social media apps can be tracked as well. You can see browser history and media files.
5. XNSPY
This is a rapid, dependable and effective monitoring app that functions on both jailbroken and non-jailbroken iPhones. Remote installation can only be done on non-jailbroken iPhones though while the jailbroken devices will need physical access for installation. As you log into your XNSPY account online, you will see a control panel that shows all the information received from the target iPhone.
6. SpyEra
This app prides itself to be a totally appealing tracking app that can be used on iOS devices. As soon as it is installed, it is fully kept hidden on the target phone and will not even affect the battery negatively, because if it does, it will instantly give away the fact that an unwanted app is installed on their iPhone device.
The iPhone has to be jailbroken. With it, you can Record surroundings, View camera and media files, track GPS location, have access to texts, emails, chats, instant messaging apps and so on. All information will now be carefully uploaded to your secure online account, with an internet connection as the only requirement.
7. Spyzie
This is a web-based tracking tool, which means you sign up for a Spyzie account online and have access to all data received from the target iPhone online. Even if you do not have to install any application on the target device, authorized access is needed to its iCloud ID and password. You can track calendar, notes, contacts, media files. You can monitor call logs, texts and emails. GPS location tracking is not exempted.
8. Pumpic iPhone Keylogger
An app that focuses on parental tracking to entice bothered parents. One of its disadvantages is that you will need to physically access the target device to have Pumpic iPhone Keylogger installed on it. But the installation is quick so it can be done within a twinkle of an eye and no one will notice. After you are done with that, you can now view data from the target iPhone, getting yourself logged into the Control Panel online or via the app for mobile.
9. iKeyMonitor
Still, on the topic of best keylogger apps for iOS, IKEY Monitor is an app that caters for moms and dads that plan to track their kids. It gets you information on what your children are really up to. You have access to features like Recording keystrokes, GPS tracking, Recording surroundings, Automatic screenshots, Recording phonecalls e.t.c
10. mSpy
This app had to make this list. Why it stands out is that it functions on both jailbroken and non-jailbroken devices so installation on an iPhone is possible without any hassle as far as you possess a valid AppleID. Just have it downloaded on the target phone, then sign up for a mSpy account. This is the stage when every recorded activity will be automatically sent. You do not have to bother your head about the user of the target finding out about their smartphone being tracked since the programs run secretly in the background. It makes it very difficult to spot.
Apps featured in this article on best keylogger apps for iPhones, share one common feature. Despite their difference in names, they were all designed to help users spy on other ios devices. If you have other recommendations feel free to drop them in the comment section below.