A magician is as good as his tricks. Being a magician is a product of the tricks you have gathered over a period of time. Employing tricks that are very difficult for your audience to decipher is key. In this article, we explore a comprehensive list of best magic apps for Android and iPhone. These apps will help you as a budding or pro magician get better in your performing act. These apps are listed as follow:
1. 52Kards

This is a useful magic app for those that just started learning the trade. It is home to lots of card tricks tutorials, card handling tips, rampant sleight of hand tricks and other exercises and skills for card magic. Every tutorial has a clip and the clips here are well detailed.
52Kards has beginner, intermediate, and advanced tutorials alongside useful courses for whoever is looking to take things to the next level. It is quite old because it was last updated 2 years ago, but it is still relevant.
2. Amazon Kindle And Identical Apps
Books are useful when it comes to learning magic and there are lots of useful ebook reader apps like Amazon Kindle, Barnes & Noble Nook, and Google Play Books that will provide you with the best options. The books will suit beginners, intermediates, and advanced learners.
Must Read: 10 Best Audio Books Apps for iOS
And if you did not know, so many magicians use books for their most difficult tricks. The options above are amazing but Kindle is what we recommend.
3. Inject 2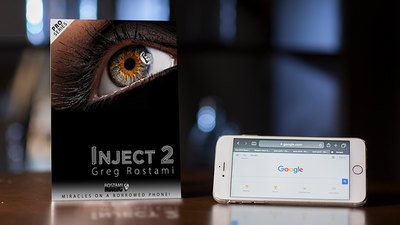 This is a useful app for performing magic. It is very straightforward and will give you some decent results during a performance. Since it is a bit hard to break down in words, it is best to check out the demo video to view its effects.
Must Read: 15 Best Ant on Screen Apps for Android 
Inject 2 allows you to control things on your mobile device in such a way that no one will know you are the one controlling it. It is the best option if you wish to add modern tech into your act. However, it is costly so be prepared to part with some major cash.
4. Magic Tricks by Mikael Montier

This is a collection of convincing card tricks and some of the tricks are available in the free version. All tricks can be bought separately for $6.49 each. To unlock all the tricks, $79.99 will have to be paid. Not to worry though, there are no problems with the tricks and you will agree that it is worth your money.
5. YouTube
Of course, YouTube can help. A lot of the apps above have clips for several tutorials and you will find all that on YouTube. You will even have access to videos from magicians on several TV series plus explanation clips by professional magicians for dope tricks that they have performed in the past.
Must Read: How To Auto Delete Your YouTube History
There you have it – you have been served with a list of recommended best magic apps for Android and iPhone. If you have any favorites or recommendations, feel free to drop them in the comment section below.