A massage gun is an amazing workout recovery tool for those who love to exercise. Going for the ones that use percussive therapy, in particular, have been backed by research to do amazing things to enhance your body. For the best options that will manipulate your body's soft tissue in ways, you will appreciate, see our list of 7 of the best massage guns to buy.
1. Theragun Pro: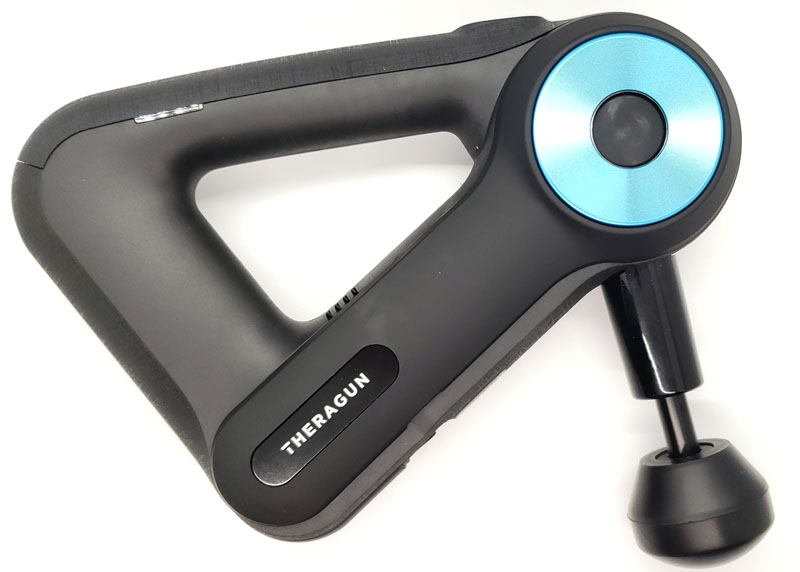 This massager is super quiet than its predecessors even if it is still very much louder than some of its rivals.
Must Read: 5 Best Theragun Devices To Buy
It best suits athlete or workout freaks, but they have to also endure it weird sound. Other features include a rotating arm and ergonomic handle, a deep reach of 16mm, and remarkable speed.
2. TimTam All New Power Massager:
This massager is home to 2 power settings, and they are super robust. If you have ever heard people say percussive massagers sound and feel like power drills, this could be the massage gun they were referring to. If you are super strong and tough, you will cope just fine, but it should be avoided if your muscles are tender. For those that care about more percussion, and less vibration, this is the one to go for.
3. Hyperice Hypervolt Plus:
This one is super effective and its design is amazing to look at. It is also a quiet gun and it will never damage your eardrums. Use it on your neck and shoulders when you feel any kind of discomfort in those parts of your body.
Must Read: 5 Best Health Gadgets
This massage gun's QuietGlide tech and 90-watt high-torque motor ease your stress completely while taking away your pain. It comes with 5 speed/power settings, making it comfortable for users who experience different levels of muscle soreness.
4. Achedaway Vibration and Percussion Massager:
This is the favorite for lots of people because it is simple and silent. This massage gun is home to 5 power and speed settings ranging from 1,500 to 3,250 rpm, and they all help your muscles and aid its quick recovery after an injury or swelling. It possesses several head attachments for massaging several muscle groups too. It is expensive though.
5. Sportneer Percussive Massage Gun:
You will be shocked to know that this massage tool gives costlier rivals a run for their money. It offers percussive therapy at 5 different levels and the battery life is very commendable.
Must Read: 7 Best Home Gym Equipment To Buy
It is best used on a painful and painless muscle and it possesses 6 head attachments. This massager is super quiet too, so there is no loudness to be worried about.
6. TimTam Power Massager Pro:
Sill on the topic of best massage guns to buy. This one is super effective, quiet and it comes with 5 settings. The massager possesses special attachments, including an auto-healing tip and a vibration attachment that boosts the intensity of the vibration mechanism. As you use the auto-heating tip, the LED display will reveal a temperature sensor for owners to access the heat, which rises up to 99.5 degrees Fahrenheit.
7. Wahl Deep Tissue Percussion Therapeutic Massager:
:Last but certainly not the least on our list of 7 of the best massage guns. This option possesses 4 head attachments and it comes with a long handle that helps you to treat difficult-to-reach spots. The only disadvantage is that it has a cord, which is very 2002 if you ask me. However, it is still one of the best options around for lots of massage freaks.
More Information On Massage:
Massage is the manipulation of the body's soft tissues. Massage techniques are commonly applied with hands, fingers, elbows, knees, forearms, feet, or a device. The purpose of massage is generally for the treatment of body stress or pain.
A person who was professionally trained to give massages was traditionally known as a masseur (male) or a masseuse (female), but those titles are outmoded and carry some negative connotations.
In the United States, the title massage therapist has been recognized as a business norm for those who have been professionally trained to give massages.
In professional settings, clients are treated while lying on a massage table, sitting in a massage chair, or lying on a mat on the floor.
In amateur settings, a general-purpose surface like a bed or the floor is more common. Aquatic massage and bodywork is performed with recipients submersed or floating in a warm-water therapy pool.
A type of massage that is done in an erotic way via the use of massage techniques by a person on another person's erogenous zones to achieve or enhance their sexual excitation or arousal and to achieve orgasm.
Craniosacral therapy (CST) is a gentle approach that aims to improve fluid movement and cranial bone motion by applying light touch to the skull, face, spine, and pelvis.
There you have it – a comprehensive list of best massage guns to buy. If you have any personal favorite or other recommendations, feel free to drop them in the comment section below.