In this digital world, Manufacturing music has advanced to the stage, where we now have most, if not of all of our Musical Instrument digitalized. Talk about the guitar, keyboard, drum, we have them in digital form. In this article, we explore a comprehensive list of best musical Instrument apps for Android and iOS.
1. Ultimate Guitar
This is a very useful musical instrument app that will give you precisely what you want. It can be used on your Android or iOS device. It is home to a wide range of music options like guitar, ukulele chords, lyrics, and tabs, all from your phone. You will also be allowed to enjoy more than 800,000 songs in this app. Editing lyrics, tabs, and chords for your requirements is also possible.
2. FL Studio Mobile
This app is popular. It is well advanced and is available for your Android and iOS device. It allows you to record edit, and render complete music according to your taste. If you are an upcoming deejay, this app will be useful for you too. It makes it easy to add unique effects to full songs. Effects like volume adjustments, high/low bass, filters, delays, and phaser. It comes with lots of features that will make your work easier.
3. Metronome
This is another app that does the job for music lovers. It comes with a comprehensive one-screen UI. Metronome makes use of flashing LED lights for the creation of complex rhythms. It provides you with six rhythmic patterns you can enjoy, three sound sets and multi-tasking for brilliant music experience.
4. Pro Metronome
This is another powerful musical instrument that allows you to personalize your music practicing skills to meet the needed standards. With it, you can seamlessly alter beat sounds, ascents, beat volumes, access polyrhythmic settings and create complex patterns. Vibrations or LED flashes can be used to ensure the rhythm is top-notch when you practice.
5. Simply Piano
If you play the piano and you are looking for the best application that will assist you to improve your skills, Simply Piano is the most appropriate match. With it, you only have to place your mobile device on your acoustic and begin to play the piano.
The app will instantly detect the tunes and offer feedback on how you are doing. You will also be able to take a complete course and begin your journey to becoming a professional.
6. Yousician
Like Simply Piano, this app functions by listening to your tunes when you play your preferred musical instruments and then give you feedback based on how you are performing. No matter the instrument you are playing, be it a guitar, piano, ukulele or bass, it will provide a step-by-step tutorial via the course to assist with your all-round improvement.
7. Perfect Piano
If you wish to learn how to play the piano, then this is the app for you. It is one remarkable app that will teach you stuff in a way that makes understanding easy. It comes with brilliant features that will surely captivate you all through the course.
It allows you to make use of several options and adjustments like the single row mode, chords mode, double row mode, and dual players. It aids timbre plug-ins, USB MIDI keyboard, piano widgets and lets you to share your files with anyone and even use it as a ringtone.
8. iBone
It works on Android and iOS and lets you play the real trombone straight from your phone. With it, you will be able to play the trombone wherever you are and at any time. With iBone's Songbook and roboBone, you can seamlessly practice and learn trombone playing skills, songs and positions that will make you a proper professional.
9. Bongos
Still on the topic of best musical Instrument apps for Android and iOS, Bongos another music instrument app that provides music lovers with proper entertainment. You could be a professional or rookie, it does not matter, as it allows you to play the drums the way it should be played with its remarkable features.
It is home to eighteen different Bongo samples and different professionally recorded tunes that will improve your music experience.
10. MorphWiz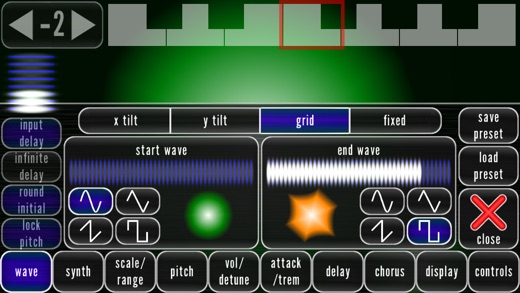 Do you want an app that will let you flaunt your melodic world with amazing sounds? This app will make that happen. It allows you to take advantage of several melodies and tunes by sliding through the galaxy spins. It will function on your Android and iOS device.
There you have it – a comprehensive list of best musical Instrument apps for Android and iOS. If you have other recommendations, feel free to drop them in the comment section below.