Did you buy the Samsung Galaxy Note 10 Plus? Then you must know that the device is very vulnerable to accidental falls from your hands when you least expect. If you know you are not too careful when it comes to handling mobile phones, check out our list of 7 Best Samsung Galaxy Note 10 Plus Cases:
1. Otterbox Defender:
Otterbox has a reputation for manufacturing rugged cases for mobile devices, and this particular case is no exception. This case is heavy and thick and it comes with covered buttons, ports plus raised lips to keep the screen safe. It possesses a belt clip holster as well but it is quite costly.
2. Spigen Tough Armor:
This case mixes a TPU cover with a polycarbonate shell to provide dual-layer protection, without making the device heavier.
Must Read: How To Tweak Samsung Note 10 Settings For Better Battery Life
It possesses MIL-STD 810G-516.6 certification for shock absorption and fall protection. Its buttons are covered and its raised lip guarantees the safety of the camera and screen.
3. Otterbox Commuter:
This is another brilliant case from Otterbox and it is useful for average consumers. With Otterbox Commuter, you are guaranteed all-round protection with 2 layers of TPU and polycarbonate. It is not too heavy and it does not possess a belt clip holster. It is affordable for potential buyers too.
4. Poetic Guardian:
This is another rugged case with a clear backplate, meaning, the design of your phone will not be tainted and it will still be protected from drops or cracks.
Must Read: 10 Best S Pen Apps For Galaxy Note
This case comes with a raised rubber lip around the camera and the entire screen for extra protection.
5. Supcase Unicorn Beetle Pro:
This is a decent case for those who desperately need protection for their Samsung Galaxy Note 10 Plus device.
Must Read: How To Capture A Screenshot On Your Samsung Galaxy Note 10
Its multi-layered TPU and polycarbonate case is absolutely brilliant for keeping the device safe from sudden falls and bumps. Its built-in kickstand allows you to prop the device up in both portrait and landscape plus it possesses a detachable belt clip holster.
6. UAG Plasma:
This is a rugged case with durable rubber around it. It is designed with hollow impact-absorbing cells to make sure your device is safe even after a hard fall. Despite its extra level of protection, this case also works with your wireless charger.
7. Samsung rugged protective cover for the Galaxy Note 10 Plus: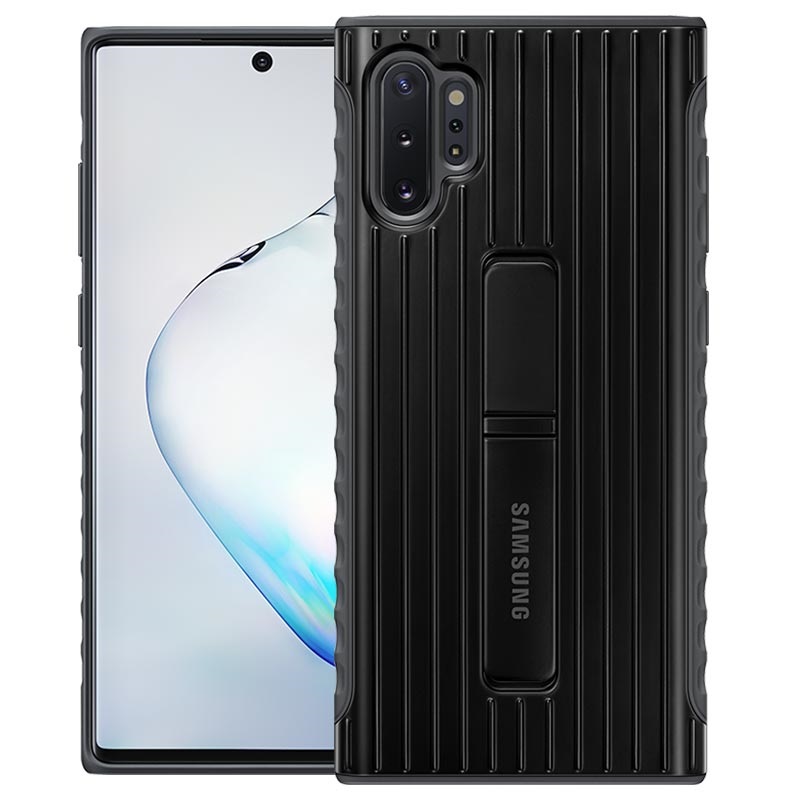 Samsung also manufactured a rugged case for its devices and this particular protective cover is very brilliant. It comes with MIL-STD 810G-516.7 certification, dual-layer protection, and a built-in kickstand. A raised lip ensures the screen and camera are always safe. You will also have access to every port and feature like the S Pen.
More Information On Samsung Galaxy Note 10:
The Samsung Galaxy Note 10 (stylized as Samsung Galaxy Note10) is a line of Android-based phablets designed, developed, produced, and marketed by Samsung Electronics as part of the Samsung Galaxy Note series.
They were unveiled on 7 August 2019, as the successors to the Samsung Galaxy Note 9. Details about the phablets were widely leaked in the months leading up to the phablets' announcement.
The Galaxy Note 10 line comprises three models with various hardware specifications; Note 10 and Note 10+/ Note 10+ 5G feature 6.3-inch 1080p and 6.8-inch 1440p "Dynamic AMOLED" displays with HDR10+ support and "dynamic tone mapping" technology respectively.
The displays have curved sides that slope over the horizontal edges of the device. The phablet also features a 19:9 aspect ratio. The front-facing cameras occupy a rounded cut-out on the top of the display, and all models utilize an ultrasonic in-screen fingerprint reader.
The S-Pen has also undergone notable changes compared to Note 9. The pen is one piece of plastic, instead of two like Note 9, and supports more advanced Air Actions that allow users to control the phablet remotely with the pen.
This includes changing the camera settings and exporting the handwritten text to Microsoft Word remotely. The S-Pen also comes with additional tips for replacement in the box.
The Note 10 range ships with Android 9.0 "Pie" with Samsung's One UI skin. A main design element of the One UI is an intentional repositioning of key user interface elements in stock apps to improve the usability on large screens.
Many apps include large headers that push the beginning of content towards the center of the display, while navigation controls and other prompts are often displayed near the bottom of the display instead.
In March 2020, the phones received an upgrade to Android 10.0, bringing with it Single Take mode from the Samsung Galaxy S20 line as well as the ability to record 4K/60fps video with the selfie camera.
There you have it – a comprehensive list of best Samsung Galaxy Note 10 Plus cases. If you have any personal favorites or other recommendations, feel free to drop them in the comment section below.