A ski app on your mobile device will only boost your fun experience in the mountains. We have the power predictors and AI-generated ones, and they help skiers with a memorable excitement that they will remember for a long time. See our list of 8 Best Ski Apps:
1. OpenSnow

This app was developed by weather forecasters and their aim was to create a better forecast for themselves and friends. It helps you to monitor and create snow forecasts across mountains for skiers and snowboarders searching for the most appropriate powder.
Must Read: 10 Best Apps To Optimize Outdoor Recreation
It contains blogs that will grant you access to information about snow conditions. OpenSnow is available Android device, as well as iOS devices.  It is a free to use App
2. Ski Tracks

It comes with an easy and simple UI plus lots of positive reviews. This app can be used on iOS, Android, Apple Watch, Android Wear and Pebble and it concentrates on saving your battery. Its latest feature is a badge system that will spur you to explore the mountain through new runs and gamified challenges.
3. Slopes
This is a well-known application that renders runs in 3D, offers captures of top speeds and lets users overlay pictures of ski days on the application's map view. It can be downloaded for free and is also home to interactive replays, live statistics, and daily timelines.
Must Read: 5 Best Apps For Cyclists
Slopes just launched a fresh, social functionality that lets users view dedicated leader boards and tag friends on trips. It can be used on iOS and Apple Watch.
4. CARV

Carv is another awesome member of the list of best Ski Apps. This app offers real-time coaching and lets users key into particular skill development. It also calculates your "ski IQ" on all runs. With this one, you can view a running summary of your ski IQ for a number of days.
CARV co-founder, Jamie Grant had this to say, "Every time you finish a run, you get a number and a tip. It's something specific that you can focus on for the next run."
5. Liftopia
This is a web platform and iOS and Android application that lets users locate and buy discounted lift tickets for 100-plus ski resorts in North America, Switzerland, Japan and so on. You get the very best deals here. For a destination traveler, you might want to include a little area day trip in your trip. They are cheap and soulful.
6. PeakFinder

Still on the topic of best ski apps, Peak finder is another highly recommended app. This app aids you to know the mountains around you. It overlays pictures, seen via your camera, reveals names and elevations of mountains that are closeby. PeakFinder can be used to label saved pictures too. You will need part with a cheap one-time fee on your Android and iOS device. It works offline as well.
7. Cairn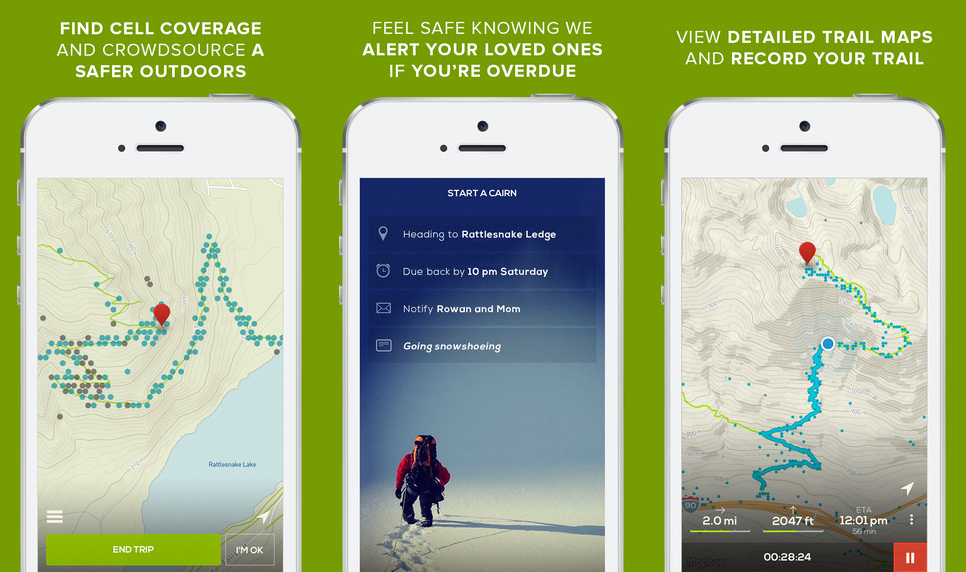 This is a safety application that lets users share trip plans with family and friends. It also sends "check-in" notifications at specific times and notifies followers if they miss a check-in. Cairn lets users locate signals through crowdsourcing technology.
8. Off the Grid
This is an application that encourages users to get off their devices while holding them accountable through charges if they fail to remain disconnected. It comes with emergency features like 911 and users are allowed to use specific apps when they are disconnected.
Even if it is not strictly for skiers, this app would be great on the slopes.
More Information About Skiing
Skiing is a means of transport using skis to glide on snow. Variations of purpose include basic transport, a recreational activity, or a competitive winter sport. Many types of competitive skiing events are recognized by the International Olympic Committee (IOC), and the International Ski Federation (FIS).
Skiing has a history of almost five millennia. Although modern skiing has evolved from beginnings in Scandinavia, it may have been practiced more than 100 centuries ago in what is now China, according to an interpretation of ancient paintings.
Asymmetrical skis were used in northern Finland and Sweden until at least the late 19th century. On one foot, the skier wore a long straight non-arching ski for sliding, and a shorter ski was worn on the other foot for kicking. The underside of the short ski was either plain or covered with animal skin to aid this use, while the long ski supporting the weight of the skier was treated with animal fat in a similar manner to modern ski waxing.
Skiing was primarily used for transport until the mid-19th century, but since then has also become a recreation and sport. Military ski races were held in Norway during the 18th century, and ski warfare was studied in the late 18th century.
As equipment evolved and ski lifts were developed during the late 19th and early 20th centuries, two main genres of skiing emerged—Alpine (downhill) skiing and Nordic skiing. The main difference between the two is the type of ski binding (the way in which the ski boots are attached to the skis).
There you have it – a comprehensive list of best ski apps for Android and iOS. If you have other recommendations, feel free to drop them in the comment section below.