TWS or Truly Wireless Stereo earphones are taking over right about now, and the market is filled with amazing options like Xiaomi, OnePlus, Oppo, Realme and so on. The fact is that after several testing and reviewing, these earbuds are very much ideal for the music listeners out there. For the best options out there, see 5 Best True Wireless Earbuds Under Rs 5,000 In India:
1. Realme Buds Air 2:
This is a budget TWS earphone with several features filled into one small package. It delivers ANC, Bluetooth 5.2 connectivity, remarkable app support e.t.c. Its active noise cancellation makes it stand out despite being a budget option. Its fit is superbly comfortable and simple to use for a long period of time, and the audio quality is applaudable.
2. Oppo Enco W51:
This device is blessed with several features and it comes with active noise cancellation plus a dope sound signature.
Must Read: 5 Best Wireless iPhone Earbuds To Buy
It delivers a 7mm dynamic driver onboard with Bluetooth 5.0 connectivity and a range of about 10 meters, and the case comes with a battery that lasts for about 3.5 hours. In fact, a fast 15-minute charge keeps your earphone running for about three hours.
3. OnePlus Buds Z:
This is a big pair of truly wireless earphones for users who don't want to hurt their pockets. It delivers a unique sound, brilliant battery life and a comfortable fit, but its touch control restrictions and weak bass might drive few users away. Its battery life is quite impressive as you'll get about 4 hours of playback.
4. Soundcore Liberty 2: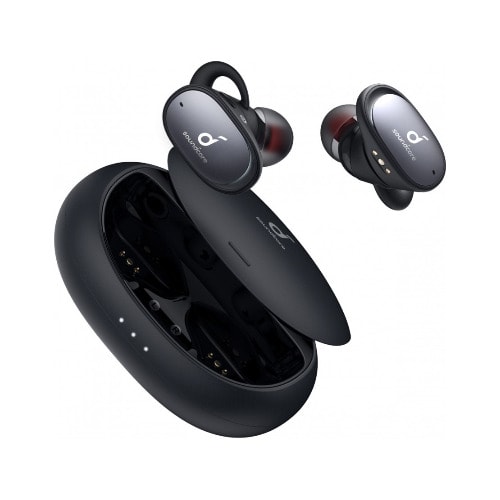 This is a brilliant style of true wireless earbuds that delivers an in-ear style fit along with fins to give you that strong fit you crave for.
Must Read: 5 Best Heart Rate Monitor Earbuds
It comes with Bluetooth 5.0 paired with a 10mm diamond-inspired drive, and AAC, SBC, aptX codec are all supported. When it comes to sound signature, you are guaranteed crisp vocals and punchy bass as well.
5. Noise Elan:
This amazing product from Noise Elan is rated because it delivers environmental noise cancellation (ENC) on budget and Bluetooth 5.2 connectivity in ways you'll appreciate.
Must Read: 4 Best Entry-level Bluetooth Earphones 
You'll be getting a total of four mics, two on each bud which provides amazing noise cancellation. As for audio, this earphone possesses a 6mm titanium driver with support for Qualcomm aptX adaptive sound.
More Information On Headphones:
Headphones (or head-phones in the early days of telephony and radio) traditionally refer to a pair of small loudspeaker drivers worn on or around the head over a user's ears.
They are electroacoustic transducers, which convert an electrical signal to a corresponding sound. Headphones let a single user listen to an audio source privately, in contrast to a loudspeaker, which emits sound into the open air for anyone nearby to hear.
Headphones connect to a signal source such as an audio amplifier, radio, CD player, portable media player, mobile phone, video game console, or electronic musical instrument, either directly using a cord, or using wireless technology such as Bluetooth, DECT or FM radio.
The first headphones were developed in the late 19th century for use by telephone operators, to keep their hands free. Initially the audio quality was mediocre and a step forward was the invention of high fidelity headphones.
Headphones originated from the telephone receiver earpiece, and were the only way to listen to electrical audio signals before amplifiers were developed. The first truly successful set was developed in 1910 by Nathaniel Baldwin, who made them by hand in his kitchen and sold them to the United States Navy.
Headphone size can affect the balance between fidelity and portability. Generally, headphone form factors can be divided into four separate categories: circumaural (over-ear), supra-aural (on-ear), earbud and in-ear.
There you have it – a comprehensive list of 5 best true wireless earbuds under Rs 5,000 in India. They are highly recommended for enthusiasts.