Infinix launches Note 12 with a New Brand Ambassador. Bangladesh national team pacer Taskin Ahmed has become the product ambassador of Infinix mobile Note Series. Taskin Ahmed, a cricketer, has been named the product ambassador for Infinix's Note series with a one-year deal with Infinix to advertise the Note Series devices throughout the year.
The Company believes Taskin is the right fit to reflect the image and values of the Note series because it is already a "brand of choice" among young smartphone users, according to a press release.
Must Read: Apple To Launch Nudity Detection Feature Internationally For Child Safety
"With its fashionable design, outstanding features, premium quality outlook, and gaming core, Infinix has become the most trending smartphone brand among the youthful generation," Taskin Ahmed remarked after signing the contract. As a representation of Bangladeshi youth, I am both honoured and delighted to be given the opportunity to showcase my country.
Infinix also unveiled the latest gadget in its premium series, the Note 12, which offers a complete smartphone experience at an affordable price.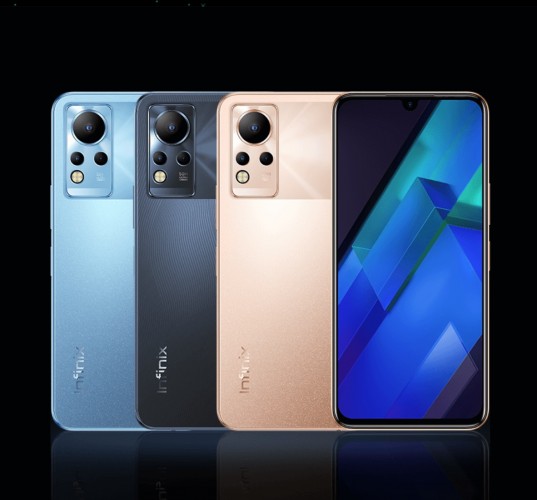 Note 12 features a 6.7-inch FHD+ true colour AMOLED display, a Helio G88 Ultra Gaming Processor, and a 5000mAh battery with 33W fast charging and dual DTS speakers. Note 12 also has a 50-megapixel triple camera and an extended RAM of up to 11 GB (6GB+5GB).
Appropriately dubbed the 'AMOLED Stunner,' it provides customers with a 6.7 FHD+ true colour AMOLED display at a fantastic and reasonable price. The battery usage of the AMOLED display is lower, and users may now magnify their view in full daylight and enjoy crystal clear brightness. With its ultra-sleek 7.9 mm design and feather-light proportions, the smartphone is the epitome of exquisite form and function.
Must Read: Clubhouse now Supports Dark Mode on iOS and Android
The Helio G88 Ultra Gaming features 2x Cortex-A75 and 6x Cortex-A55 processors that work together to deliver next-generation intelligence for outstanding performance in gaming and other CPU-intensive tasks.
Forest Black, Sunset Golden, and Jewel Blue are the three colours offered for the Note 12. Other key features of the Infinix Note 12 include XArena-Darling 2.0, which learns usage patterns to optimize battery, temperature, memory, and gameplay performance; a 6-layer graphene cooling system that reduces core temperature by up to 6°C; and multiple AI voice assistance modes, according to a press release.
Get the most important happenings in your inbox weekly