Apple fans, rejoice. The long-gone battery percentage on iPhones is finally back on the latest iOS 16 – you'll once again be able to see your iPhone's battery percentage right in the status bar. Apple has introduced an option that lets you display the exact percentage of your iPhone's remaining Battery in the status bar, even if you have a model with a Face ID.
Previously, the option to show battery percentage in the status bar was only available on pre-iPhone X and iPhone SE models without a notch, where space at the top of the screen isn't at a premium. Suppose you have a newer iPhone with Face ID running iOS 15. In that case, the battery icon displays a visual representation of the battery level but does not provide a percentage. You must swipe into the Control Center or use the battery widget to see the battery percentage remaining.
Must Read: Nikon is Planning to Stop the SLR Camera; What's Next?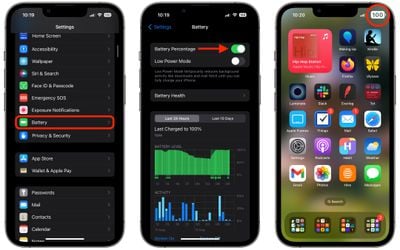 All of that has changed with iOS 16, and the status bar percentage indicator is now available on newer iPhones with a notch – but not all models. The battery level option is currently available in iOS 16 Beta 5 on the iPhone 12 and iPhone 13 models, except for the 5.4-inch iPhone 12 mini and iPhone 13 mini. It's also available on the iPhone X, iPhone XS, and iPhone 11 Pro/Max, but not on the iPhone 11 or iPhone XR. It's unclear why all notched iPhones don't support the feature, and this may change when iOS 16 is released in September, but that's the current situation.
Here's how to enable the percentage indicator on a compatible iPhone with Face ID running iOS 16 Beta 5 or later.
Open the Settings app on your iPhone.

Scroll to the bottom and select Battery.

Toggle the Battery Percentage switch.
Must Read: Google Starts Testing the New Google Meet App
That's the end of it. On both the Lock Screen and your Home Screens, you'll now see a specific battery level inside the battery icon, giving you a better idea of battery status at a glance. The color of the battery icon will change depending on the Battery's status and the color of the iPhone's wallpaper. For example, when charging, the battery icon will turn green and display a charging indicator. When the charge falls below 20%, the battery icon turns red.
Get the most important happenings in your inbox weekly