Apple's AirPods Pro wireless headphones are an obvious upgrade on the 2nd-generation AirPods released earlier this year. The Pro version of the AirPods still functions with the iPhone, iPad or a Mac, but they come with a fresh design and new features. In this article, we provide a list of tips to help you master new Airpods pro.
Some things are no longer the same though. For example, you no longer need to tap on one of the earbuds to switch songs, and active noise cancellation can be used to silence any other sound in your environment.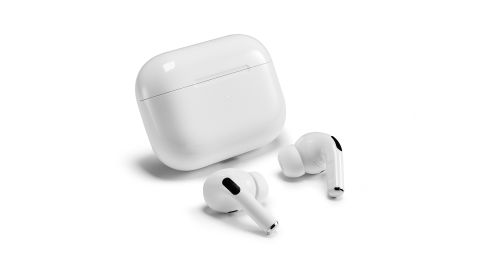 For users that fancy listening to songs, but still prefer to hear what is going on in their environment, there is a fresh Transparency mode that allows some ambient noise filter trough so you can be aware of what is going on around you.
1. Pairing still takes only a few seconds
After purchasing your AirPods Pro, unlock your iPhone, open the charging case to your earbuds. One second or two later, you will be prompted to know if you wish to pair the earbuds. Tap Connect to pair and that is that.
2. Do not tap your AirPods Pro, press them
Rather than tapping on one of the AirPods, the stems of the AirPods Pro function as a button. You will not really see a button there, it is just a pressure-sensitive section that will replicate how a button is used.
Must Read: 5 AirPods Pro Tips To Try With Your New Earbuds
With 2 fingers, squeeze the flat indention on the Airpods. A click should be heard in your ear after every press. What every pres stands for:
Single-press: Pause/play
Double-press: Skip forward
Triple-press: Skip backward
Long-press: Switch between noise cancellation and transparency mode.
3. Check battery life
Anytime you wish to check the charge level of your AirPods Pro and the charging case, just unlock your iPhone or iPad and open the case close to your device with the AirPods inside it. An animation will be visible, revealing the charge level of each AirPod and the case.
4. Use Active Noise Cancellation
This is the main feature of AirPods Pro. When enabled, it blocks almost all background noise that you'd normally hear with your regular earpiece.
Must Read: 8 Wireless Earbud Options That Aren't AirPods
This is useful in noisy environments and it gets rid of distractions. It can be turned off with a long press on one of the AirPods' buttons.
5. Use Transparency mode
When this mode is switched to, you can listen to some of your environmental sounds, and still enjoy the audio in your AirPods Pro without problems.
Must Read: Airpods 2 Vs Airpods 1: Reasons To Upgrade
This will be useful at the airport or when you have to walk through bust areas to help you hear the traffic.
More Information On AirPods Pro:
AirPods Pro are wireless Bluetooth earbuds created by Apple, initially released on October 30, 2019. AirPods Pro uses the same H1 chip found in second-generation AirPods but adds active noise cancellation, automated frequency profile setting, IPX4 water resistance, a charging case with wireless charging, and interchangeable silicone tips.
Apple announced AirPods Pro on October 28, 2019, and released them two days later on October 30. They include features of standard AirPods, such as a microphone that filters out background noise, accelerometers and optical sensors that can detect presses on the stem and in-ear placement, and automatic pausing when they are taken out of the ears. Control by tapping is replaced by pressing a force sensor on the stems.
They use the same H1 chip found in second-generation AirPods that supports hands-free "Hey Siri".
They have active noise cancellation, accomplished by microphones detecting outside sound and speakers producing precisely opposite anti-noise. Active noise cancellation can be turned off or switched to "transparency mode" that helps users hear their surroundings.
Noise cancellation modes can also be switched in iOS or by pinching the stems of the AirPods using a new "force sensor". Battery life is slightly shorter than standard AirPods at 4.5 hours due to the processing for noise cancellation. They are rated IPX4 for water resistance.
They come with three sizes of silicone tips. In iOS, there is a software test to "[measure] the sound level in the ear and comparing it to what is coming from the speaker driver" to ensure a correct fit, as well as a feature called "Adaptive EQ" which automatically adjusts the frequency contour, claimed to better match the wearer's ear shape.
There you have it – a comprehensive list of tips to help you master your new Airpods pro. If you have any questions, feel free to drop them in the comment section below.