Spending money in the stock market is a significant aspect of the financial planning puzzle for all. It's a useful way to ready yourself for retirement or even, making extra money. Thanks to tech, investing online is now a straightforward possibility.While moving into the market might be overwhelming initially, especially if you are starting, tech's provision for being up-to-date with precise stocks is much simpler. With several financial websites, you can monitor the market on your smartphone with some fantastic apps. Here is a list our list of Top  Stock Market Apps For iOS:
1. Stocks Live
This app is for iPhones and iPads. It has a lot of features for monitoring investments, trades, and the market with the latest quotes and global market coverage all at your fingertips. With features like – the ability to search and monitor stocks, indexes, world currencies, support for multiple currency, watch lists that are not limited, ability to have your portfolios synced to the iCloud, a remarkable chart viewer, heat map of the entire market and major hours support – it has to be one of the best around for all thing Stock Market.
2. Real-Time Stock Tracker +Alert
This app provides real-time quotes and market alerts. You are allowed to monitor more than one portfolio and several watch lists, worldwide indices and futures. You also get to experience the option of a real-time price tracker for Bitcoin if virtual currency is your thing. Stock information is well broken-down here. It displays price, volume data, news, income six quarters back and the date of future earnings that you can include in your calendar. You also get to view the stock exchanges of USA, Canada, Europe e.t.c
3. Stock Ratings
This app will not cost you a dime. It aids you in choosing the right stocks for your portfolio and can also be of assistance if you feel it is time to sell, buy, or retain stocks. Your analyst upgrades, downgrades and latest coverage daily when the market is not closed are summarized for you every 24 hours. Income announcements and dividend news are not left out. Stock ratings also follow stocks on the New York Stock Exchange, Toronto Stock Exchange, and London Stock Exchange e.t.c.
4. Stock TickerPicker
If technical analysis is your thing, you should go for this app. Charts are displayed but not just that, real-time stock quotes, watch lists are available to enable you to stay updated as well. Plus for extra money, you get to experience the "Insights" investment research option.
The Stock Exchanges supported for this app are the New York Stock Exchange, NASDAQ; and London, Paris, Toronto e.t.c. This app can be viewed in several frames, and there is an option you get to use to zoom plus other amazing charting options.
5. Yahoo Finance
If its the web applications you fancy, Yahoo Finance is your guy. It aids you in your tracking of stocks, currencies, and commodities. There is also a news stream that is individualized, graphs and charts that interact and real-time changes displayed in color red.
6. MetaTrader5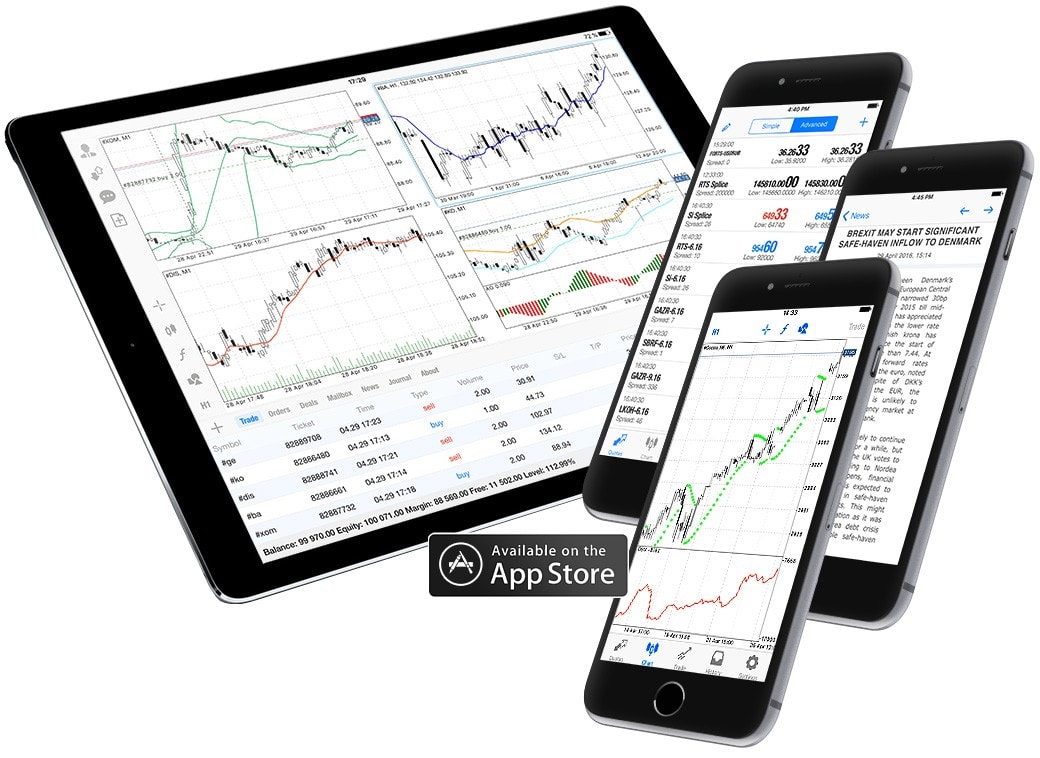 This app is for both iOS and Android users. It aids you to do all things investments and trading in several instruments like stock, options, forex e.t.c. It was developed for fairly-good and professional stock traders who need access to real-time information as they move. With this app, you get to access lots of traders, stock info and quotes e.t.c. What is unique about this app is its ability to switch between instruments plus your charts are well broken-down.
7. NetDania
This is one popular stock market app. It supports cryptocurrency such as Bitcoin and loads of financial instruments. Apart from you having the free hand to trade, NetDania chips in ideas, insights, and strategies to aim for limit and end the real-time trade.
Its chart is well broken-down too, and it helps to fully understand the trends and news segment that will aid your decision of when you want to trade and what exactly you should trade. With this app, you can create a demo trading account if you're going to see how things work before starting entirely. Some of its features include oil, comprehensive overview, low latency Interbank FX rates, loads of watchlist and so on.
8. Webull
This app is fantastic to see and great for those just starting. It has a variety of tools that aid you to analyze in a better way and trade stocks in real-time. You get to create your portfolio and custom alerts and note to make you aware of all you should be mindful of. This app 20+ technical indicators in its candlestick charting for professional level analysis. With this app, you can monitor global news and other key events. US citizens benefit from a free share of stock when they direct a friend or open a brokerage account.
9. Robinhood
Beautiful design and a fascinating app in general. It makes trading stocks simple. You also get to invest in stocks, options, ETFs, etc. You are not bothered with any maintenance fee or minimum investment restrictions. There are detailed reports and info on stock and other financial instruments to ensure your investments are not foolish ones.
You never lack market updates as well. Another decent feature is, when you deposit less than $1000, your money is added immediately to your account so you can trade as soon you notice a good deal.
10. Fidelity Investment
This app has lots of features to make using it a memorable experience. You get to trade stocks and also settle your bills, transfers, plus deposit checks if there is a need for it. Its UI is user-friendly. Users of this app enjoy timely portfolio, research info and neat content for better investment plans: market insights, watchlist, news feed. Fidelity Investment also aids fast access to customer support.
As already mentioned above, these are the top stock market apps for iOS. Some of them have different features. It is imperative you scan the list meticulously to selecting the stock market app that is most suitable for you.