Among the several confusion and drama the
coronavirus pandemic
has unleashed on our daily lives is the lack of athletic activities. All across the globe, some gyms and courts are still closed and group exercises have become more scarce for lots of people. Here we explore a list of gadgets to keep you on top of your game.
Luckily for us, however, technology has really developed to the point where we can perform a lot of our favorite hobbies from the comfort and safety of our homes. These gadgets are outlined below.
1. Foresight Sports Golf Simulator:
You can bring the green to your garage or wherever you are with this amazing simulator. It simply offers amazing entertainment for golf faithfuls.
Must Read: 5 Best Gear And Gadgets To Improve Your Golf Game
The Foresight Sports Golf Simulator also delivers 4K reproductions of some of the world's most beautiful and demanding courses with various personalization options, from player settings to weather conditions.
2. Bkool Cycling: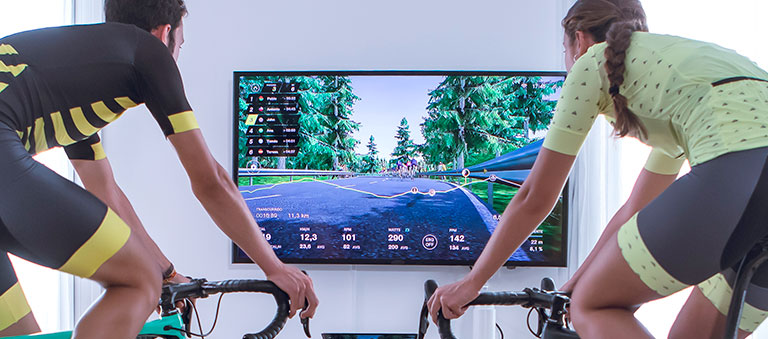 For cyclers who have really missed the open road and riding with fellow pedal heads, Bkool Cycling could be the help you need.
Must Read: 5 Best Apps For Cyclists
Once you pair your personal road bike with a compatible smart trainer and the BKool Cycling, you will be granted fast access to lots of international routes. You will even have the opportunity to compete against other Bkool riders from across the globe.
3. First Person Tennis:
This one is a brilliant fit for the casual hobbyist or dedicated player. Its arcade mode helps users with more generous video game-esque physics
Must Read: 7 Best Home Gym Equipment To Buy
while its simulation mode helps to precisely replicate the real tennis experience, including various rebound mechanics for each of its 7 different court surface options.
4. Nexersys N3 Elite:
This one is available for the pugilists who need the perfect punching practice. It is home to 3 multi-axis strike pads that read power and accuracy plus an 18.5-inch high-definition touchscreen tab with real-time 3D graphics. It is a hardware/software sparring solution that is the closest thing to a real human partner.
5. Theragun Prime Massage Gun:
You must've noticed that social media is filled with clips of people using massage guns on their tired legs these days, well it is a new cheap form of physiotherapy we are all relying on right now.
Must Read: 5 Best Theragun Devices To Buy
After your daily indoor exercise, this gun will reach 60 percent deeper into your muscles than other massagers, thereby boosting blood flow and decreasing inflammation or muscle tension.
More Information About Gadgets:
A gadget is a small tool such as a machine that has a particular function, but is often thought of as a novelty. Gadgets are sometimes referred to as gizmos.
In the software industry, "Gadget" refers to computer programs that provide services without needing an independent application to be launched for each one, but instead run in an environment that manages multiple gadgets.
There are several implementations based on existing software development techniques, like JavaScript, form input, and various image formats.
The earliest documented use of the term gadget in context of software engineering was in 1985 by the developers of AmigaOS, the operating system of the Amiga computers (intuition.library and also later gadtools.library).
It denotes what other technological traditions call GUI widget—a control element in graphical user interface. This naming convention remains in continuing use (as of 2008) since then.
It is not known whether other software companies are explicitly drawing on that inspiration when featuring the word in names of their technologies or simply referring to the generic meaning.
The word widget is older in this context. In the movie "Back to School" from 1986 by Alan Metter, there is a scene where an economics professor Dr. Barbay, wants to start for educational purposes a fictional company that produces "widgets: It's a fictional product."
There you have it – a comprehensive list of 5 Best Gadgets To Keep You On Top Of Your Game. If you have any personal favorite or other recommendations, feel free to drop them in the comment section below.
Get the most important happenings in your inbox weekly