Apple's annual developer conference, WWDC 2022, kicks up next week with an opening keynote in which the company will reveal what's new in iOS, macOS, and other Apple operating systems. After the keynote, Apple will present the 2022 Apple Design Awards to honour apps with the best design of the year — and we now know which apps are finalists.
Another annual Apple event is the Apple Design Awards, held every year during WWDC. The company chooses apps from iOS, macOS, watchOS, and tvOS that have stood out in the App Store for being creative or having a significant social impact.
Must Read: Google's Foldable Pixel Phone Launch Delayed, Here's Why
With less than a week until the event, Apple has announced the finalists for the Inclusivity, Delight, Fun, Interaction, Social Impact, Visuals and Graphics, and Innovation categories.
The opening ceremony for WWDC 2022 will take place on Monday, June 6, at 10 a.m. PT. At 1 p.m. PT, Apple will conduct the State of the Union Platforms, followed by the Apple Design Awards at 5 p.m. PT. The event will be streamed on YouTube, and it will be available on the event's webpage and in the APPLE TV app.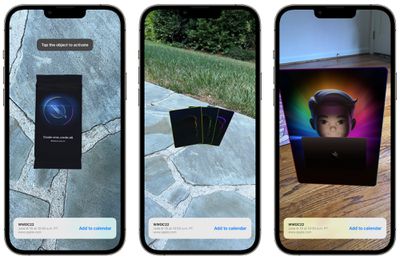 Apple has also put up a set of trade cards that can be viewed in augmented reality. You may tap the pack of cards to open it up and reveal an assortment of colourful Memoji faces once it's been placed on a surface utilizing the AR interface.
By tapping on one of the available cards, you can turn it around to see the Memoji character in greater detail, and by swiping it, you can return to the cards to see the other alternatives. Each time you open the card pack, you will receive three cards with at least nine different card selections. This is one of Apple's more elaborate interactive AR experiences for one of their events since many have merely featured a few elements.
Must Read: TECNO Ranks 6th among Africa Best Brands
Open the Events webpage and tap on the Memojis to view the AR easter egg. You can then scan the area around you to observe the card pack in operation or view it in "Object" mode to see it in greater detail without exploring your physical environment.
On a related note, eligible developers may now register for Digital Lounges, which will allow them to engage with Apple experts and the developer community for Q&As about WWDC announcements.
Get the most important happenings in your inbox weekly