In its early stages, having the habit of watching pornography and masturbating may be a method of relieving your self from sexual urge, without having to have sex with anybody, which you might regret later. In the long run, you start being disgusted by the act, and also medical health risks make the ones loved habit no longer worth the while. In this article, we provide a list of best apps to conquer pornography and masturbation
Conquering the habit of pornography and masturbation for many isn't an easy task, especially when it has become a habit that has been soaked in your subconscious. However, there are different mobile apps that help you on the journey of breaking free. In this article, we explore a comprehensive list of the best apps to conquer pornography and masturbation.
1. Covenant Eyes

This app sends reports of your online usage to people you trust every week. It is popular and respected for its accountability system.
Must Read: 5 Apps To Get Your Morning Started
Just get a tight friend or two, or that family member you can rely on and will be available to check your reports from time to time. These people can have a serious talk with you when you go astray.
2. ClearLock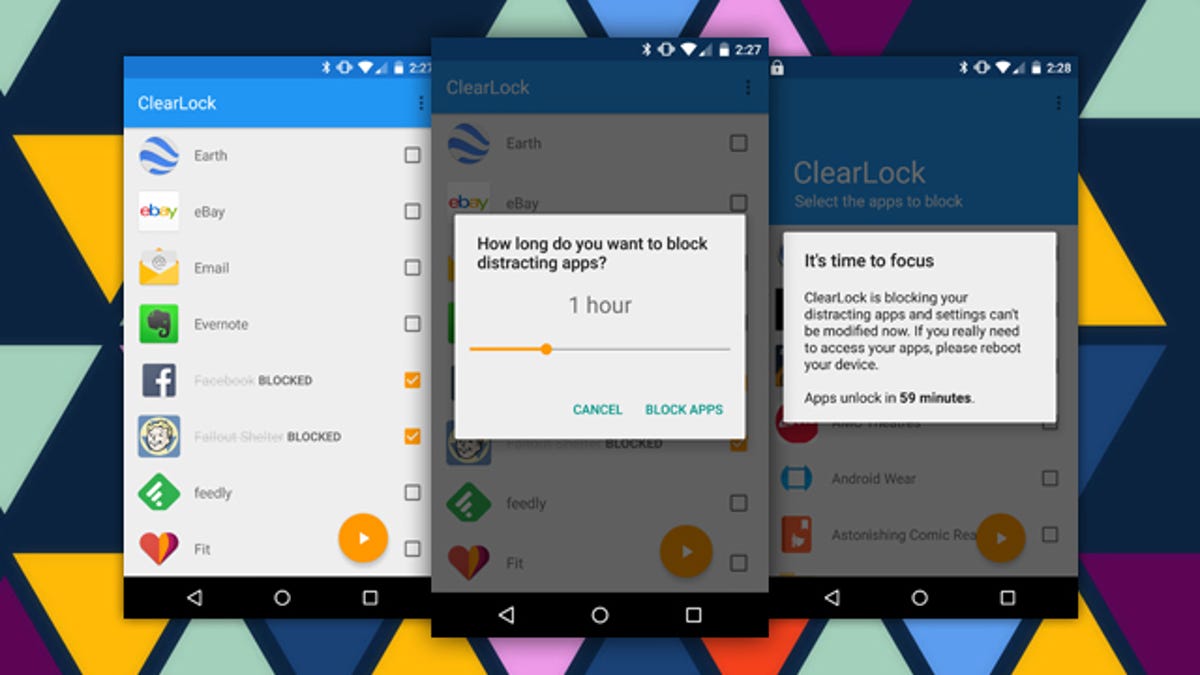 Are you getting tempted on Instagram and Facebook? This application will help you to lock yourself out until things get better.
Must Read: 5 Best Expense Tracker Apps
You are allowed to select which apps you wish to lock and for how long you need it to be locked. ClearLock helps you to be focused.
3. HabitShare

Still, on the topic of best apps to conquer pornography, habitshare is another awesome app. This is an easy tool that keeps you and your loved one abreast of your daily strivings. It monitors streaks, overall percentages, and you are even allowed to select which particular habits you share with whom. You should use it daily with a partner to notice patterns over the years.
4. NoFap
A well known Reddit community of men who have decided to not fap for a personally-pre-determined period of time gave us this app.
Must Read: 5 Best Apps To Quit Smoking For iOS And Android 
You can pick between Emergency, Rejection, Depression, Relapsed, and NoFap will grant you access to a random encouragement.
5. P4W 31

Pornography and masturbation will be a thing of the past when you pray for others or meditate on your own. This is a faith-based 31-day challenge that will help you pray better on a daily basis. It comes with clips, meditation guides, and even one-on-one coaching.
More Information About Masturbation
Masturbation is the sexual stimulation of one's own genitals for sexual arousal or other sexual pleasure, usually to the point of orgasm. The stimulation may involve hands, fingers, everyday objects, sex toys such as vibrators, or combinations of these.
Mutual masturbation is masturbation with a sexual partner and may include manual stimulation of a partner's genitals (fingering or a handjob), or be used as a form of non-penetrative sex.
Masturbation is frequent in both sexes and at any age. Various medical and psychological benefits have been attributed to a healthy attitude toward sexual activity in general and to masturbation in particular.
No causal relationship is known between masturbation and any form of mental or physical disorder. In the Western world, masturbation in private or with a partner is generally considered a normal and healthy part of sexual enjoyment.
Masturbation has been depicted in art since prehistoric times and is both mentioned and discussed in very early writings.
In the 18th and 19th centuries, some European theologians and physicians described it as "heinous", "deplorable", and "hideous", but during the 20th century, these taboos generally declined.
There has been an increase in discussion and portrayal of masturbation in art, popular music, television, films, and literature.
Today, religions vary in their views of masturbation; some view it as a spiritually detrimental practice, some see it as not spiritually detrimental, and others take a situational view.
The legal status of masturbation has also varied through history and masturbation in public is illegal in most countries. Animal masturbation has been observed in many species, both in the wild and in captivity.
While masturbation is the formal word for this practice, many other expressions are in common use. Terms such as playing with yourself, pleasuring oneself and slang such as wanking, jerking off, and frigging are common.
Self-abuse and self-pollution were common in early modern times and are still found in modern dictionaries.
A large variety of other euphemisms and dysphemisms exist which describe masturbation. For a list of terms, see the entry for masturbating in Wiktionary.
There you have it – a comprehensive list of best apps to conquer pornography and masturbation. If you have other recommendations, feel free to drop them in the comment section below.
Get the most important happenings in your inbox weekly