It is vital to have the right equipment for your daily job within the house, including the all-important printer. Basic printers are comfortable to use and cheap, but the best all-in-one printers will do so much more. Want the best options right now? See our list of 7 Best All-In-One Printers:
1. HP DeskJet 3755 Portable Printer:
It might not be the best all-in-one printer you have ever seen, but it is still decent for its price. This printer can copy, scan, and print (wirelessly).
Must Read: Guide to Buying Yourself a Perfect Printer
What makes it unique is its design. This printer is not so big so you should not expect the rigor of lifting something heavy. Students and small office owners will love this one because it is not too demanding.
2. HP OfficeJet 3830: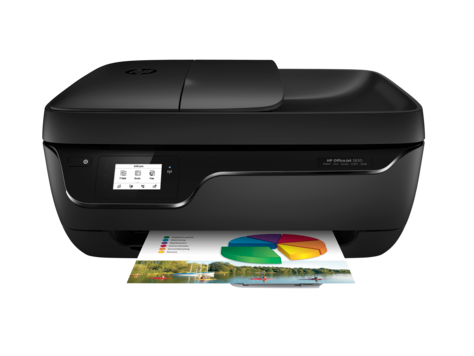 If you are really ready to invest more, this is the one to go for. It helps with copying, scanning, and faxing seamlessly. You will also love its wireless printing and the comfort that comes with HP's application. Other useful features include a 2.2-inch screen and quiet mode.
3. Brother MFC-J895DW:
This brand is well known for its all-in-one printers that deliver massive performance and top value.
Must Read:  5 Best Home Printers
It is quite costly but it comes with better features than the options above. Owners will even be able to print double-sided documents at max print speeds of 12ppm. It also comes with built-in wireless and NFC communications.
4. Canon Pixma TS9120:
What makes this printer one of the best around is its amazing specs and versatility. It can function as a normal document printer, a scanner, or copier, but its photo printing capabilities are also top-notch. Its print resolution is decent at 4800 x 1200 DPI (dots per inch) and it possesses a 6-color individual ink system for lesser grain. If you fancy filters, they can be added by making use of the included screen.
5. HP OfficeJet Pro 9015:
This one is for the professionals and you can guess by just looking at it. It comes with a 250 sheet input and 60 sheet output capacity and it can print at up to 22ppm. Wireless connectivity is possible too and its mobile application support and screen will make your life easier. To entice you the more, it can be used as a fax machine, copier and scanner as well.
6. Epson WorkForce WF-7720:
This is a brilliant option and its design and build quality are nothing short of outstanding. This printer can print up to 18ppm and it is also useful for printing bigger images or documents of up to 13×19 inches.
Must Read: 5 Best Document Scanners
Users are guaranteed Wi-Fi and NFC connectivity, and they will be able to send and receive faxes, scan, copy, and print.
7. Epson Expression XP-640:
This is one of the best options out there and it places more focus on photo quality. The printer guarantees higher-quality images with its premium inks (Black, Cyan, Magenta, Yellow, and Photo Black) and it can also copy and scan. It features wireless connectivity, SD card support, and on-printer management via a screen too.
More Information On Printer:
In computing, a printer is a peripheral device which makes a persistent representation of graphics or text, usually on paper. While most output is human-readable, bar code printers are an example of expanded use for printers. The different types of printers include 3D printer, inkjet printer, laser printer, thermal printer, etc.
The first commercial printers generally used mechanisms from electric typewriters and Teletype machines. The demand for higher speed led to the development of new systems specifically for computer use.
In the 1980s there were daisy wheel systems similar to typewriters, line printers that produced similar output but at much higher speed, and dot matrix systems that could mix text and graphics but produced relatively low-quality output. The plotter was used for those requiring high-quality line art like blueprints.
Personal printers are primarily designed to support individual users and may be connected to only a single computer. These printers are designed for low-volume, short-turnaround print jobs, requiring minimal setup time to produce a hard copy of a given document.
However, they are generally slow devices ranging from 6 to around 25 pages per minute (ppm), and the cost per page is relatively high. However, this is offset by the on-demand convenience. Some printers can print documents stored on memory cards or from digital cameras and scanners.
The choice of print technology has a great effect on the cost of the printer and cost of operation, speed, quality and permanence of documents, and noise. Some printer technologies do not work with certain types of physical media, such as carbon paper or transparencies.
There you have it – a comprehensive list of best all in one Printers. If you have any personal favorite or other recommendations, do well to drop them in the comment section below.