Microsoft lets users access Windows PC on their mobile device. And multiple-platform access is a brilliant way to be linked to your work at all times if that's your desire. But it can even get better. With the Android apps listed below, you are allowed to do and undo on your Windows 10 PC, plus everything can be done on your bed or in your car or as you stroll around. For details on these amazing apps, see our list of  Best Android Remote Apps To Control Your PC:
1. PC Remote
This is an Android app that makes use of Bluetooth or WiFi to control your PC, with a remote that has several amazing features. Apart from its keyboard and mouse, there are programs like Powerpoint and Excel to do and undo with. The application utilizes the Remote Desktop feature to allow you to see the home screen of your Windows 10 system. There are also over 25 console games that you can play via the touchpad. You should expect various layouts for gamepads, which allows you to create your own game.
2. Chrome Remote Desktop
This application transfers your PC to your mobile device and allows you to control it from there. It is accessible via a remote, plus you will require a Google account to enjoy the features of the remote. One amazing feature of this application is Screen Sharing.
It is a very useful app that is practical and easy to use. It can be used alongside a touchpad, just like on your smartphone, or you can buy a mouse if you prefer it. Just ensure you are signed in into Google Chrome with your Google id.
3. KiwiMote
One of the most used Android apps. It functions via WiFi, and needs your system and mobile device to be connected to one hotspot or router – this can be done by scanning a QR code, or requesting for a PIN, to have the two linked.
Installation of Java on your system is needed with this application. It is a very responsive gamepad and mouse, and it also allows you to make use of apps like Media Player and Adobe PDF that function on the desktop.
4. TeamViewer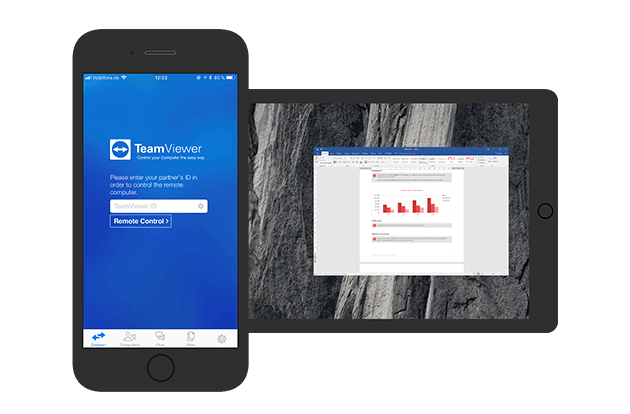 Another app with several users. It also has a desktop version that allows you to use one PC from another. The app works via a remote and also aids the simplest file transfers plus supports more than a single monitor.
The IT sector must be familiar with TeamViewer, Android, and the desktop version. It is dependable and responsive. You can make use of your TeamViewer user ID and password to link your mobile device to your computer through TeamViewer.
5. VNC Viewer
This is a remote-control based app from the producers of VNC, it allows you to access the screen of your personal computer. It is used commercially as well in workplaces and several workers in the IT industry depend on it for off-site jobs via their smartphones. Their latest version dropped recently.
There you have it – a comprehensive list of best Android remote apps to control your pc. If you have any other recommendations, feel free to drop them in the comment section below.