A dashboard camera, often mounted on your vehicle's windshield, can be the difference between getting burdened with insurance fees and avoiding them altogether. They can also be the reason why you end up being blameless rather than at fault for a driving incident. See the best options in our list of 5 Best Dash Cams:
1. Nextbase 522GW:
With its 140-degree viewing angle, this camera captures up to 1440p-resolution video. It possesses a three-inch touchscreen, an ambient light sensor to dim the screen in low-light environments plus a button to manually lock a clip and prevent the camera from overwriting footage.
2. Vantrue N2 Pro:
Even if a lot of dash cams come with 1 camera, this one has 2. The camera that points forward records in 1440p resolution and the one pointed at your vehicle's interior that records in 1080p resolution.
Must Read: 7 Best Car Phone Mounts On Amazon
It is blessed with lots of features, but the brand's concentration is more on the interior recording. Its rear camera is home to 4 infrared LEDs, which allows you to view people in the car even in complete darkness.
3. Garmin Dash Cam 66W:
They are not cheap, but they provide massive value for money. It is small and uncomplicated and it is home to 4 side buttons that can be used to control what is seen on the screen.
Must Read: 7 Best Car Gadgets That Will Make Driving Less Stressful
What the display shows is quite small, but it is still very seeable. To endear you to it the more, the camera's inconspicuous nature will make it invisible to passerby.
4. Papago GoSafe S810:
Just like the Vantrue N2 Pro, this dashcam is dual-sensor, meaning it is pointed to the front and interior of the automobile. However, unlike the product from Vantrue, this one possesses 2 separate cameras.
Must Read: 10 Best Car Shopping Apps For Android
It might appear excessive when you place it on your windshield, but it is very flexible. Its 2 sensors record in 1080p, with the front and secondary cameras featuring 140-degree and 120-degree field-of-views, respectively.
5. Garmin Dash Cam Mini: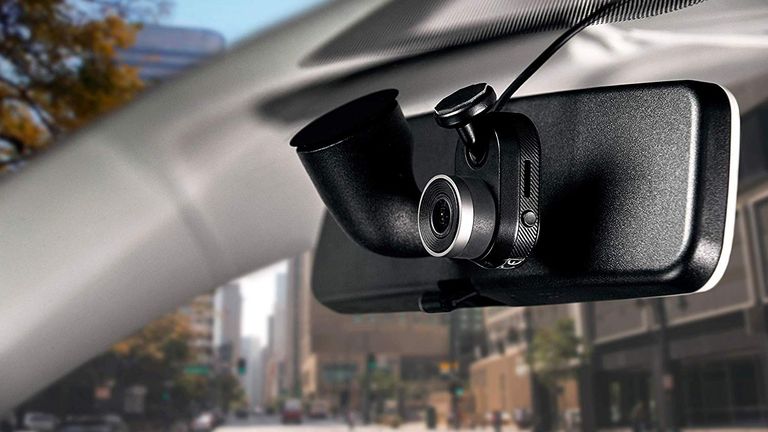 If you fancy the idea of an ultra-compact dashcam and you do not care about having a screen, this is the option to go for. It is tinier than your car key and it comes with a 140-degree lens while recording in 1080p resolution. It also possesses a built-in Wi-Fi and Bluetooth to transfer clips to your mobile device.
More Information On Dash Cams:
A dashboard camera or simply dashcam, also known as car digital video recorder (car DVR), driving recorder, or event data recorder (EDR), is an onboard camera that continuously records the view through a vehicle's front windscreen and sometimes rear or other windows. Some dashcams include a camera to record the interior of the car in 360 degrees inside camera, usually in a ball form and can automatically send pictures and video using 4G.
A wide-angle 130, 170° or more front camera may be attached to the interior windscreen, to the rear-view mirror (clip on), or to the top of the dashboard, by suction cup or adhesive-tape mount. A rear camera is usually mounted in the rear window or in the registration plate, with a RCA video output to the display monitor/screen.
Dashcams can provide video evidence in the event of a road accident. When parked, dashcams can capture video and picture evidence if vandalism is detected by 360° parking monitor and send it to the owner usually employing 4G.
Dashcams with a G-sensor ensure that recordings of a collision are not overwritten by new data usually by storing them in a separate folder and/or making them read-only. The G-sensor ensures that the dashcam makes separate recordings.
There you have it – a comprehensive list of 5 of the best dash cams. If you have any personal favorites or other recommendations, feel free to drop them in the comment section below.