Tired of battling broken downloads? or is your internet connection not just strong enough? The remedy to your problem is probably a good download manager. Download managers let users download files with faster speeds, by maximizing internet speeds. In this article, we explore a comprehensive list of best download manager for Windows PC
1. JDownloader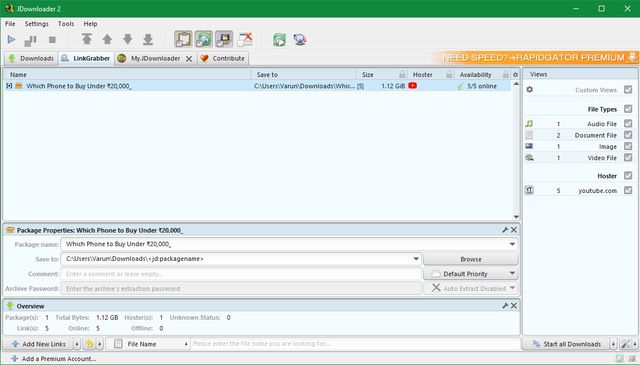 In search of the beat download manager for your Windows PC? JDownloader may just be the download manager you need. It is an open source download manager that is completely free to use. All features of the app are offered for free, without the inclusion of ads.
JDownloader allows users to start, stop or pause downloads, St bandwidth limitations, auto-extract archives and lots more. JDownloader also allows users to perform multiple downloads and also support contents from Vimeo, YouTube, add-on support and lots more. JDownloader also has support for a wide range of plugins, plugins that makes it a more powerful download manager.
2. Internet Download Manager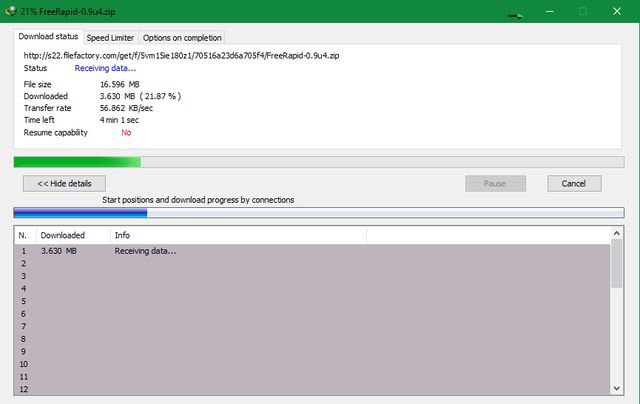 The internet download manager, popularly referred to as IDM, is unarguably the most popular download manager we have today. It's popular for all the right reasons. It's the biggest feature is its easy integration with all the major browsers we have today. IDM easily intercepts all the download links allowing me to easily download files using its service rather than the browsers built-in the downloader. This saves you stress of taking an extra step where you consciously need to use a download manager, as it automatically captures all your downloads.
IDM lets users pause and resume downloads, it supports multiple downloads, facilitates faster download speeds and lots more. IDM comes with a smart download logic accelerator that features intelligent dynamic file segmentation and safe multipart downloading technology to accelerate your downloads. This also ensures that even when your PC crashes in the middle of a download,
3. Ninja Download Manager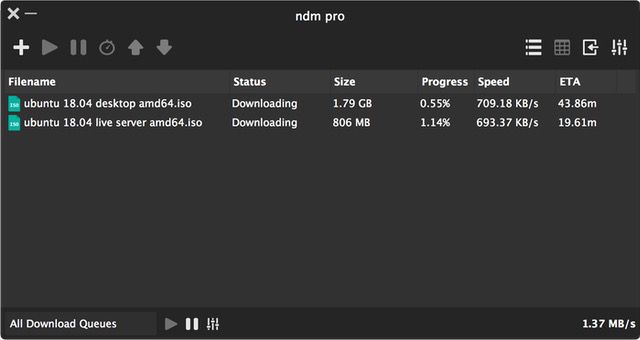 Ninja Download manager offers an intuitively designed interface to monitor downloads. Similar to the already mentioned download managers, Ninja download manager can be used to maximize internet connection, to Hasten downloads. Ninja download manager uses multiple simultaneous connections s which divides the whole fine into different parts and then uses server points to download different parts, which facilitates faster download speeds.
4. Free Download Manager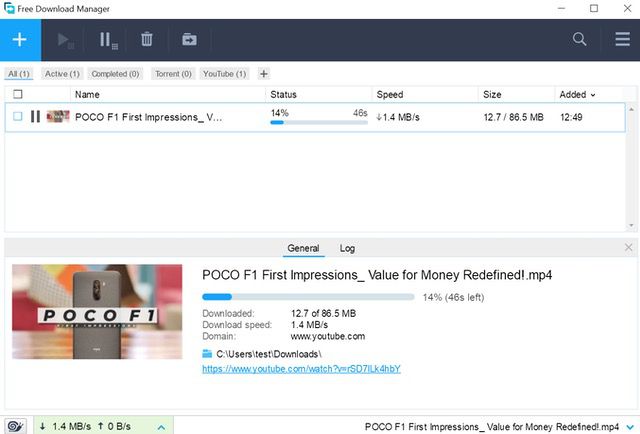 Free download manager helps you download files on your windows machine, with faster speeds. Unlike some of the already listed download managers, the free download manager software offers its essentials for free.
It lets users download files at faster download speeds l, by splitting the downloading files into different parts and then downloading them simultaneously. Free Download Manager supports pausing and resuming downloads. It also lets users resume downloading files that were interrupted abruptly.
5. Eagle Get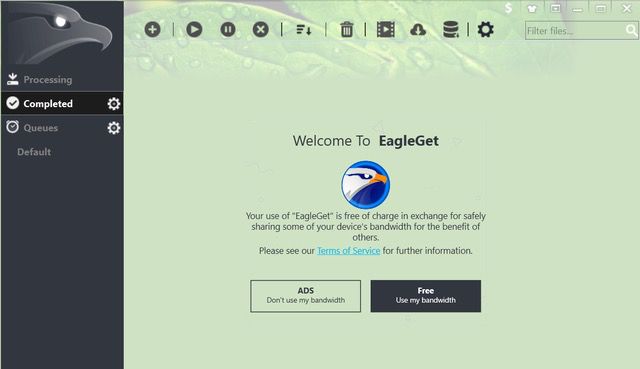 Still, on the topic of best download managers for Windows PC, Eagle Get is yet another awesome download manager, that is available on windows. For starters, the Eagle Get download manager can be integrated into Chrome, IE, Firefox, Opera. It offers support for HTTP, HTTPS, FTP, MMS, and RTSP protocol. This means Eagle Get is capable of automatically catch Download links from the mentioned. The Eagle Get download manager supports multiple downloads, ability to pause and resume downloads, adjusting the priority of downloads and lots more.
6. uGET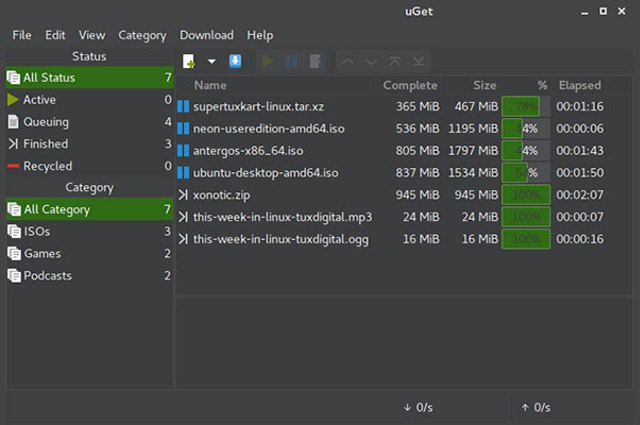 uGet is a free download manager supported on windows, that can be used to download files on your windows machine, with impressive speeds. uGet has built-in multi-connection downloads which use file splitting to increase download speeds, batch download with file queuing. uGet lets users resume and pause downloads, without having to start the download from scratch.  uGet houses an inbuilt clip manager, which monitors your clipboard for any copied download link, and prompts you to ask if you would like to downloads the files in the link. uGet can be integrated into Chrome, Firefox, Chromium, Opera, and Vivaldi
7. Xtreme Download Manager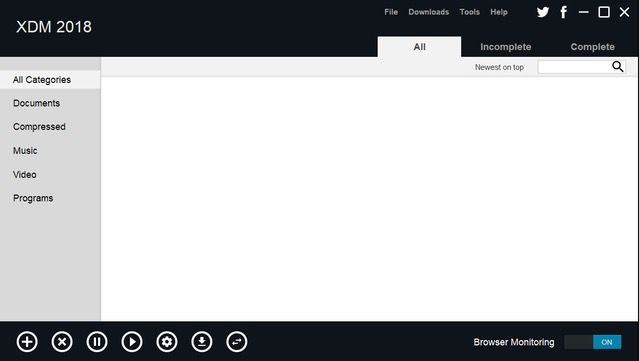 Still, have not made your choice yet? The Xtreme download manager may just be the download manager you need. Despite being one of the oldest download managers for windows, regular update of features has managed to keep the Xtreme download manager relevant.
Similar to the already mentioned download manager software, the Xtreme download manager lets you effectively optimize your internet connection, for faster downloads. Xtreme download manager supports link parsing for stream video platforms, including Youtube, Dailymotion, Facebook, Vimeo, Google Video and lots more.
8. iDownload Manager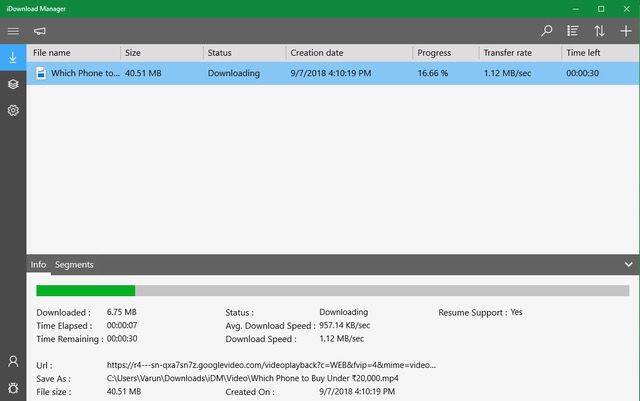 iDownload manager is one of those underestimated download manager, that actually offers a lot of exciting features. It efficiently increases download speeds. iDownload prioritizing downloads, bandwidth allocations, pausing and resuming of downloads lots more. iDownload also features a file management system, which allows users to allocate different download locations to different file types.
9. Internet Download Accelerator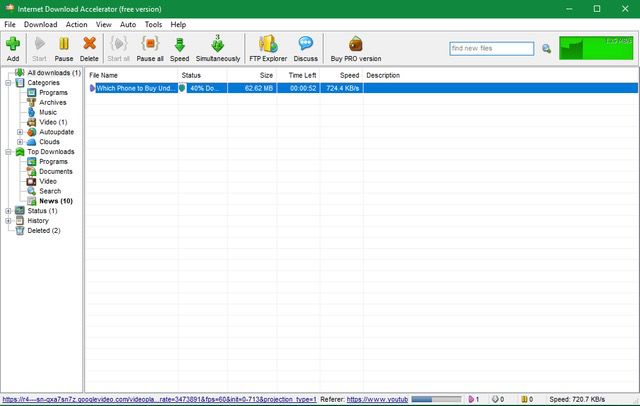 Its name says it all. The Internet download accelerator software is a pretty basic software, designed to helps users download files at higher speeds. It houses all the essentials a download manager should have.
This software allows users to pause and resume downloads. It helps users optimally manage their files. The internet download accelerator lets users resume broken downloads from HTTP, HTTPS, and FTP servers.
10. Free Rapid Downloader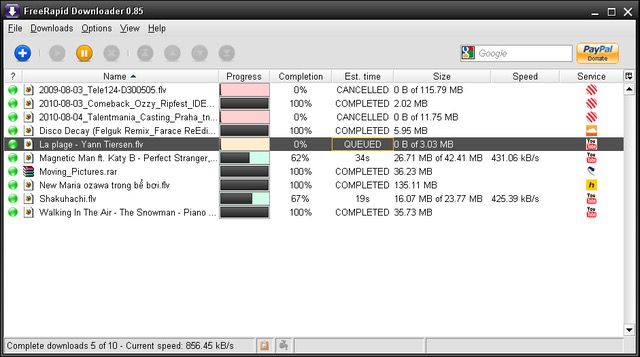 Last but certainly not least, is the rapid download manager software. It is free software that lets users download multiple files with awesome speeds. It helps users maximize the internet connection on their devices, facilitating faster downloads. The free rapid video downloader software, supports file downloads from Rapidshare, Youtube, Facebook, Picasa and lots more.
There you have it – a comprehensive list of best download managers for windows. If you have other recommendations, feel free to drop them in the comment section below, we would love to hear from you.