There will be times when you will run out of storage on your laptop hard drive or just need to back up all of your files, this when an external hard drive can be extremely useful. It will not just help you to back up your data, it also aids you to move files seamlessly from one device to another. See the best options in our list of 7 Best External Hard Drives To Buy:
1. Seagate Backup Plus Slim:
This is a very effective external hard drive that is slim and comes with brilliant storage configurations. It possesses an aluminum enclosure, plus temporary memberships to Mylio Create and Adobe Creative Cloud. Its 120MB/s transfer speed is not the quickest, but that should not be a problem. It also makes use of USB 3.0 rather than USB-C.
2. Western Digital My Passport Ultra:
Looking at it from far makes it appear like every other regular external hard drive, but a closer look will reveal a shockingly compact hard drive with a very vital feature, USB-C.
Must Read: Western Digital (WD) My Passport 4TB Review [2016 Edition]
It possesses a USB-C-to-USB-C cable, that is also home to a USB 3.1 adapter for users that can access the older port. Its transfer speed is somewhere 125MB/s, so you should not expect something that is super fast.
3. Samsung T5:
Unlike regular mechanical hard drives, this one is an external solid-state drive (SSD), meaning it does not come with any moving part to be bothered about. It is super slim and compact, therefore it will fit into a shirt pocket seamlessly. With its V-NAND flash memory and USB-C, its transfer speed is commendable at about 540MB/s.
4. SanDisk Extreme Portable External SSD: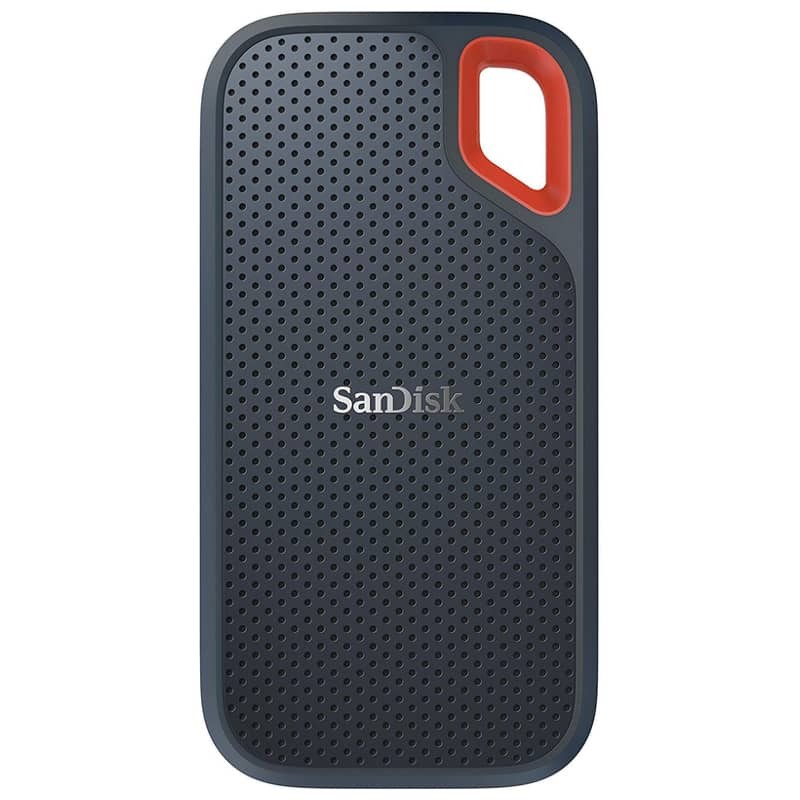 SanDisk promises read and write speeds at about 550 and 500MB/s respectively with this one.
Must Read: SandDisk iXpand Flash Drive for iPad/iPhone Review (Lightning Connector)
It is not just super quick, it is also super rugged. This external hard drive comes with an IP55 rating for protection against water and dust. It can even cope with drops from up to two meters onto a concrete floor.
5. Adata SE800:
There are several hard drives up for sale with huge capacities, but they often fail with portability. This one, however, provides a massive combination of about 1TB capacity and heavy-duty endurance. With read and write speeds of up to 1000Mbps and a weight of only 40 grams, it is definitely the best to go for if you are always on the move. It possesses USB-C connectivity, but its durability features make it stand out.
6. Western Digital My Book Duo:
This one is quite heavy but it will serve those who rarely leave their desks and wish to maximize their storage options.
Must Read: Synology DS220j Review
It is RAID-0 ready with its Red drives alongside a USB-C and 2 USB-A. If you are a speed lover, it can handle up to 360Mbps. It is true that the speed could be better, but its capacity of up to 24TB is enough attraction.
7. LaCie Rugged:
The name already tells you how rugged this one is. With its capacity of up to 5TB and its 6 different formats, it definitely shines when it comes to flexibility. Its bright orange bumper is super noticeable and it helps to safeguard the device from drop and water. It also comes with a useful USB-C cable that will always come in handy.
More Information On Hard Drive:
A hard disk drive (HDD), hard disk, hard drive, or fixed disk[b] is an electromechanical data storage device that uses magnetic storage to store and retrieve digital data using one or more rigid rapidly rotating platters coated with magnetic material.
The platters are paired with magnetic heads, usually arranged on a moving actuator arm, which read and write data to the platter surfaces.
Data is accessed in a random-access manner, meaning that individual blocks of data can be stored and retrieved in any order. HDDs are a type of non-volatile storage, retaining stored data even when powered off.
Introduced by IBM in 1956, HDDs were the dominant secondary storage device for general-purpose computers beginning in the early 1960s.
HDDs maintained this position in the modern era of servers and personal computers, though personal computing devices produced in large volumes, like cell phones and tablets, rely on flash products.
More than 224 companies have produced HDDs historically, though after extensive industry consolidation most units are manufactured by Seagate, Toshiba, and Western Digital.
HDDs dominate the volume of storage produced (exabytes per year) for servers. Though production is growing slowly, sales revenues and unit shipments are declining because solid-state drives (SSDs) have higher data-transfer rates, higher areal storage density, better reliability, and much lower latency and access times.
There you have it – a comprehensive list of 7 of the best external hard drives to buy if you have any personal favorite or other recommendations, feel free to drop them in the comment section below.