As you already know, food processors definitely help to expedite recipe preparation and most people prefer them to large volume sauces that need smaller cuts. To grant you access to the best options around, see our list of the 5 best food processors to buy:
1. Cuisinart 14-Cup Food Processor:
This option is simple to use and fast to assemble, and it comes with almost all the basic features a food processor needs to be efficient, including a large bowl, a sturdy base, a large feed tube, and stainless steel standard, slicing and shredding blades. It presently has a 4.7-star average rating from over 8,000 Amazon reviews so it is reliable.
2. Ninja Professional Plus Food Processor: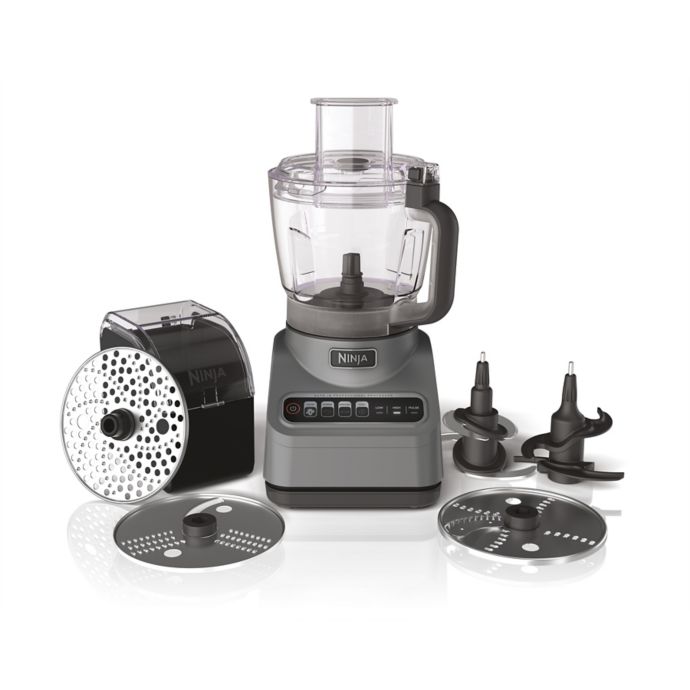 Still on the topic of 5 best food processors to buy. This 9-cup food processor has earned a 4.8-star average rating from over 2,500 Amazon shoppers and its features include multiple preset settings.
Must Read: 10 Best Food Delivery Apps For Your Android Phone
including chop, puree, and dough that will personalize the speed based on whatever you are making. You'll love the attachments, replacement policies, and warranties they come with as well.
3. KitchenAid 3.5-Cup Food Chopper:
This is a mini food processor from KitchenAid that is compact and comes with 2 basic speeds, chop, and puree. Users will get a pulse option that gives them more control and it'll appeal to people who do not cook as often and would prefer using the food processor to quickly work on sauces and dips.
Must Read: 5 Best Eco-Friendly Kitchen Gadgets To Prolong The Life Of Your Food 
This option presently boasts a 4.6-star rating from over 11,000 Amazon buyers and it is available in more than 10 different colours.
4. Hamilton Beach Food Processor & Vegetable Chopper:
This reasonably priced option possesses an average 8-cup capacity bowl, a 450-watt motor, and a simple to use dial with two speeds, and a pulse option. The brand has said its large feeding tube can fit an entire block of cheese, while its reversible shredding and slicing disc can quickly slice vegetables and puree sauces and dips.
5. Breville Sous Chef Food Processor, 16-Cup:
If you are searching for a heavy-duty option, the 16-cup capacity Breville Sous Chef has a brilliant 1,200-watt motor that will help to feed large groups or double your recipes. It also possesses a 2.5-cup work bowl for smaller quantities along with a mini blade that can accommodate it.
Must Read: 10 Best Apps For Every Food Lover
Other attachments and accessories include an S-blade, a dough blade, five slicing discs (adjustable slicer, julienne, French fry, whisker, and reversible shredder), a spatula, a cleaning brush, and a storage box.
wrapping up: There you have it – a comprehensive list of 5 of the best food processors to buy. Feel free to drop your personal favorites and other recommendations in the comment section below.
More Information On Gadgets:
A gadget is a small tool such as a machine that has a particular function but is often thought of as a novelty. Gadgets are sometimes referred to as gizmos.
In the software industry, "Gadget" refers to computer programs that provide services without needing an independent application to be launched for each one, but instead run in an environment that manages multiple gadgets.
There are several implementations based on existing software development techniques, like JavaScript, form input, and various image formats.
The earliest documented use of the term gadget in the context of software engineering was in 1985 by the developers of AmigaOS, the operating system of the Amiga computers (intuition. library and also later gad tools. library).
It denotes what other technological traditions call GUI widget—a control element in the graphical user interface. This naming convention remains in continuing use (as of 2008) since then.
It is not known whether other software companies are explicitly drawing on that inspiration when featuring the word in the names of their technologies or simply referring to the generic meaning. The word widget is older in this context.
In the movie "Back to School" from 1986 by Alan Metter, there is a scene where an economics professor Dr. Barbay, wants to start for educational purposes a fictional company that produces "widgets: It's a fictional product."