I vouch for the accuracy of this information. This article contains salient features all the Tablets listed below and concrete information about games all in all. What are the right Tablets that are highly compatible with gaming? There're countless of them. However, we'll be looking at only the top-notch tablets preferred to be used by pro-gamers. In this article, we explore a comprehensive list of best gaming tablets.
But, hold your horses. Before we get the rolling let's look at the bigger picture of Tablets devices.
Tablet is one hell a computer that is easily carried by its user. Unlike a laptop that has room for keyboard or trackpad; tablets don't. There are no such things like physical trackpad or keyboard attached to it. Although, quite a number of users, frequently add those features.
Tablets are mostly controlled by simply using its touchscreen and multi-touch technology that quasi-smartphone.
For the screen, not all are same. It has a ballpark figure of 7 inches (18 cm) to 12 inches (30 cm) in size. Many a tablet has a screen of about 10 inches (25 cm). That's all I've seen in my couple of years using different tablets.
Almost all Tablets can access the Internet by Wi-Fi, but many use mobile phone networks as well. Mobile phone networks Tablets uses are 2G, 3G, and 4G. It incorporates a camera, sensors and a microphone.
There are other intriguing features about Tablets that smartphones have, such as, anti-glare displays, Bluetooth radio, flash memory, cloud storage facilities, synchronize data and high definitions.
Are you looking forward to buying a new tablet? iPad or Galaxy tab, all in aid of playing the game with absolute satisfaction? If buying a tablet is necessary, then I suggest you're in for the buying –go buy a new one.
But before you do that, you should stay put; finish reading this article. Thus, you can see the best tablets for gaming right now and make the right choice.
We've tested tons of devices and come up with the best gaming tablets perfectly for games.
Whether you're in search of the best Android tablet or you want a budget model for playing games on rather than your phone, there are a few things one must keep in mind before the purchase.  They are:
Battery Life.
Operating system.
Connectivity and internet connection.
Internal Memory & Extension.
Resolution
Size
Think about a 2-in-1:
Think about a 2-in-1 tablet hybrid, it really makes more sense. It incorporates double features. With a Pixel book or surface Pro, one came to do casual gaming as well as paperwork effectively.
This additional feature of the functional keyboard can be of greater good with doing official work.
I highly recommend Standalone tablet, for effective gaming, movie/TV watching and web browsing.
Commonly Made mistakes When Purchasing Tablets for gaming.
They're frequently made mistakes when purchasing gaming tablets. In a few sentences, we'll get the ball rolling. But most reasons people buy game tablets is sick and tired of their phone's small screen size. Tablet brightens up their day with the additional screen display, while a small screen size device just drives people round the bend when it comes to gaming and movie watching.
Let's get our foot in the door right away.
Focus on Enough Storage:  How shall I put it? We highly recommend 16GB of storage and above. Most game and app files eat up larger space –lightning fast.  You can purchase additional storage and by doing so you are essentially future-proofing your tablet. Please don't go for anything lower than 16GB of storage.
Must Read: How To Turn Your Tablet Into A Drum Set
Focus on specs over Looks: Most of this brand has sumptuous finishing display with dazzling color and makeups that captivates. Get your on model's feature with better hardware on the inside.
Best Gaming Tablets Right Now
1. 9.7-inch iPad Pro
Did I just hear you scream I said it!? well if you did, it's absolutely normal. When it comes to the tablet industry, the iPad is leading. Its position has been contested by many brands, but none has succeeded. The thoughtful design and hardware engineering featured on iPads has been its selling point. The iPad is everything amazing. From its high refresh rate display to its high-performance processor. The Apple iPad ticks almost all the boxes in the essentials scorecard. The 9.7 iPad occupied this position, because of ergonomics. Gaming on a 10.5-inch tablet might work, but isn't comfortable, ergonomically speaking. The Specs of the iPad 9.7 are listed below
OS: iOS 11.3 | CPU: A10 Fusion | Display: 9.7 -inch 1536 x 2048 pixels| Storage: 64/256/512GB| RAM: 4GB | Battery: 8827 mAh | Front camera: 1.2 MP| Rear camera: 8MP
2.  Samsung Galaxy Tab S6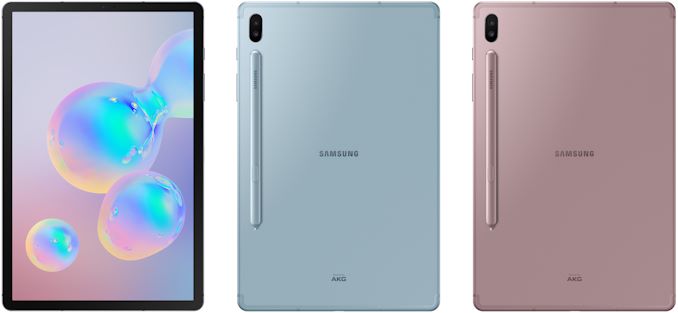 It's no surprise, that the Samsung Galaxy Tab S6  takes the second position, after the Apple iPad. This has been the case for a while now. Despite being the first in the tablet business, iPads have remained on top. Innovations from another tablet have so far being insufficient to take the iPad position. The Samsung Galaxy Tab has been the closest contender of the Apple iPad. If you desire a magnificent tab for playing games and don't want to the tied to restriction of the iOS, the Samsung Galaxy Tab S6 is highly recommended. Specs are provided below:
Must Read: Pros and Cons of a Paperless Classroom
OS: Android 9.0 |CPU: Qualcomm Snapdragon 855 | Display: 10.5-inch WQXGA Super AMOLED 2,560 x 1,600 resolution | RAM: 6GB or 8GB | Storage: 128GB / 256GB | Battery: 7,040mAh| Front camera: 5MP| Rear camera: 13MP
3. iPad Mini 5
Big displays are highly appreciated, any time any day, but having a mini-tablet, that fits into your jeans pocket, is an absolute blessing. You have a device bigger than your smartphone, yet it fits in your pocket. To crown everything, this tablet also has design cues from its big brother, the 9.7 inch iPad. Apart from design, the iPad mini also packs in impressive hardware, that makes gaming breeze. You also have apple pencil functionality here. So if you are somebody who desires a powerful tablet, you can carry about conveniently, the Apple iPad is highly recommended.
OS: iOS 11 |CPU: A12| Display: 7.9-inch 2048×1536 | RAM: 3GB | Storage: 64/128GB | Battery: 5,124mAh| Front camera: 8MP| Rear camera: 7MP
4. Microsoft Surface Pro
Gaming on windows tablet?? sounds strange, doesn't it? I guess those are the thoughts running through your mind. Well, you can actually game on tablets running windows operating system. So do you mean we can play windows pc games on this Microsoft tablet? well yes sought of. You can stream your windows PC games on this tablet and play them. You are not promised high frame rates here. But you should be able to play less power demanding games, at playable frame rates. The specs of the microsoft surface pro tablet are listed below:
OS: Windows 10 Pro | Display: 12.3-inch 2736 x 1824 |CPU: Intel Core m3, i5 or i7 | RAM: 4/8/16GB | Storage: 128/256/512GB or 1TB | Battery: Up to 13.5 hours media playback | Front camera: 5MP| Rear camera: 8MP
5.  Asus ZenPad 3S 10
Still on the topic of best gaming tablets right now, the Asus Zenpad 3S 10, is another highly recommended tablet. Coincidentally, This tablet the Zenpad 3S 10 was manufactured by an authority in the gaming sector. Asus has been on top of the food chain in the gaming industry for quite some time. Manufacturing a tablet that lets you game conveniently is a surprise. It isn't as powerful as the gaming tablets mentioned above, but it is no slack when it comes to gaming. The specs are outlined below:
OS: Android Marshmallow | Display: 9.7-inch 1536 x 2048 | Resolution: 1536 x 2048 | CPU: Mediatek MT8176| RAM: 4GB  | Storage: 32/64GB | Rear camera: 8MP | Front camera: 5MP | Battery: Up to 10 hours
6. Nvidia K1
Being a big name in the gaming industry, it's no surprise that we have a tablet from Nvidia on the list.  But there is a twist here. Unlike in the PC gaming space, Nvidia isn't leading the gaming industry in this segment. Though the Nvidia K1 is more than a capable gaming tablet, it's difficult to compare it with the top dogs already listed above. nevertheless, the Nvidia K1 is a highly recommended tablet for gaming. Tuned by Nvidia, the Nvidia K1 promises a very smooth gaming experience for its users.  The Specs of the Nvidia K1 are listed below.
Os: Android Lollipop |Screen size: 8.0 inches 1920 x 1200 pixels |Battery: 5200 mAh |2 GB RAM | CPU: Quad-core 2.2 GHz Cortex-A15
7. Amazon Fire HD 10
High-end gaming tablets are essential, but when it comes to purchasing gaming tablets for your kids, I guess you will go for something different. Not really below standard, but a tablet whose price tag won't bore a hole in your wallet. This is due to the fact that a kids tablet is susceptible to lots of falls and different forms of damage. In such a scenario, you require a tough tablet that can play games kids love a lot. This is where the Amazon Fire HD 10 tablet comes into play. The Amazon Fire HD 10 tablet is a tough tablet built to resist the likely damage from kids. Apart from being tough, the Amazon Fire HD 10 tablet would allow your kids to play a variety of games smoothly.  The specs are listed below:
Os: Android Lollipop |Screen size: 10.10-inch (1280×800) |Battery: 3830 mAh |1 GB RAM | CPU: MediaTek
There you have it – a comprehensive list of best gaming tablets right now. If you have other recommendations, feel free to drop them in the comment section below.