It might be difficult to choose the best Pixel 5 case since there are several options to select from. There is something for those that love something rugged, and users who fancy a slim and stylish case are covered as well. Want to know the best options available? see our list of 7 Best Google Pixel 5 Cases:
1. Caseology Parallax:
This brilliant case helps to keep your Pixel devices protected at all times. Its colorways for the Pixel 5 are dope and its Aqua Green look will suit a green Pixel 5 superbly. However, if you own a black Pixel 5, you can go for Burgundy and Navy Blue.
2. Tudia Dualshield Merge Series:
If you need a heavy-duty case that will not hurt your pocket at all, this is the option for you.
Must Read: 6 Best Smartphone Case Manufacturers
The Tudia Dualshield Merge Series simply grants you impact protection and grip of a flexible TPU sleeve alongside the sturdiness of a polycarbonate back.
3. Spigen Liquid Air:
This slim case will not improve your new Pixel 5 beyond your expectation, however, it will definitely add more grip due to its triangular grooves.
Must Read: 7 Best Phones With 12GB Of RAM
Owners will also get some air cushions in the corners to safeguard their devices from sudden drops. Spigen Liquid Air is not so heavy as well.
4. Totallee Super Thin:
If you absolutely detest cases, then this brand is your friend. This ultra-thin Google Pixel 5 case can be bought in clear or black and it is super thin and comfortable that you will forget your phone is even using a case.
5. Google Fabric Case:
If you need a case that is luxurious and eco-friendly, Google Fabric Case has you covered. It was crafted from seventy percent recycled materials,
Must Read: 7 Best Cellphone Family Plans
blessed with microfiber lining to ensure the Pixel 5 is kept in place and free of all kinds of blemishes and scratches.
6. Supcase Unicorn Beetle Pro: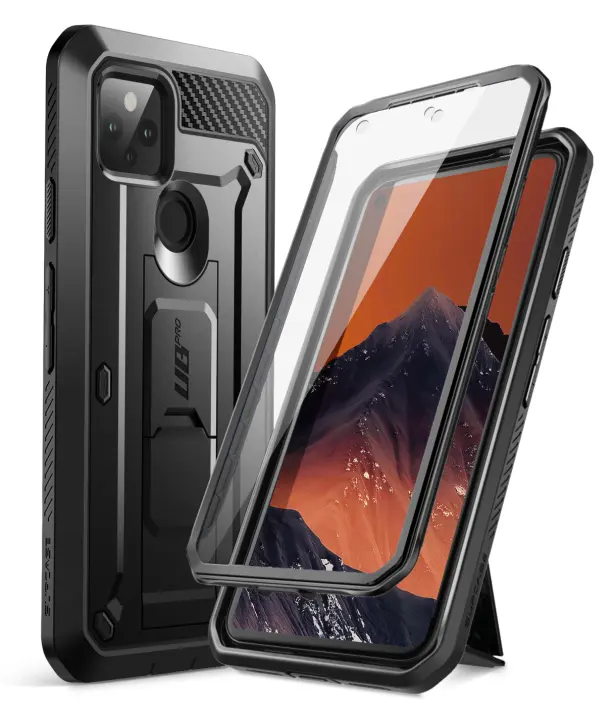 If you want a heavy-duty case that will do more than being a tank, this is the case for you. The brand involved simply built a dope kickstand and a screen protector into this ruggedly handsome case. It is very pleasing to the eye too.
7. Anccer Colorful Series:
The fact is that this particular case will not impress when it comes to drop protection, however, it will add grip and a dope color while also safeguarding your new Pixel from all kinds of scratches and scuffs. Anccer Colorful Series is not expensive too.
More Information On Google Pixel:
Google Pixel is a brand of consumer electronic devices developed by Google that run either Chrome OS or the Android operating system.
The Pixel brand was introduced in February 2013 with the first-generation Chromebook Pixel. The Pixel line includes laptops, tablets, and smartphones, as well as several accessories.
Google announced the first generation Pixel smartphones, the Pixel and the Pixel XL, on October 4, 2016 during the #MadeByGoogle event.
Google emphasized the camera on the two phones, which ranked as the best smartphone camera on DxOMarkMobile with 90 points until HTC released the U11, which also scored 90 points. This is largely due to software optimizations such as HDR+.
The Pixel phones also include unlimited cloud storage for pictures on Google Photos and, for devices purchased directly from Google, an unlockable bootloader.
The Pixel C was announced by Google at an event on September 29, 2015, alongside the Nexus 5X and Nexus 6P phones (among other products). The Pixel C includes a USB-C port and a 3.5 mm headphone jack.
The device shipped with Android 6.0.1 Marshmallow, and later received Android 7.x Nougat and Android 8.x Oreo. Google stopped selling the Pixel C in December 2017.
The Pixel Slate, a 12.3 in (31 cm) 2-in-1 tablet and laptop, was announced by Google in New York City on October 9, 2018, alongside the Pixel 3 and 3 XL.
There you have it – a comprehensive list of 7 of the best Google Pixel 5 cases. If you have any personal favorite or other recommendations, feel free to drop them in the comment section below.