Google might be popular for being a search engine, however, the company has also been responsible for a lot of tech products we use on a daily basis. These products range from mid-range mobile devices, smart speakers, streaming devices, and even thermostats. If you have no clue on what to go for and you need help, check out our list of 7 Best Google Products You Need To Buy:
1. Google Pixel 4 series:
The Pixel 4 devices come with brilliant specs like the Snapdragon 855, quality photography that improves HDR, portrait mode, and selfies. Its Night Sight, Google's name for night mode, is also better than you are used to. However, it has no ultra-wide sensor and Google did not do anything to boost the quality of the video. All in all, its battery life can be better but it gets the job done for owners.
2. Google Nest Hub Max:
It comes with everything you need from a smart display. The Google Nest Hub Max has a big 10-inch display, a stereo speaker system with reasonable quality, camera sensing and face match tech. It is also home to a front-facing camera that also functions as an indoor security camera. You do not have to bother your head about how to control all your smart home products because it is far from complicated.
3. Google Nest Learning Thermostat: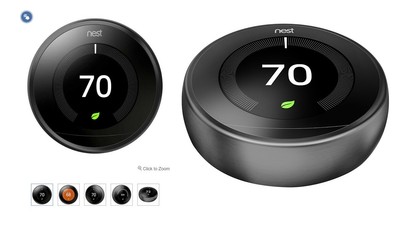 Its selling point is in the name. Within 7 days of recording your preferences, this product masters your routine and adjusts immediately. For instance, it will instantly begin to cool your room at night as soon as it knows this is what you do every other night. It is also aware when you leave your house from your phone's GPS.
4. Google Pixel Slate:
This is a Chrome OS device that can also function as a tab. The tab also has an edge over the iPad Pro with its real browser, Apple powered up the iPad's browser with iPadOS, but the Chrome browser in Chrome OS is a complete browser with extensions and so on.
On top of that, Chrome OS has official access to the Google Play Store, meaning, it is possible to download and use Android applications on the Pixel Slate when you need to calm your nerves.
5. Google Chromecast Ultra:
This normal Chromecast helps to save decent cash but you will not have access to the all-important Chromecast Ultra's feature, 4K streaming.
Must Read: How to ask Google to delete conversations you never wanted to
It is also the only Chromecast that is compatible with Google's Stadia cloud gaming service. Other features are high dynamic range support via HDR10 and Dolby Vision, quicker load times and an Ethernet adapter.
6. Google Nest Cam IQ Outdoor:
As the name suggests, it is meant to function outside the house. During the rain or under the sun, this device can withstand the elements because of its IP66 rating. It is able to record in 1080p resolution with a 130-degree wide-angle lens and HDR.
Must Read: 5 Cheap Home Security Devices
The Google Nest Cam IQ Outdoor will alert you as soon as it hears strange motions or weird sounds. Its alert can come in the form of a notification on your phone or via email. It is definitely a brilliant security system.
7. Google Pixelbook Go:
It is the most recent Pixelbook device from Google and it possesses fresher components and a cooler design potential owners will appreciate. Its display cannot be turned all the way around to look like a tab, however, but it is very affordable. This laptop weighs 2.3 pounds and you will have access to features like an Intel Core i7 processor, 16GB of RAM, 256GB of storage, and 4K resolution.
More Information About Google:
Google LLC is an American multinational technology company that specializes in Internet-related services and products, which include online advertising technologies, search engines, cloud computing, software, and hardware. It is considered one of the Big Four technology companies, alongside Amazon, Apple, and Microsoft.
Google was founded in September 1998 by Larry Page and Sergey Brin while they were Ph.D. students at Stanford University in California. Together they own about 14 percent of its shares and control 56 percent of the stockholder voting power through supervoting stock.
They incorporated Google as a California privately held company on September 4, 1998, in California. Google was then reincorporated in Delaware on October 22, 2002.
An initial public offering (IPO) took place on August 19, 2004, and Google moved to its headquarters in Mountain View, California, nicknamed the Googleplex.
In August 2015, Google announced plans to reorganize its various interests as a conglomerate called Alphabet Inc.
Google is Alphabet's leading subsidiary and will continue to be the umbrella company for Alphabet's Internet interests. Sundar Pichai was appointed CEO of Google, replacing Larry Page who became the CEO of Alphabet.
As per its 2017 Annual report, Google generates most of its revenues from advertising. This includes sales of apps, purchases made in-app, digital content products on google and YouTube, android and licensing and service fees, including fees received for Google Cloud offerings.
46% of this was from clicks (cost per clicks), amounting to US$109,652 million in 2017. This includes three principal methods, namely AdMob, AdSense (such as AdSense for Content, AdSense for Search, etc.) and DoubleClick AdExchange.
Google offers Gmail for email, Google Calendar for time-management and scheduling, Google Maps for mapping, navigation and satellite imagery, Google Drive for cloud storage of files, Google Docs, Sheets and Slides for productivity, Google Photos for photo storage and sharing, Google Keep for note-taking,
Google Translate for language translation, YouTube for video viewing and sharing, Google My Business for managing public business information, and Duo for social interaction. In March 2019, Google unveiled a cloud gaming service named Stadia.
There you have it – a comprehensive list of best Google products to buy. If you have any personal favorites or other recommendations, feel free to drop them in the comment section below.