We all know how important a fridge is these days. They help to keep your food items and drinks fresh and ensure everything you consume in your home is of great value to your body. There are several brands out there that can get the job done, but it is always to go for the very best. Let's see some of them in our list of 4 Best Minifridges On Sale In 2020:
1. Danby Designer 3.3 Cubic Feet Refrigerator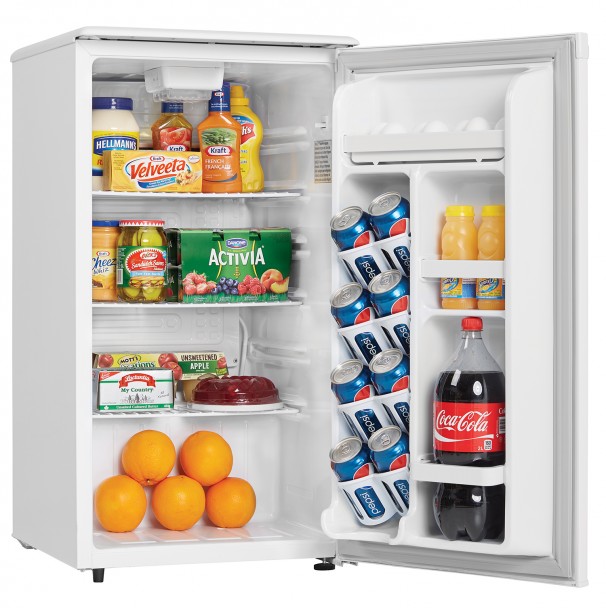 If you want a compact fridge, search no more. Danby provides several high-quality minifridges and they get the job done amazingly.
This particular fridge, on sale in various colors, makes use of on-door storage and a special Cantor shelving system to make the right storage space available for a large range of beverages sizes. There is room for 2-liter bottles and twelve-ounce cans plus it comes with 3 adjustable shelves that can accommodate lots of products.
2. Midea WHS-65L Compact Fridge
Still, on the topic of best minifridges on sale, this fridge is just about 18 inches tall and 19 inches wide, and this makes it portable enough to stay on a kitchen counter or beneath a desk.
Must Read: Wanting to Make a Smart Home? Start with These 5 Items To Start A Smarthome
It also comes with a little freezer compartment. This one can cool your drinks nicely and save you the stress of a back and forth from your main fridge.
3. HomeLabs Minifridge

If you are searching for a brilliant dorm fridge, then you will love this 3.3 cubic foot refrigerator which provides powerful features that you will not expect.
Must Read: 10 Restaurant Technology Trends
Temperature controls can be adjusted between Maximum, Medium, and Minimum depending on what your preference is (or turned off when you are not using it), but it is the interior of the HomeLabs Minifridge that dazzles.
It comes with its personal shelves for keeping snacks and a lovely can holder that is useful for whole canned beverages for a stress-free removal.
4. Black+Decker BCRK25B
Your place of work is a brilliant spot for a minifridge if the lunchroom fridge gets too crowded. The only issue is locating the perfect fridge for your desk.
Must Read: 5 Cheap Home Security Devices
In 1 compact frame, it provides a complete-width freezer compartment that comes with an ice cube tray, 2 glass shelves for the refrigerator compartment, and 2 full-width door shelves with unique spots to accommodate your drinks.
More Information About A Fridge:
A refrigerator (colloquially fridge) consists of a thermally insulated compartment and a heat pump (mechanical, electronic or chemical) that transfers heat from the inside of the fridge to its external environment so that the inside of the fridge is cooled to a temperature below the room temperature.
Refrigeration is an essential food storage technique in developed countries. The lower temperature lowers the reproduction rate of bacteria, so the refrigerator reduces the rate of spoilage.
A refrigerator maintains a temperature a few degrees above the freezing point of water. Optimum temperature range for perishable food storage is 3 to 5 °C (37 to 41 °F).
A similar device that maintains a temperature below the freezing point of water is called a freezer.
The refrigerator replaced the icebox, which had been a common household appliance for almost a century and a half.
The first cooling systems for food involved ice. Artificial refrigeration began in the mid-1750s and developed in the early 1800s. In 1834, the first working vapor-compression refrigeration system was built.
The first commercial ice-making machine was invented in 1854. In 1913, refrigerators for home use were invented. In 1923 Frigidaire introduced the first self-contained unit.
The introduction of Freon in the 1920s expanded the refrigerator market during the 1930s. Home freezers as separate compartments (larger than necessary just for ice cubes) were introduced in 1940. Frozen foods, previously a luxury item, became commonplace.
Freezer units are used in households and in industry and commerce. Commercial refrigerator and freezer units were in use for almost 40 years prior to the common home models.
The freezer-on-top-and-refrigerator-on-bottom style had been the basic style since the 1940s until modern refrigerators broke the trend.
A vapor compression cycle is used in most household refrigerators, refrigerator-freezers, and freezers. Newer refrigerators may include automatic defrosting, chilled water, and ice from a dispenser in the door.
There you have it – a comprehensive list of the best minifridges on sale. If you have any personal favorites or other recommendations, feel free to drop them in the comment section below.