The Motorola Moto G7 is surely one of the best all-round mobile devices you can lay your hands on if you are spending on a budget right now. The device offers amazing hardware and software specs at an affordable price that most buyers will love. However, buying this smartphone automatically means protecting it from harm, which is where investing in a decent case will come in. For the best options around, see our list of 5 Best Moto G7 Cases:
1. Spigen Liquid Crystal:
This case provides brilliant protection for your Moto G7 despite its slim size. It comes with a flexible TPU that makes it simple to install and its buttons are well covered.
Must Read: 7 Best Android Accessories
Precise controls are also available for those who wish to access other ports and features. This case is even transparent and allows you to flaunt the device's design.
2. Speck Presidio Lite: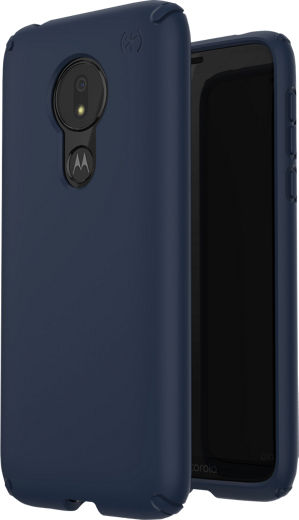 This is a slim, single-layer protective case that comes with an impact-absorbing barrier and reinforced corners for added protection.
Must Read: Motorola Moto G7 Power Review – Specs, Features, and Price
Its raised lip ensures the screen and the camera glass are free from scratches. Its buttons are very protected too, making it a very good choice.
3. Spigen Rugged Armor:
This is one of the best Moto G7 cases around because it provides remarkable protection for your device without making it look and feel very heavy.
Must Read: 5 Best Travel Accessories To Buy
It simply makes use of air cushion tech plus interior spider-web pattern that aids shock dispersion. The raised lip this case possesses keeps the screen and camera safe and you are guaranteed covered buttons too.
4. Poetic Affiniy:
This case gives you the combination of a tough shell and an impact-resistant bumper with reinforced corners to offer military-grade (MIL-STD 810G-516.6) protection for your device.
Must Read: Motorola Moto G7 Play Review – Specs, Features and Price
Its raised ridges on the back come with a matte finish to ensure they are scratch-free. It's extended lids ensures the screen, rear camera, and fingerprint scanner are not easily damaged.
5. Tudia Merge:
This is a brilliant option for whoever is searching for added heavy-duty protection. It comes with 2 layers, a tough polycarbonate shell on top to ensure the device is scratch-free plus an inner TPU layer that aids the absorption of shock when it falls. Other features include its covered buttons, a raised lip for the display, and camera lenses.
Moto G7 (stylized by Motorola as moto g7) is a series of Android smartphones developed by Motorola Mobility, a subsidiary of Lenovo; it is the seventh generation of the Moto G family and was first released on 7 February 2019.
As with the last generations which introduced the Plus and Play variants, this series has introduced the Power variant as well. There are 4 variants in the seventh series.
The G7 was announced on February 7, 2019; it was released on the same day in the Brazil and Mexico markets. It was due to be released in the European market on March 1, 2019, however, this was delayed until the 15th for unknown reasons.
It was due to be released in North America, Australia, and Asia after Europe, however, no dates had been announced.
The G7 was released in India on March 25, 2019, at a launch price of 17825 rupees (about US$247), alongside an Android One-powered phone, the Motorola One. The other variants of the G7 had yet to be released.
The G7 Power was released in Australia, exclusive to mobile carrier Telstra on April 30, 2019. Gizmodo criticized Telstra's contract pricing for the phone, with the cheapest option costing A$1,416 over 24 months, despite the price of A$349 to buy it outright.
There you have it – a comprehensive list of 5 of the best Moto G7 cases. If you have any personal recommendations, feel free to drop them in the comment section below.