As a news addict that just cannot do without regular updates concerning what is happening around the world, you will always need something to make that happen for you.To aid you with all that, big companies such as Apple and Google have released new applications that will assist you to organize the news and make sure you can view what you really care for, whatever, whenever.For the best options out there, check out our list of Best News Apps For iPhone And Android Smartphones:
1. Flipboard
This app is now one of the well known apps for Android and iPhones. And it is on merit. It accesses content worldwide and shows you the content you are interested in the most. A table in it is named "For You," it aids you to view the content you fancy the most, plus the option to check out stories you will not regularly see. The reader it comes with is incredible and helps for easy content access. It can be downloaded for free.
2. Apple News
As an iOS device owner, it comes with your smartphone. It begins by requesting to know the exact type of content you like. It will then make use of your response to serve you the best news that you will appreciate.
It even keeps you notified so you can be aware when there is news. As a Mac owner, you are allowed to syndicate content across devices. As an Android owner though, you cannot access Apple News. The app will cost you nothing to download.
3. Google News
Google has been in our faces for a while. Apart from the news we search for ourselves on its platform, it brings you the news on your smartphone as well. Unlike Apple News, this one is accessible on both Android and OS devices and the experience with both is identical.
It allows you to analyze what you want the content to be all about. And immediately it is booted, the hottest 5 stories at that moment will be shown to you. It is free to download and install.
4. Feedly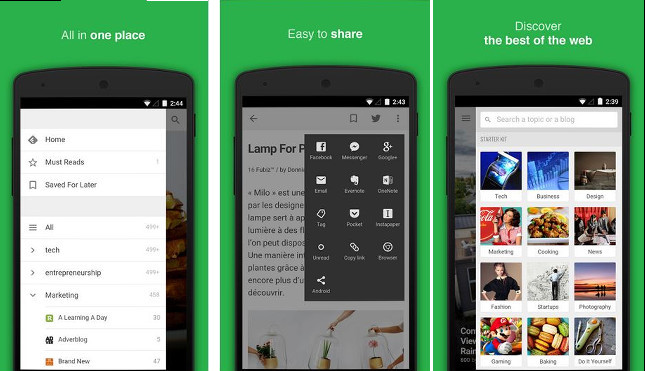 This app is not as big as the ones already mentioned, but give it time and it will attain that height as well. Its design is amazing to look at. With this app, you can easily access the best content you fancy and need to be equipped with.
You get to read your news in full screen as well if that is what you want. There is a night mode feature too to help you read it in the night. It is free to download as well.
5. Inoreader
This app is yet to really penetrate in the market like, say Flipboard for example, but it is still a decent option for whoever is seeking something different.
One vital feature Inoreader comes with is its unique design. Its Dive feature aids the separation of content along with several topics and allows you to build your personal newsfeed according to the content you fancy. What will dazzle you the most is the fact that everything is done by making visual components, like still pictures, the main attraction. It possesses a night mode feature to and content can even be exported to friends and loved ones. It is available for free.
There you have it – a comprehensive list of best news apps for iPhone and Android. If you have other suggestions, feel free to drop them in the comment section below.
Get the most important happenings in your inbox weekly