There are now so many ways to know a thing or two about the piano. One of the latest ways to play is through your mobile phone. There are apps you can find in the app store that are designed to teach you how to handle the instrument in ways you never imagined. Let's help you further by providing the list of Best Piano Apps For Android and iOS devices 2019:
1. Piano Free – Keyboard With Magic Tiles Music Games
This app is not too huge in size and is endowed with some amazing features. It is an electric keyboard simulator app with proper virtual musical instruments to aid you to gain knowledge about chords and music notes without costing you a dime. It is also filled with songs made by singers for beginners. There are a variety of sounds to choose from. Specific sounds like the GrandPiano, FortePiano, Harpsichord, Organ e.t.c. You get to come up with creative and original melodies you can share on social media. There are the Creatures which is the safe sharing hub for kids and adults.
2. Perfect Piano
This app offers a realistic experience through the appearance, sound and unique feel that comes with it. You are allowed a full view of the keyboard once without you having to scroll left and right for the sound you want. It supports multi-touch play as well just like what a real-life piano offers. Perfect Piano is also endowed with an intuitive user interface. Users hate a piano app with really small keys but you don't have to worry about that with this app because you are free to customize the key width anytime you want. It is free to download and use. You can record what you play for reference whenever you want too.
3. Pianist HD: Piano +
You are so free to enjoy your experience with this app by playing at the speed you want without bothering about any configuration change. You are solely in charge here. It is filled with 128 musical MIDI instruments and more than 12 sampled voices for your keyboard. You get the option of more than 50,000 tracks to choose from.
This app can load any MIDI file set for play in a relaxing manner. Knowledge about piano chords, reading music notes can be gotten via its sheet page option. The Keyboard width and height adjustment is also available for your convenience.
4. ORG 2019
You can Record, Re-record, Sing a Song, Save, Playback, make use of the phone as a microphone with audio filters, enjoy the available drum kits and hilarious human drum kits, connect to a real-life piano through a USB Midi Cable, enjoy the multi-touch feature with 10 fingers, come up with high-quality MP3 you are allowed to share via WhatsApp, Viber, Line e.t.c. It is basically a piano app other piano apps look up to.
5. Piano HD
It is famous for being a cool way to learn songs. It aids you to learn from already-established pianists. It is not really a tool to get dope techniques from, but you'll learn how to play the songs you wish to learn. Fresh songs are uploaded weekly to keep things updated and keep you rushing back. It is really entertaining.
6. Real Piano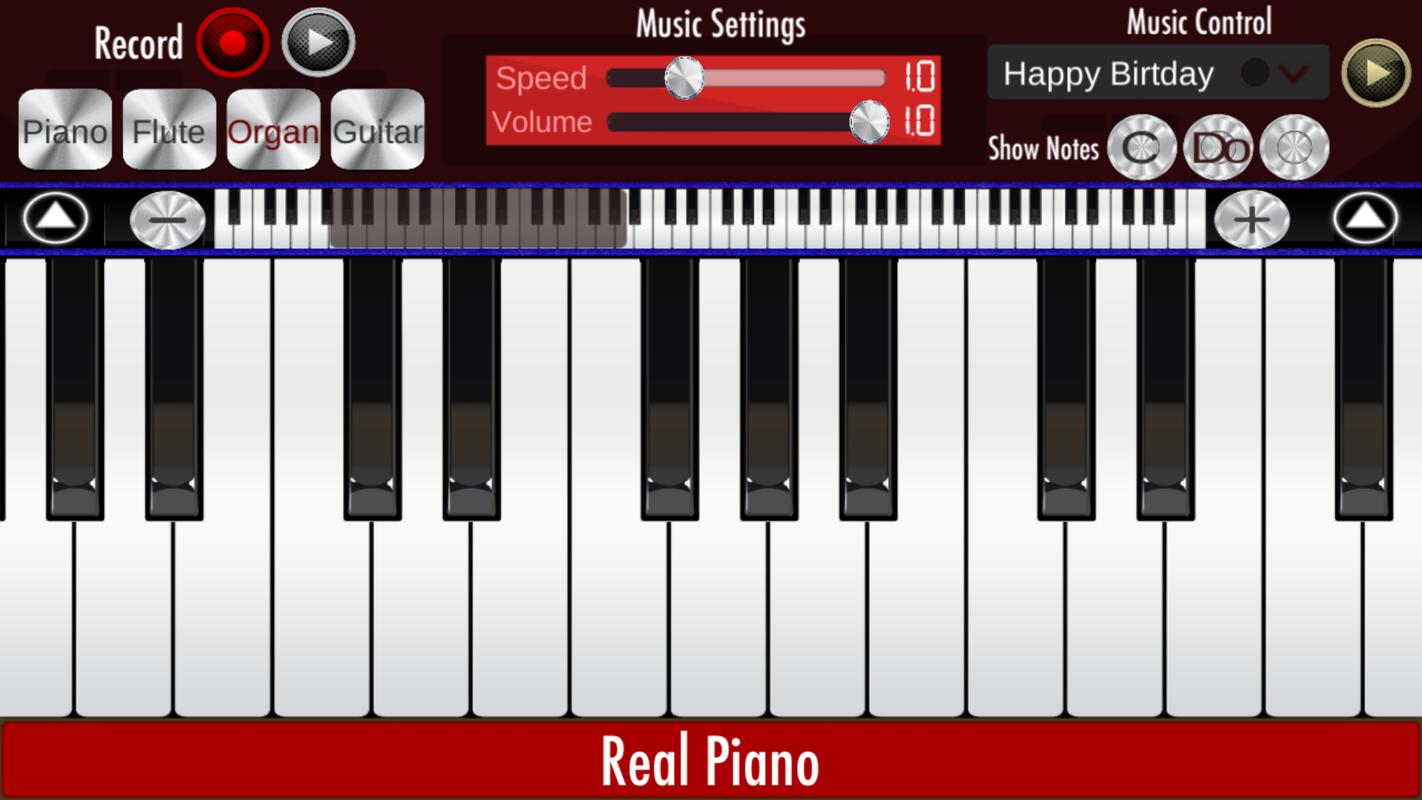 Its functions are minimal but it could still be seen on top of 'Top Free Music' section on Google Play Store recently. It is simply a useful tool you can use to play tunes on your own. There is the Piano, Flute, Organ and many more to choose from using the record feature to know what might need tweaking or what is perfect enough to be heard. Though the record button doesn't save your work, it shows you the note on the keys.
7. My Piano
Another simple tool for music creation. Having more than 50 million users right now should speak for its effectiveness. You are allowed to choose from 11 different types of the instrument's sound. It has a brilliant sound quality with several sound effects.
When I say sound effect, I'm talking about your Echos, Chorus, Amps of this world. Check this out, this app lets you change the skin of the keyboard. Showing the names of the keys or not is also up to your discretion.
8. Piano Maestro
This app is by Joytunes. It is for kids to help with a piano practice app for those in that lower age bracket. The app allows the usage of the iPad's touchscreen or microphone to monitor the user accuracy and give instant visual and heard feedback. Users even earn points based on criteria like rhythm, sight reading, and music technique.
Kids get the opportunity to distribute their achievements via social media or mail. Parents and Teachers are not left out, they are allowed to monitor their kid's progress on the piano via the teacher dashboard.
9. Simply Piano
Also by JoyTunes. This app has one job, turning a beginner to a pro. You get to experience cool music tracks like John Legend's All Of Me, take courses for several musical tastes and playing levels, move from reading sheet music and transforms you to one who plays with both hands. This app is ready to go for all ages and no prior knowledge is required. You just have to keep playing.
10. Piano App By Yokee
This one is easy to use. You'll be feeling like a pro soon enough after experiencing it. There is a quality songbook that caters for several varieties of music genres e.g Classical, Traditional and Kids' music, Major Hits, with new tunes added on a daily basis to aid your selection. The shape of you by Ed Sheeran, Hello by Adele and Attention by Charlie Puth are some of the amazing jams you'll find on Piano App By Yokee. You also get to access an easy-to-follow tutorial, more than 190 game levels, and the full 88 keys keyboard.
There you have it guys, my list of best piano apps for Android and iOS devices. These apps will go along way in helping you build your skills.