Undoubtedly, Fiber optic internet delivers the quickest and most dependable connection you can get right now. However, you will be unable to take full advantage of its capabilities if you are using an outdated router. To help you avoid all of that, see our list of 5 best routers for fiber optic internet:
1. ASUS RT-AX88U Wi-Fi 6 Gaming Router:
This dual-band router makes use of MU-MIMO (multi-user, multiple input, multiple output) to send data to up to 4 devices and receive data back from them all simultaneously.
Must Read: 5 Best Gaming Routers
It can actually reach speeds of 1,148Mbps on the 2.4GHz band and 4,804Mbps on the 5GHz band when connected to Wi-Fi 6-capable devices.
2. TP-Link Archer AX6000 Wi-Fi 6 Router: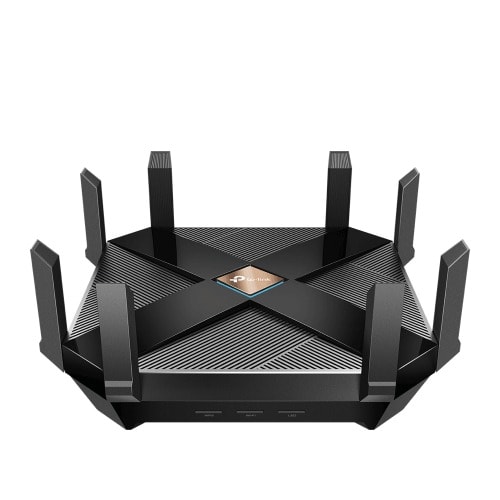 This option is as capable as the ASUS RT-AX88U and it is available at an affordable price. Just like the ASUS RT-AX88U, the Archer AX6000n comes with dual-band and MU-MIMO technology, eight-gigabit ports,
Must Read: 5 Best Mesh Wi-Fi Routers
beamforming, a "Smart Connect" feature, a built-in security system, parental controls and QoS controls. It is also home to a port for 2.5Gbps connections, a feature the RT-AX88U doesn't come with.
3. TP-Link AX3000 Archer AX50 Wi-Fi 6 Smart Router:
Even if the AX50 doesn't have a multi-gig port, it does come with link aggregation. This allows you to combine 2 of the router's 4-gigabit ports in case you ever need a 2Gbps connection. As per speed, this option is designed to reach up to 2,402 Mbps on 5GHz band and 574 Mbps on the 2.4GHz. Despite lots of walls and interference in the real world, you are guaranteed speeds of over 500Mbps while being a room away from the router.
4. TP-Link AC1900 Archer A9 Smart Wi-Fi Router:
The Archer A9 has dual-band MU-MIMO and beamforming technology to deliver speeds of around 600Mbps on the 2.4GHz and 1,300Mbps on the 5GHz band. Users who have internet plans of 400Mbps are guaranteed near-perfect speeds in the same room as the router and closer to 100Mbps in rooms one floor away.
Some more helpful features include 4-gigabit ports, a firewall, a guest network to keep visitors on a separate connection and parental controls.
5. ASUS ROG Rapture GT-AX11000 Wi-Fi 6 Gaming Router:
If you are a die-hard online gamer who wants to spend lots of cash to get the best connection, this is the router to go for.
Must Read: 5 Best Smart Plugs To Boost Your Home's IQ
It is a tri-band router that can deliver amazing wireless performance by using 3 Wi-Fi frequencies (two on the 5GHz band and one on the 2.4GHz band.) You can even dedicate one of the 5GHz bands to your gaming console or PC so it doesn't compete with other connected devices.
wrapping up:
There you have it – a comprehensive list of 5 of the best routers for fiber optic internet. Feel free to drop your personal favorite and other recommendations in the comment section below.
More Information On Gadgets:
A gadget is a small tool such as a machine that has a particular function, but is often thought of as a novelty. Gadgets are sometimes referred to as gizmos.
In the software industry, "Gadget" refers to computer programs that provide services without needing an independent application to be launched for each one, but instead run in an environment that manages multiple gadgets.
There are several implementations based on existing software development techniques, like JavaScript, form input, and various image formats.
The earliest documented use of the term gadget in context of software engineering was in 1985 by the developers of AmigaOS, the operating system of the Amiga computers (intuition.library and also later gadtools.library). It denotes what other technological traditions call GUI widget—a control element in graphical user interface. This naming convention remains in continuing use (as of 2008) since then.
It is not known whether other software companies are explicitly drawing on that inspiration when featuring the word in names of their technologies or simply referring to the generic meaning.
The word widget is older in this context. In the movie "Back to School" from 1986 by Alan Metter, there is a scene where an economics professor Dr. Barbay, wants to start for educational purposes a fictional company that produces "widgets: It's a fictional product."
Get the most important happenings in your inbox weekly