One of the vital features that have been upgraded with the Samsung Galaxy S20 series is the display. Every variant of the device possesses 120Hz displays and Quad HD+ resolutions, however, the Galaxy S20 Ultra comes with a brilliant 6.9-inch screen. Surely, you would need to ensure the screen remains free from damage, so let's help you with that in our list of 7 Best Samsung Galaxy S20 Ultra Screen Protectors:
1. amFilm Tempered Glass:
It can be tough to find a tempered glass screen protector for the Galaxy S20 Ultra due to its curved screen and under-display fingerprint sensor. Fortunately, amFilm's Ultra tempered glass screen guards can give you the protection you need. Its most important feature is that it functions with the ultrasonic scanner, even if you need to repeat the setup process.
2. LK TPU Film:
This screen protector will not be as effective as a tempered glass one, however, it still helps to prevent scratches and blemishes.
Must Read: How To Fix Touch Screen That Is Not Working
It is very transparent and extremely thin, therefore your viewing experience will be superb and you will have access to a true-touch feel. Even it will not guarantee total edge-to-edge protection, it has been designed to work with most cases.
3. Armorsuit Militaryshield:
This screen protector is one of the best out there. It is ultra-thin and highly transparent, therefore you will not have issues with screen clarity, touch sensitivity, or while using the ultrasonic fingerprint scanner.
Must Read: 6 Best Smartphone Case Manufacturers
You will also have access to edge-to-edge protection and a self-healing layer that deals with minor scratches and other blemishes.
4. Skinomi TPU Film:
Like other TPU film screen protectors, this protector ensures the screen remains scratch-free even if it does not provide as much protection as tempered glass.
It is ultra-thin and transparent, therefore you will not see a difference when it comes to using the screen. Its oleophobic coating ensures smudges are kept away and it possesses a self-healing layer that instantly rectifies minor scratches and marks.
5. Whitestone Dome Glass Screen Protector:
This protector is one of the best around and it needs the use of adhesive which is cured via the use of UV light.
Must Read: 7 Best Android Accessories
The advantage to expect here is that as soon as it is applied, the screen protector offers tough full cover protection for the S20 Ultra's 6.9? curved AMOLED display. It also retains the sensitivity of the screen, which means you can keep using your S20 Ultra as normal.
6. Olixar Case Compatible Glass Screen Protector:
This case is designed to function with S20 Ultra's in-display ultrasonic fingerprint reader, and it offers a tough barrier to safeguard the screen against scratches and impacts.
Must Read: 7 Best Phones With 12GB Of RAM
It is unique for its case compatibility, which means it is still possible to fit a case to your S20 Ultra without bothering about the screen protector lifting or cracking in the corners. It also comes with a cleaning and application kit that makes the screen protector simple to apply.
7. PanzerGlass Case Friendly Privacy Screen Protector: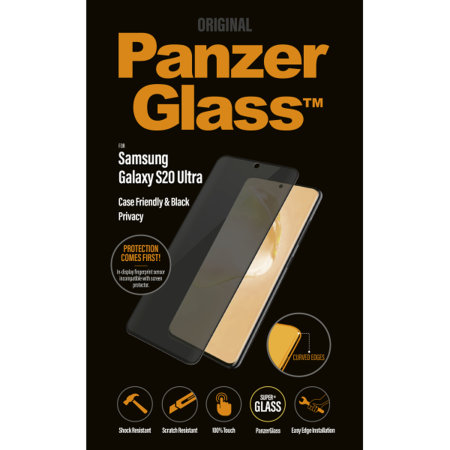 This protector helps to safeguard your privacy from prying eyes, making it very vital when you are around too many people. When viewed from an angle, the screen will be black, but when viewed straight, the screen will appear transparent, letting you use your device as you would with a normal screen protector.
More Information On-Screen Protector:
A screen protector is an additional sheet of material—commonly polyurethane or laminated glass—that can be attached to the screen of an electronic device and protect it against physical damage.
The first screen protector was designed and patented by Herbert Schlegel in 1968 for use on television screens.
Screen protectors first entered the mobile-device market after the rise of personal digital assistants (PDAs). Since PDAs were often operated via a stylus, the tip of the stylus could scratch the sensitive LCD screen surface.
Therefore, screen protectors provided sacrificial protection from this damage. Since then, the ubiquity of mobile-devices has seen the screen protector become more widely used.
Screen protectors have been known to interfere with the operation of some touchscreens. Also, an existing oleophobic coating of a touchscreen will be covered.
When the screen protector is removed, the oleophobic coating will be damaged or removed entirely sometimes.
There you have it –  a comprehensive list of 7 best samsung Galaxy S20 Ultra screen protectors. If you have any personal favorite or other recommendations feel free to drop them in the comment section below.