Due to a lot of reasons, Lock screen apps has commanded a lot of attention from the Android community. Lock screens are the first thing we see when we try to unlock our smartphones. The features of these lock screen go along way, in determining how we access our smartphones. In this article, we are going to explore a list of 10 best screen lock apps for Android.
1. Always On AMOLED
Always On AMOLED is a lock screen app that mimics the Always on display feature, found on Smartphones with AMOLED display. It brings the Always on display to all smartphones. This app displays time, notifications, and other lock screen basics. The Always on AMOLED app initializes doze mode while running.
2. CM Locker
Developed by Cheetah, CM Locker I'd a screen lock app and App lock hybrid. It lets you secure apps with passkeys as well as secure your entire smartphone. The app locker feature here ensures total security against hacks. CM Locker also features inbuilt HD wallpapers, to make you lock screen a more colorful.
3. Floatify
Looking for a third party lock screen app with a minimal interface, looking a like a stock lock screen app? Floatify may be the lock screen app you have been looking for. Floatify features a simple background and the time widget. Though it seems simple by default, floatify allows users to add or remove widgets, which may make the lock screen less minimal.
4. Hi Locker
Hi Locker is yet another awesome lock screen app for Android devices. It features weather widget, shows notifications, calendar events and lots more.
Hi Locker has fingerprint support for smartphones with fingerprint scanners. Hi Locker lets you auto set wallpapers from Flickr, to make your lock screen beautiful.
5. KLCK
KLCK is a modular lock screen app, that lets users create custom lock screens for their Android devices. KLCK features a simple editor packed with a lot of features. It enables you to add the widgets you desire. These widgets can include Google fit data, weather, live maps e.t.c
6. Lok Lok
Lok Lok is a lock screen that makes accessing Snapchat a lot easier. With the app installed in your Android device, you can unlock your device to open your camera. Immediately you click the unlock button, your camera app opens.
7. Solo Locker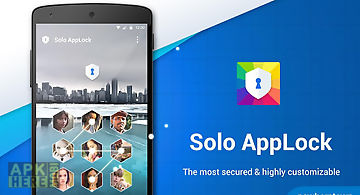 Solo locker is another modular Android lock screen app, that lets you modify your lock screen the way you like. Solo locker offers a lot of customization features and lock screen elements. Solo locker had a lot of widgets and built-in wallpaper apps.
8. Start Lock Screen
Similar to Microsoft's Next Lock screen, The whole idea behind the start lock screen, is to put a lot of stuff on your lock screen.
Allowing you to do most of your regular stuff, without having to unlock your device. Start Lock screen features web searches, various password locks, widgets, tools, news, weather, app shortcuts, and lots more.
9. AC Display
AC Display is another lock screen app that emulates the always on display. AC Display lets users take a sneak peek of notifications, without having to unlock their devices. It Also has customization features, allowing you to design your lock screen to suit your taste.
10. C locker pro
Last but not the least, just the C locker pro lock screen app for Android. The C locker pro app has support for fingerprint unlock, supports pattern lock, features security selfie, automatically takes selfies after smartphone has been unlocked, for security reasons.
There you have it. You have just been served with the list of best screen lock apps for Android in 2019. If you have other recommendations, feel free to drop them in the comment box below.
Get the most important happenings in your inbox weekly