Following the invention of gadgets with USB C ports, the need for USB C monitors has grown over the years. Today we have a lot of laptops housing USB C ports. A good example of such laptops is Apple MacBooks. They feature only USB C ports. Connecting them to external monitors, require either a USB dongle or better still purchasing a monitor with USB C. In this article, we explore a list of best USB C monitors. This list is stated as follow:
1.
LG 34UM69G0-B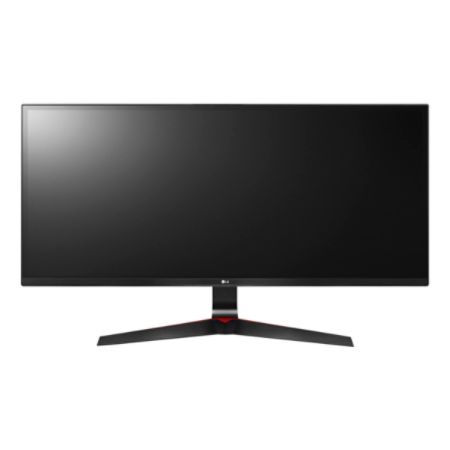 This LG Monitor features a 34-inch flat screen with a 21:9 ratio. This monitor has a screen resolution of 2560 x 1080.  This LG monitor features a 1ms Motion Blur reduction feature, allowing fast-paced visuals to look better.
This monitor features AMD Freesync. This feature ensures that the frame rates on your Graphics card matches refresh rate of the monitor. Its dynamic action is ideal for video games. It also features a black stabilizer option, which keeps dark scenes looking the way they should.
This monitor features a single USV+B-C port, HDMI 1.4 port, and a display port. These ports were featured, to allow users to connect a variety of externals to the monitor.
2.
LG 27UK850-W
The LG 27UK850 is a 27 inch LG monitor, that offers top-notch viewing quality to its users. For starters, this monitor supports HDR10, which is the max level right now for dynamic range. This monitor offers a level of color and brightness that has not been matched. This monitor houses a display with 99-percent of the sRGB spectrum.
Offering premium IPS experience, the LG 27UK850 is deal for photographers, video editor, graphics designers and any professional that cares about color science. This monitor features HDCP 2.2, which allows it to play 4k video from streaming services, game consoles, and Blu-Ray players. The LG 27UK850, has a generous amount of ports, including a USB type C port
3.
HP Envy 34 Curved
The HP Envy 34 Curved monitor, is a monitor designed to fit into the decor of your home, it one of those monitors, that looks so much like an important piece of home furniture. It is very beautiful to behold.
As you might have already guessed, the HP Envy curved monitor is a 34 inch Monitor. It has an aspect ratio of 21:9, which is facilitated by thinner bezels and wider view. The display on this monitor has a screen resolution of 3440 x 1440, with a response time of 6ms. Using this monitor, you are offered a 178-degree wide angle of view.
The HP Envy curved monitor houses Bang & Olufsen speakers on its base. These speakers promise rich sound for music and spoken word. This monitor houses a single USB-C port, a flanked display port, HDMI and two USB 3.0 ports.
4.
Asus Designo MX27UC
Still on the topic of best USB C monitors, the ASUS Designo, is yet another awesome monitor you should look out for. The ASUS Designo, is a 27-inch monitor, with a screen resolution of 3840 x 2160 (4k).
Using the Asus Designo monitor, you are offered with a 178-degree viewing angle. This monitor features Asus Eye care technology, that eliminates screen flickering, and reduce eye fatigue with a blue light filter.  Similar to the formerly mentioned monitor, this monitor features Bang & Olufsen speaker, which will good you good surround sound. The Asus Designo features a single USB C port, a Display port, HDMI and USB 3.1 port.
5.
Dell S2718D
The Dell S2718D monitor is a 27-inch monitor, that features a 27-inch LED display, with a screen resolution of 2560 x 1440 and an aspect ratio of 16:9. It has a nearly borderless design. This design facilitated scarcity in ports on this monitor.
The Dell S2718D features a USB-C, HDMI and a few other ports. The Dell S2718D is also a lightweight monitor, weighing just 6.5 pounds, whereas other monitors usually weigh 10 to 20 pounds.
6.
Acer H277HU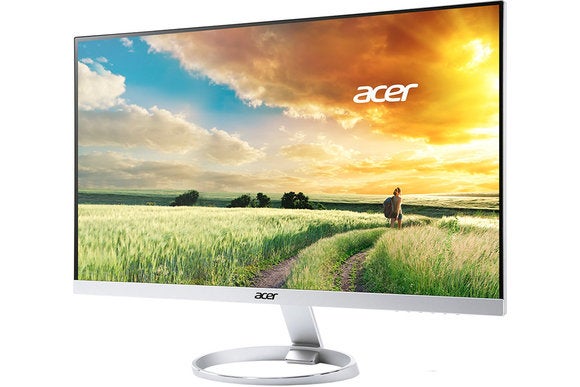 The Acer H277HU is a monitor, designed to be best enjoyed in pairs. It features extremely thin bezels that make pairing look nice. Given the illusion of continuity, without demarcation.
The Acer H277Hu features a 27-inch display, with a screen resolution of 2569 X 1440. it features 100-million to one contrast ratio. This facilitates superb picture quality. The Acer H277HU features a 4MS refresh response time, allowing the monitor to handle fast-moving content. This Monitor houses a USB-C port and a generous list of other useful ports.
7. AOC i160fwux
The AOC i1601fwux features a 16-inch display, with a screen resolution of 1920 x 1080. It features a contrast ratio of 700: 1. It features a generous amount of ports, including a USB-C port, HDMI and many other essential ports. This monitor was designed for portability, allowing you to change its position, without having to bother much about bulk. This monitor weighs around 1.8 pounds.
8. BenQ PD2710QC
Last but not least, is the BenQ PD2710QC. It is a 27-inch monitor, with a screen resolution of 2560 x 1440, it features 2 display ports, one HDMI port, and a USB-C port. It features great viewing angles, and has an SRGB color gamut, allowing it to provide a vivid picture.
There you have it – a comprehensive list of best USB C monitors. If you have other recommendations or favorites, feel free to drop them in the comment section below.
Get the most important happenings in your inbox weekly