Xiaomi, the Chinese tech giant, is expanding on all fronts, and its latest push has seen the company launch the Mi Laser-Short Throw FHD Projector in Ghana, a West African country.
The Mi Laser Projector is not a new product; the first Mi Laser Projector was launched in China in 2017. Since then, Xiaomi has released a series of models that have improved on their predecessors. Android TV is included in the new laser projector launched in India.
Must Read: Infinix Launches 180W Thunder Charge Technology
According to Judging Panel for the Good Design Award, The Mi Laser-Short Throw FHD Projector is the world's first ultra-short-throw projector with advanced laser display (ALPD) technology, capable of delivering up to 150 inches of full HD quality images from a distance of 50 centimeters, with 1500 lumens and a contrast ratio of 3000:1, and a product life of up to 20,000 hours.
The high-tech product employs a compact, minimalist "box" design language, and the host style and Bluetooth remote control design are carefully aligned. You can control the host from any location in the room. The voice assistant quickly locates programs and other interactive ways for the user to bring a new movie viewing experience to the user.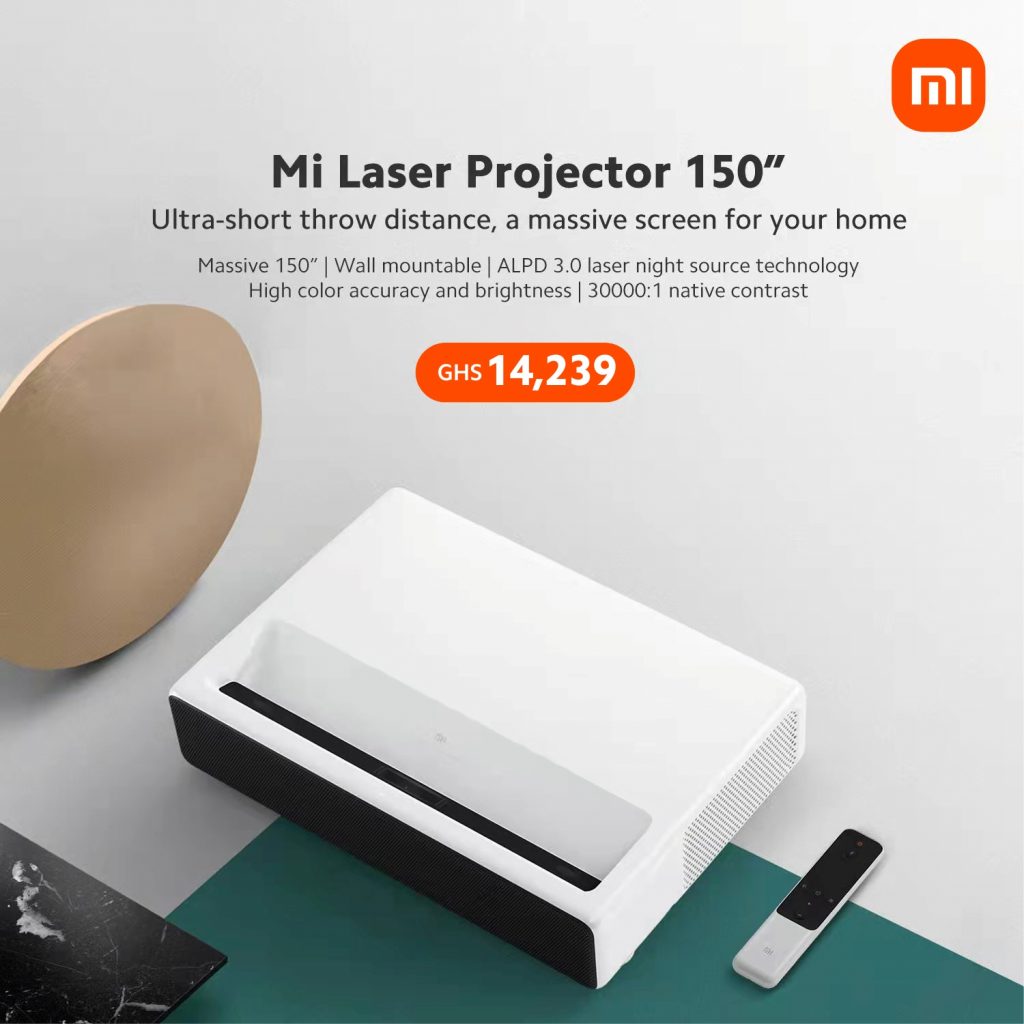 It has a screen that adjusts to any size between 80 and 150 inches. Watching a movie, listening to a concert, or playing a game on a massive screen provides an immersive experience. The 0.233:1 ultra-short throw lens design eliminates the inconvenience of long-distance projection required by traditional projectors. The native contrast is 3000:1, comparable to what you find in commercial cinemas. Colors are vivid and bright, with red light ratios as high as 16-18%, among other outstanding characteristics.
Must Read: Tecno Launches Spark 9T with Helio G37, 5,000mAh Battery
The Mi Laser projector's launch in Ghana is noteworthy since it is the first time the Chinese company has launched a non-smartphone product in the region. Due to their higher quality than other brands like Tecno and Infinix, Xiaomi phones are doing very well in West Africa. If the company increases its marketing efforts, looks into providing after-care services, and opens more Mi stores and experience centers in important regional cities, the brand may soon overtake the market as the leader in that niche. If they are released, Xiaomi's extensive line of smart goods will sell like hotcakes.
The Mi Laser Ultra-Short Throw Projector costs Gh 14,239 (~$1770).