We all need an effective means to remember birthday dates, meet up with deadlines, be up-to-date with appointments, tune in to your favorite radio show, attend a close friend's wedding anniversary e.t.c All this cannot be left to the brain as that guy has enough to do already. Hence the need for mobile apps that can help you to not miss those events and take away your "I forgot." moments permanently. In this article, we are going to explore a list of top free calendar apps for Android
1. Business Calendar
The business calendar app isn't just for businesses only, This calendar caters for referees, freelancers, and students. The app stands out with its unique way of use and display. Moving away from the normal drop down menu, it shows day, week and month and focuses on the amazing swipe to aid navigation. A live search is also available. This calendar gives room for synchronization with other calendars as well.
2. Zenday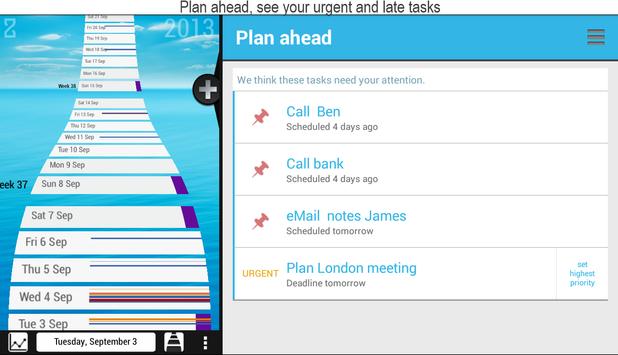 It also serves as To Do list app for Android users. It also has a 3D timeline that makes it easier for you see what you can get done during the day. The app goes as far as showing you what you accomplished alongside what you could've achieved. Taking your time to review this can make you even more productive in the days ahead.
3. Jorte
This is one of the most popular ones on the Google play store. It has been downloaded a lot of times. It is very unique because of its Cloud sync service that lets you manage calendars straight from the web. Jorte's level of customization is highly attractive.
The app's colors, backgrounds, themes can also be tweaked to your taste if you choose to do this. If the background on the app is not good for you, using the app's play store to purchase additional background is also within your reach. For my sports fans out there, downloading your sports team's schedules is a possibility.
4. A-Calendar
The app is great for users that love organizing themselves in a way that prevents the constant need to switch between several screens.
Its swiping feature also makes it easy to navigate between daily, weekly and monthly options. It also allows syncing of photos for anniversaries or birthday. The NFE sharing used for simple distribution of information among a large group can also make life easy.
5. Informant
It might not be as beautiful as you want but it does a decent job. The developers surely focused on the functional side of things ahead of its appearance. Users get to enjoy features like time zone management, weather forecasts, attachable notes e.t.c If you have no qualms using your calendar app on a minimum of two devices, this is the app for you.
6. DigiCal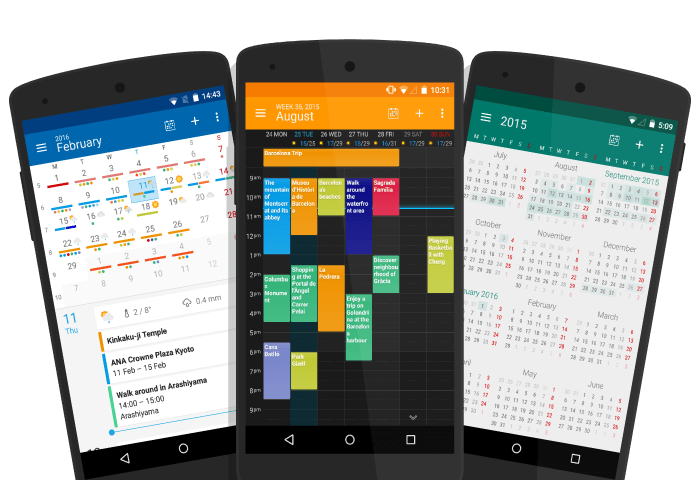 Features include allowing you to download other calendars and having more than 500,000 options to choose from. This app is a planner every day of the week, offers good weather forecasts, syncing with other calendars and the usage of a dark theme.
7. Simple Calendar
The accessibility of this calendar is the reason it has a lot of admirers. It does not allow connections of other calendar apps, instead, all the app's data is saved on your phone and will only request for 2 permissions – contacts and storage – to function. Security freaks should like this level of privacy.
8. Google Calendar
The simple fact that this calendar comes pre-installed on most Android phones makes it an automatic feature on this list. Gmail users need this app.
With the swiping quality that makes navigation go smoothly, to automatically letting you pull events directly out of your inbox to add them to your schedule, the app has shown why it is many user's choices. To cap it all up, you get a broader view of entries and not the regular daily, weekly view that can limit your knowledge of what to expect.
9. CalenGoo
It supports the popular Google calendar and Exchange calendar. Its customization options are also one of the best you'll find around. This app might not offer the extra features we don't mind but one thing it offers is doing the basics in the most effective ways possible. Calendar sharing is also supported. You also get a free trial for 30 days.
10. TimeTree
It doesn't have a lot of features like the rest but it is a go-to app for coworkers, couples e.t.c Its calendar sharing feature is one of the most advanced. Reminders, widgets and invite features also spice things up. It contains adverts but is also free to download and use.
Looking to keep tabs on your schedule, Apps featured in this list of top free calendar apps will do just that. If you have other favorites, let us know in the comment section below.