Do you know you can have beautiful yet intense gameplay with not only a game-pad but also with a gaming mouse? In our list of top ten gaming mouse, we have picked one the best mouse out of best to help enhance your gameplay. These gaming mice are for professional and die-hard gamers. Thus, without further ado, here are the top 10 gaming mouse to buy right now.
1.CORSAIR M65 Pro RGB
Corsair M65 pro-RGB has about 12,000 DPI Optical Sensor with amazing Adjustable DPI Sniper Button (Tunable Weights – black)
If you find games like modern warfare remastered, Battlefield 3 and COD Modern Warfare 3 the M65 PRO RGB is the perfect FPS gaming mouse with the innovation you have to win, easy customization yet effective in your making, and the manufactured quality to last.
This gaming mouse is worth $59.99USD
You can get it at a discount price at Amazon, but it's worth the price. Let's take a look at M65 Pro RGB salient features as following:-
Sculpted with aircraft-grade aluminum: this gives the mouse a lightweight body frame, optimal mass distribution, and perfect durability.
Well-developed tuning system: featured about three movable tuning zones to empower you to redo the weight and set the focal point of gravity of your M65 PRO RGB to suit your taste.
2. Logitech G402 Hyperion Fury
G402 Hyperion Fury is another compelling gaming mouse I highly recommend for hardcore gamers of FPS. It's specifically designed for FPS games because its features permit you an easy to-win-system, qualities of FPS and whatnot.
What made Logitech G402 Hyperion Fury standout?
It incorporates a fusion engine high-speed tracking which provides a standardize sensor technology for ultra-fast gaming.
Featured eight programmable buttons: you're free to customize the buttons to your style of gameplay –customization is at your fingertips.
Comfortable/simply crafted: G402 Hyperion Fury provides extreme comfort for maximum gameplay.
3. Logitech G600 MMO
A gaming Mouse that has RGB Backlit and 20 Programmable Buttons –that made this gaming mouse be on the top-notch of gaming mouse list. With 20 MMO-tuned buttons, one can do lots of things within a fleeting glimpse. This mouse is a machine for full customization and programmability.
It's not just a mouse full of engaging buttons but also, it incorporates a light sync RGB innovation that enables the thumb panel to display fancy light for clear visual –if need be. The light sync RGB has over 16.8 million colors. On-and-off color or simply put on the cycle-color process.
4. Redragon M901 Gaming Mouse
[The Redragon M901 is indeed a dragon mouse wired with laser high precision sensor, 18 buttons for pc games, 24000 DPI, and weight tuning set.
Redragon m901 key Features:-
An 8×2.4 Gram tuning weight.
Over 19 optimized programmable buttons.
Active 16400dpi laser sensor.
12 button< mechanical side buttons.
1000Hz polling rate.
6-foot braided fiber cable.
Has 30g acceleration.
Feature only 5 color modes.
Durable smooth TEFLON feet pads
The USB connector (Gold plated)
A Length: 118mm Width: 75mm Height: 39mm/Product weight: 150g.
The system requires Windows pc with USB port Windows 10, Windows 8 and Windows 7 (others: Windows XP and Windows)
5. Redragon Impact RGB LED MMO Mouse
The Redragon M908 has more intriguing features than M901. M908 is as well designed for die-hard gamers, for intense attacking, accurate aiming & targeting, slashing and more.
In addition, as a pro you need to be armed with the right tool and M908 is professional gaming is your ideal partner.
Dragons are always Comfortable at hands. They always have an aggressive design for hands –for them, comfort is the key. Furthermore, it has a killer precision and a lethal accuracy.
Secondly, Redragon did a sumptuous finish with a high-end design as the mouse features 12 MMO programmable side buttons and 7 major buttons. Thus, this gives room for smoothTEFLON feet pads to come in for extreme control.
6. Logitech G602 Lag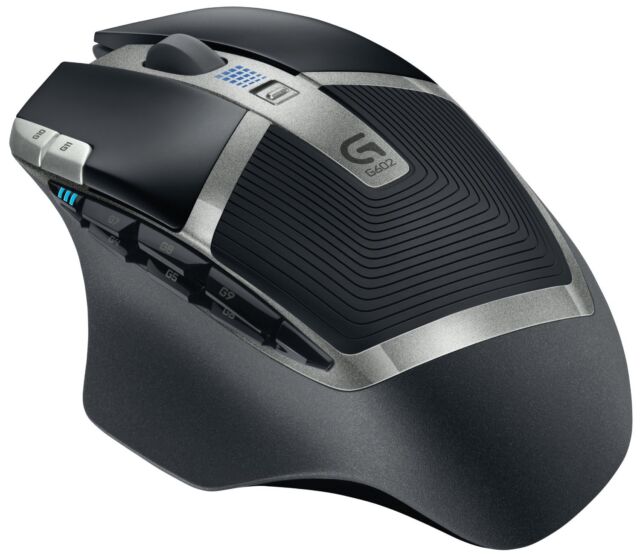 This is a machine of two crucial features barely found in another gaming mouse. Logitech created the G602 and powered it with two standard AA batteries –highly removable if need be for perfect balance and adjustment of weight.
The two salient features are listed below:-
11 programmable controls.
Two modes: performance and endurance: G602 offers two particular working modes. If you Set the mode to Performance and get as long as 250 hours of battery span without losing any gaming-grade abilities.
Not gaming? Change to Endurance mode and expand the battery life much more, up to 1,440 hours.
7. Razer DeathAdder Elite
Razer DeathAdder Elite offer Get 2 years of warranty and access dependable technical support. Buy legitimately from RazerStore and get 14 days free returns if you want
It has been molded perfectly for esports athletes. The Razer DeathAdder Elite has a notable ergonomic mouse structure that top esports competitors use. To remain convinced, it featured a comfortable at long high-octane battles
Razer engineered the mouse in such a way it puts you an advantage in an intense battle. Also, it's designed to redefine the standards of speed and accuracy. With the incredible power of the mouse sensor, you can crush down any competition in-game more readily.
8. Logitech G502 HERO
Logitech surprises gamers with yet another conspicuous gaming mouse with the most accurate gaming sensor ever that has a ground-up architecture and a next-gen precision. Feel free to tune and customize your DPI settings with G502.
11 programmable buttons is another mint quality the G502 has. You can use these buttons to program your favorite commands and macros. Craft, melee, crouch, heal and more. Logitech brings you power moves at your fingertips with tunable weight.
9. Razer Naga Trinity Gaming Mouse
The Razer Naga Trinity isn't just the most-happy gaming mouse I've used, it's likewise the most operational for both gaming and creativity.
It has an OVERWHELMING power. Experience the intensity of complete control in your grasp, regardless of what diversion you play. Intended to give you that edge you need in MOBA/MMO game.
The Razer Naga Trinity gives you a chance to arrange your mouse for everything from weapons to construct customizations so you'll generally be in front of the challenge.
10. Redragon S101
The Redragon s101 is Gaming Keyboard Mouse Combo with multiple buttons. It incorporates the following:-
Progressed Optical Sensor with 3200 DPI (800/1600/2400/3200 4 levels DPI alteration) 3600 FPS, 15G ACC super-quick gaming motor.
Adjustable controls are readily available.
5 programmable catches.
Effectively dole out console keystroke or Multimedia or Windows capacities to any catch with the included Software.
5 Onboard Memory Profiles Set.
There you have it – a comprehensive list of best gaming mouse to buy. If you have other recommendations, feel free to drop them in the comment section below.