Guitars are easy to see in the world we are in but playing them is pretty difficult. Physical classes can be taken to learn, physical private lesson can be useful, you could purchase one for self-lessons, or you can sometimes be taught in church – All these ways are effective if you aim to learn the musical instruments but learning via an app is still what most people prefer. Thanks to advanced tech and our mobile phones, the apps are easily accessed whenever we need them. To get a good Guitar learning app today, read our list of Top 10 Guitar Learning Apps For Android And iOS :
1. Justin Guitar by FourChords
Famously known as best guitar teacher in the world, this app is brought to you by Justin Sandercoe. It can be seen on the Play Store with the name "FourChords." It is regarded as the first app one should get if you are yet to hold a guitar in your lifetime. Its lessons are well-explained and it lets you know all you should about all aspects of learning to play the musical instrument.
There are several useful exercises as well which teaches you all things Guitar. What makes Justin Guitar by FourChords stand out is its record of teaching millions of humans how to play the popular instrument. It is highly recommended by most of the experts in the music industry, which is why it has a top rating of 4.8 out of 5 that has remained consistent for a very long time. You are aided to learn from more than 25 instructional videos as Justin lectures you for over 90 minutes. The app costs you nothing but there are in-app purchases.
2. Yousician Guitar, Piano & Bass
Like Justin's app, this app is also all about the tutorials, letting you in on the best way to learn a musical instrument like a Guitar. This app aids you to learn a different instruments too, like the Piano and Ukulele. Yousician contains lessons from industry professionals and remarkable music teachers, so you are sure the best hands are on deck to teach you what you do not know.
There are 1,500 missions and exercises on the app to learn from, you are given tunes and led on how you can play them. The application provides you knowledge about how to play the Guitar in a short period of time. The app is free initially but to keep learning and getting tutorials, you will have to pay. A device running on Android 4.4 is needed to work with this app. There are no ads.
3. Learn Guitar Chords
This app is all about learning chords to use on a Guitar. It is common knowledge that learning chords is one of the first thing you need to know as you try to learn how to play. Knowing this, the app is essential for your learning process. It provides 23 chords that you can have full knowledge of and there is an advanced version if you fancy more chords. Learn Guitar Chords offers acoustic and electric guitar variations for all lessons. There are 10 million downloads for this app already so it is quite known on Android. It is free but contains ads.
4. Coach Guitar
It offers various colors on its strings. This is useful for beginners and amateurs to learn the instrument in a beautiful and unconfusing way. It guides you through several genres of guitar playing like Pop, Rock, Alternative, Metal, and Country. The owners add new lessons weekly so you can be updated. The app costs nothing but premium versions require an amount. Android 5.0 or higher is the requirement to use this app.
5. Learn Guitar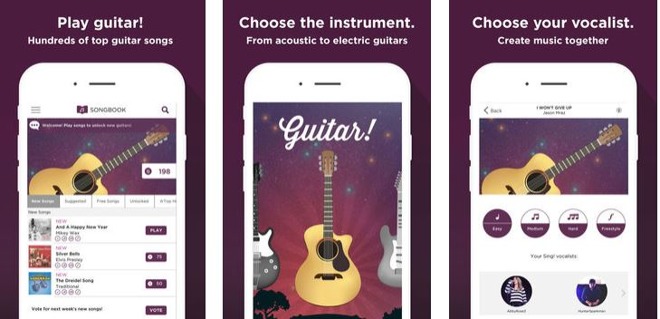 Simple application. Even if it is not as attractive and enticing like the ones already listed, it does a primary, fantastic job. It supports ads, but you can decide to go for an ad-free version. It might not be the best for beginners as it appears like it was developed for those that already have the necessary knowledge. You are taught all the essential chords you need an understanding of. There are no in-app purchases. Users must have Android 4.1 or higher to be compatible with the app.
6. Ultimate Guitar Tabs HD
It has more than one million tabs and chords and comes with a Guitar Tools pack that contains metronome, chord library, and a tuner. This app functions well for learners that are not beginners and even has lyrics if you love the sing along feature. There is also an automatic scrolling feature that is very useful. It is not a free app. Simply put, this app comes with a lot of content and tools for guitarists.
7. Guitar World Lessons
Massive app for learning the musical instrument on the go. There are loads of lessons to choose from plus you also get to select from a list of separate genres like blues, rock, metal, jazz, classical, country e.t.c.
These lessons lecture you on how to play the Guitar like the professionals. It has a dope design plus a search option. Only the first lesson is free on this app.
8. iReal Pro
This application is blessed with a real-sounding band to play with you as you try to learn. It is also responsible for you retrieving and creating chord charts of your favorite songs to reference.
There are 47 distinct styles to choose from, and every style can be personalized individually. There is a recording feature also. There are 50 exercises for learning common chord progressions.
9. Autochords
This app is great for songwriters who have zero clues about what guitar-playing is all about. You can select a progression style and a key that you fancy to play with and the apps take it from there. It displays to you what you should play for your progression. It even suggests other sequences that you might prefer.
10. Guitar Badits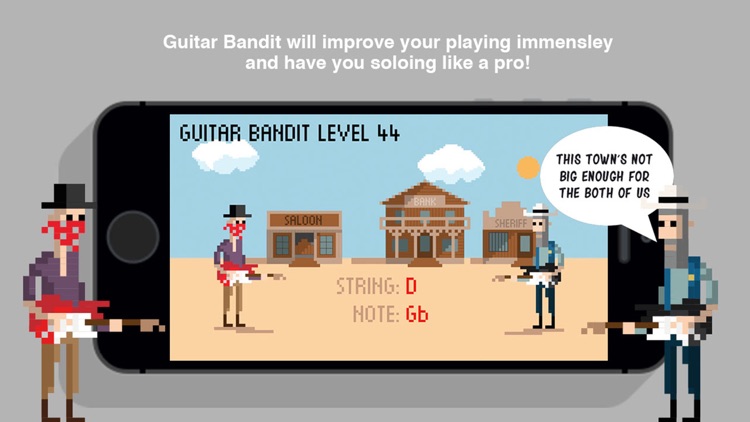 This app is for the rookies, but it has a different twist to it. It helps guitarists to practice notes brilliantly and freshly that aids them to remember these notes easily in the future. In the app, you are to murder zombies, and this is all while you are playing the musical instrument. What this does is to encourage guitarists to have some fun while they pick up a Guitar. Ensure your device is tuned the right way before beginning, for quick results. Play in a quiet environment, so there is no noise-interference.
There you have it – The top guitar learning apps for Android and iPhones. If you have other recommendations, feel free to drop them in the comment section. We would love to hear from you.