If you have spent lots of money on a beautiful watch, it is your duty to keep it organized, accessible, and clean at all times, and original boxes or packaging can surely help with that. If you need some of the best options around, we can help with our list of 7 Best Watch Boxes For Your Watch Collection:
1. NEX 6 Slot Leather Watch Box Display Case:
This little box with a glass screen top will safely hold 6 of your watches in place for as long as you want.
Must Read: 7 Best Wristwatches You Can Buy On Amazon in 2020
It might be too expensive for some, but it comes with waterproof leatherette over an MDF body and it can be purchased in 5 colors. It possesses a locking top as well.
2. Diplomat Ebony Wood Watch Box:
This is a cheap option that is made of dark ebony wood and it can accommodate ten watches at a time.
Must Read: Top 5 Best Fashionable Smartwatches For Ladies
It comes with a clear glass top and plush black leather inserts and its key lock feature definitely stands out. Gold fittings are available as well.
3. Wooden Studio Co. Wooden Watch Box:
This stunning wooden watch box can be bought in your choice of configurations, with space for 4, 6, 8, 10, or 12 watches. To make it more enticing, owners can even select a wooden or glass lid, and each piece is made to order.
4. Commemorative Box:
This watch box is available in your choice of natural or dark cherry, but it is not a dedicated watch box.
Must Read: 5 Best Hybrid Smartwatches
It can easily accommodate a small collection, as well as other commonly used EDC. To cap it all up, it will look amazing on your desk.
5. Windsor 10-Piece Watch Box with Drawer:
This box might be using faux leather, however, it is amazing for a medium-sized collection. It comes with a silver textured silk lining, a valet drawer with 8 ring rolls and 17 jewelry compartments, plus 10-piece watch storage. For its $200 price, it is top value for your money.
6. Men's Oak/Leather Four-Watch Storage Box: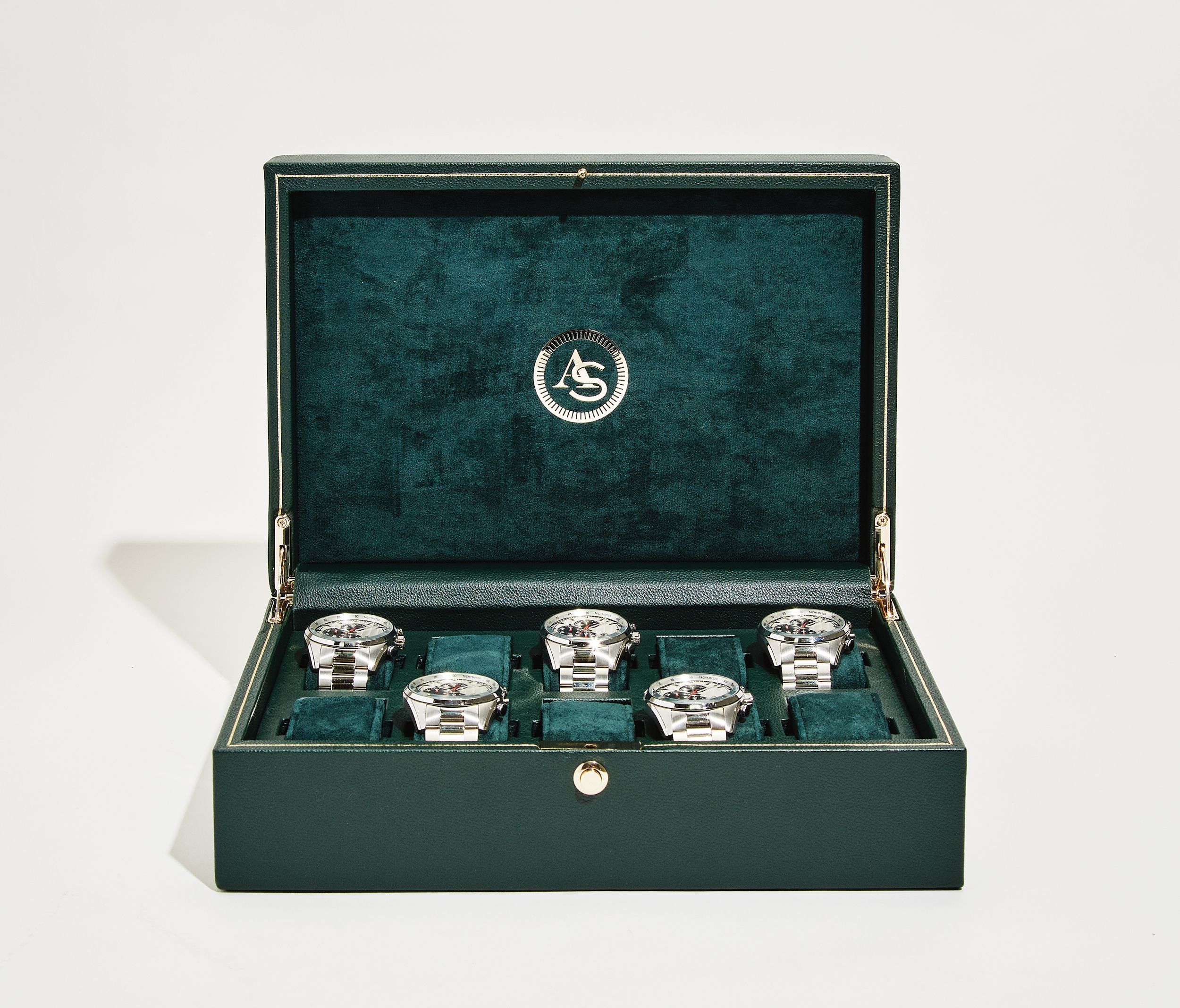 This brilliant box is crafted from oak and it can accommodate 4 leather cushions to store your prized possessions. It also comes with a leather insert on top of the lid for personalizing with your initials. It can be bought in natural wood color or black too.
7. Analog/Shift Flatiron II 5-Piece Watch Box:
Crafted from maple with a walnut inlay and cork and khaki cotton canvas lining, this watch box can house five timepieces at the same time. It comes with brass hardware, miter joints with contrasting hardwood splines, a knurled puller, and a cute gold-foil logo.
More Information On Watch:
A watch is a portable timepiece intended to be carried or worn by a person. It is designed to keep a consistent movement despite the motions caused by the person's activities.
A wristwatch is designed to be worn around the wrist, attached by a watch strap or other type of bracelet, including metal bands, leather straps or any other kind of bracelet. A pocket watch is designed for a person to carry in a pocket, often attached to a chain. The study of timekeeping is known as horology.
Watches evolved from portable spring-driven clocks, which first appeared in 15th-century Europe. Watches were not widely worn in pockets until the 17th century.
One account suggests that the word "watch" came from the Old English word woecce – which meant "watchman" – because town watchmen used the technology to keep track of their shifts at work. Another says that the term came from 17th-century sailors, who used the new mechanisms to time the length of their shipboard watches (duty shifts).
In this article, we explore a comprehensive list of 7 best watch boxes for your watch collection. If you have any personal favorite or other recommendations, feel free to drop them in the comment section below.