Even if we adore the functionality that smartwatches provide, the truth is that the regular, non-smart watches appear way better most times. Because of the competitive market for hybrid watches, you can now purchase one that resembles a regular watch but still provide some of the best features of a smartwatch. If you wish to tap into the hybrid smartwatch fun, see our list of 5 Best Hybrid Smartwatches
1.Withings Steel HR Sport
It comes with a sleek, regular analog design that is filled with lots of vital smartwatch features. Its personalization options are great as well and it can be purchased in several colors. It is unique for its swim tracking, a feature you will not see in most hybrids.
It can also monitor heart rate, predict the maximum amount of oxygen uptake and ascertain your fitness levels. What more do you want?
2. Fossil Q Commuter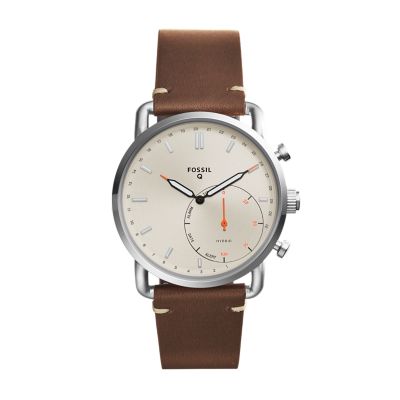 It comes in classic designs for both guys and girls. Fossil Q Commuter possesses special features, lots of personalization options plus precise fitness and sleep tracking.
Must Read: Do You Even Need A Smartwatch
It can aid the prediction of your arrival times through the watch's Fossil Q application for iOS or Android as well. With Maps, this smartwatch will calculate your arrival time at your office or any other destination and the watch hands will move to reveal your time of arrival.
3. Misfit Command Hybrid Smartwatch

It comes with a minimalist design, sports tracking, and several stylish color schemes. It is cheap and snow-proof which gives you value for your money. This smartwatch tracks your sleep quality, steps, and calories but it does not monitor your heart rate.
Must Read: Top 5 Best Fashionable Smartwatches For Ladies
Rather than a digital screen, a subdial reveals indicators for notifications, SMSes and phone calls and will then reveal how close you are to achieving your fitness activity goals for a specific period.
4. Samsung Galaxy Watch
Still, on the topic of best hybrid smartwatches, the Samsung Galaxy watch is another highly recommended one. This one comes with lots of features and it possesses almost all the capabilities of a Samsung Galaxy.
Must Read: 10 Best Smartwatches Under $200
It could pass as a fitness tracker rather than a regular watch. Samsung Galaxy Watch also provides a rotating bezel that can be used to swipe through the screen's menus and to see notifications.
Users that do not joke with their fitness will appreciate the sleep and stress tracking. It also comes with a feature named Samsung Pay, which is useful for getting coffee after exiting the gym.
5. Skagen Connected

It might not be great for fitness tracking like the other ones in this list, but if you want something that is not complicated for measuring steps, calories, distances, and sleep, it can make it happen. Be aware that it has no digital screen, and alerts are gotten through a smooth vibration and movement of the analog watch hands.
More Information On Smartwatches:
A smartwatch is a wearable computer in the form of a wristwatch; modern smartwatches provide a local touchscreen interface for daily use, while an associated smartphone app provides for management and telemetry (such as long-term biomonitoring).
While early models could perform basic tasks, such as calculations, digital time telling, translations, and game-playing, 2010s smartwatches have more general functionality closer to smartphones, including mobile apps, a mobile operating system and WiFi/Bluetooth connectivity.
Some smartwatches function as portable media players, with FM radio and playback of digital audio and video files via a Bluetooth headset. Some models, called 'watch phones' (or vice versa), have mobile cellular functionality like making calls.
While internal hardware varies, most have an electronic visual display, either backlit LCD or OLED. Some use transflective or electronic paper, to consume less power.
They are generally powered by a rechargeable lithium-ion battery. Peripheral devices may include digital cameras, thermometers, accelerometers, pedometers, heart rate monitors, altimeters, barometers, compasses, GPS receivers, tiny speakers, and microSD cards, which are recognized as storage devices by many other kinds of computers.
The software may include digital maps, schedulers, and personal organizers, calculators, and various kinds of watch faces. The watch may communicate with external devices such as sensors, wireless headsets, or a heads-up display.
Like other computers, a smartwatch may collect information from internal or external sensors and it may control, or retrieve data from, other instruments or computers. It may support wireless technologies such as Bluetooth, Wi-Fi, and GPS.
For many purposes, a "watch computer" serves as a front end for a remote system such as a smartphone, communicating with the smartphone using various wireless technologies. Smartwatches are advancing, especially their design, battery capacity, and health-related applications.
There you have it – a comprehensive list of best hybrid smartwatches. If you have other recommendations, feel free to drop them in the comment section below.