Do you need the best AV receiver you can get right now? There are lots of top brands that deliver the best options with amazing feature sets, connectivity options, and performance levels you could ever ask for. If you are a home theater lover and you are searching for Dolby Atmos, Wi-Fi music streaming, voice control, and top-quality audio check out our list of 4 Best AV Receivers:
1. Onkyo TX-NR696:
This is one of the best AB home theater receivers if you do not have lavish cash to spend. It was released last year and it is blessed with lots of connectivity that supports various audio formats plus a decent sound.
Must Read: How To Convert Coax Cable to HDMI
It comes with improved power, a front-mounted HDMI port, DTS Play-Fi, Spotify Connect, AirPlay, and Bluetooth. Its remote control is a bit unnecessary though.
2. Denon AVR-S750H: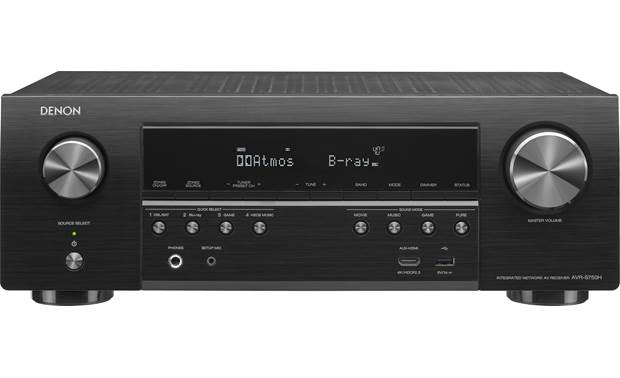 This amazing receiver has all you need, including voice control compatibility through Amazon Alexa and Google speakers.
Must Read: Top 5 Best 4K Streaming Devices
It possesses an on-screen setup assistant that assists with the connection of your television and it optimizes surround sound as well for intense audio experience with your home theater.
3. Sony STR-DN1080:
Still on the topic of best AV receivers to buy. Sound quality is not as great as its rivals with this one, but the difference is not that obvious. It is simple to use and it integrates both AirPlay and Google Chromecast built-in wireless streaming.
Must Read: 5 Best 55-Inch TVs To Buy
This receiver also makes use of virtual speaker relocation tech for the optimization of sound to the room where you set up. It is surely worth every penny you will spend on it.
4. Yamaha RX-V485:
This receiver provides quality sound at a decent price plus Wi-Fi connectivity, Airplay 2, Spotify Connect, Bluetooth, and more music casting from your devices. It is also home to 4K Ultra HD with HDR10, which is very useful if you ask me. If you need the added HDMI inputs and outputs and Dolby Atmos capability, they are guaranteed features here too.
More Information On Home Theater:
A home theater in a box (HTIB) is an integrated home theater package which "bundles" together a combination DVD or Blu-ray player, a multi-channel amplifier (which includes a surround sound decoder, a radio tuner, and other features), speaker wires, connection cables.
a remote control, a set of five or more surround sound speakers (or more rarely, just left and right speakers, a lower-price option known as "2.1") and a low-frequency subwoofer cabinet.
In 2016, they are manufactured by most makers of consumer electronics. Budget HTIB's with generic or lower-price "house" brands (e.g., Best Buy's Insignia line) may be a "2.1" system. Many, however, are a full "5.1" system and some higher-end packages even have a 7.1 system.
Some popular manufacturers of HTIB's are RCA, Philips, Panasonic, Sony, Yamaha, LG, and Samsung, all of which make a variety of mid-price range packages. Bose and Onkyo make higher-end, higher-priced HTIB packages.
HTIBs are marketed as an "all-in-one" way for consumers to enjoy the surround sound experience of home cinema, even if they do not want to or do not have the electronics "know-how" to pick out all of the components one-by-one and connect the cables.
If a consumer were to buy all of the items individually, they would have to have a basic knowledge of electronics, so they could, for example, ensure that the speakers were of compatible impedance and power-handling for the amplifier.
As well, the consumer would have to ensure that they purchased all of the different connection cables, which could include HDMI cables, optical connectors, speaker wire, and RCA connectors.
There you have it – a comprehensive list of 4 of the best AV receivers. If you have any personal favorites or other recommendations, feel free to drop them in the comment section below.