The truth is that your goal weight s just a few taps away. There are
several applications
that will teach you precisely how to have to body of your dreams and all you need to do is install and adhere to the instructions you see. In this article, we highlight the best options to make your dream body a reality. See them on our list of 7 Best Diet Apps:
1. Lifesum: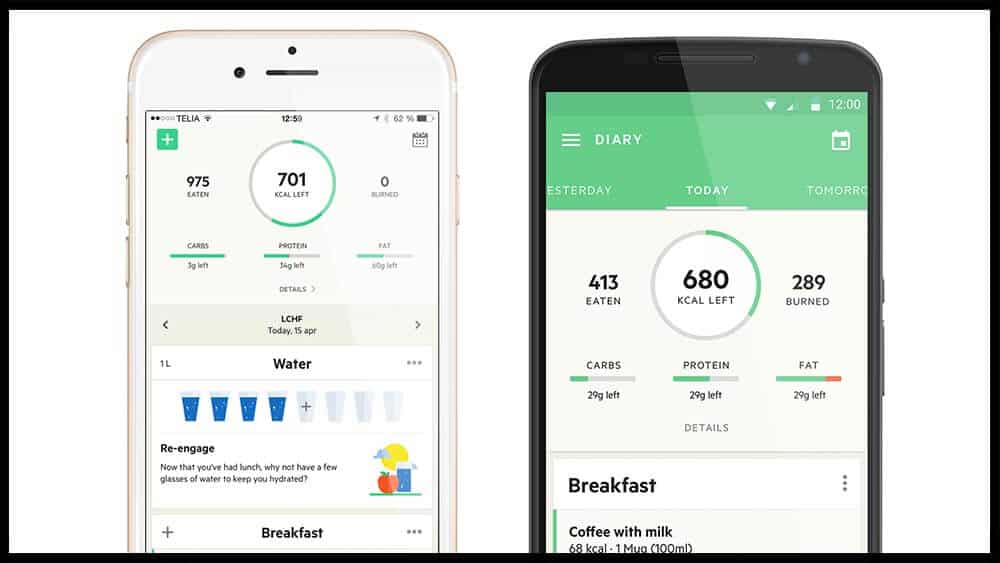 It is a very effective diet application because it teaches users how to mix their diet with other habits to help them achieve their health goals. The app works with all kinds of diet, be it keto, paleo, protein and so on. The life score it comes with is supposed to inspire you to log healthy foods, work out, drink water e.t.c. There are several recipes in it that will help you and Lifesum also support macronutrient and net carb monitoring.
2. Fooducate:
If you are not used to proper nutrition, workout, and wellness, the information you stumble on when you use the internet can be quite overwhelming. Not to worry though, because this application makes healthy eating easier for beginners or nutrition pros.
Must Read: 10 Best Keto Diet Apps for Android
It is filled with several articles, tips on nutrition and workout that makes it less tasking to change your lifestyle habits. It is not just an educational platform, it also helps you to monitor meals and recipes, mood, siesta and so on.
3. Carb Manager:
This is a simple app that monitors calories, net carbs, ketones, blood glucose, insulin, glycemic load e.t.c to really manage your keto diet. Users are also able to track simple metrics like water intake, workout, and body weight. This application analyzes the info and then show you reports on how your diet is aiding your health goals.
4. Paleo (io):
Still on the topic of best diet apps. Paleo lovers no longer have to bother about searching and searching on the web to know if a meal or paleo or not.
Must Read: 7 Best Food Tracking Apps That Should Be On Your Phone
Simply plug the meal you are thinking about into this app and it will immediately search its database of various foods to give you your answer. Its "Eat This" and "Not This" feature also helps users to plan foods and purchase groceries.
5. Lose It!:
Like the name suggests, this application helps users to reach their weight loss goals. Its UI is very simple and user-friendly and it concentrates on calorie counting and weight monitoring.
Must Read: 5 Best Nutrition Apps For You
As soon as you launch the app for the first time, you will have access to several questions about your present weight, age, and health goals. After entering your details, Lose It will create a plan for you to follow, including a recommended daily caloric intake according to your goals.
6. MyMacros+:
With more than 5 million meals in its database, a barcode scanner, a smooth logging component for meals and their weights, this app is surely amazing.
Users will be able to create and save homemade recipes that they use regularly and this will get rid of the problem of doing it every now and then. It lets you log unlimited foods throughout the day and the MyMacros+ app also offers insights on how your diet can affect your goals.
7. PlateJoy:
For most people, food planning is the toughest part about sticking to a healthy diet. With this app, you will be able to resist temptations to eat what will not help your body in any way.
It shows you food plans by nutritionists and professional chefs alongside an organized grocery list that will ensure you do not waste your time through the aisles. Be ready to take a lifestyle quiz that will want to know your taste preferences, health and fitness goals, dietary limitations, allergies and so on.
More Information On Dieting:
Dieting is the practice of eating food in a regulated and supervised fashion to decrease, maintain, or increase body weight, or to prevent and treat diseases, such as diabetes and obesity.
A restricted diet is more often pursued by those wanting to lose weight. Continuous dieting is recommended by US guidelines for obese or diabetic individuals to reduce body weight and improve general health.
Some people follow a diet to gain weight (usually in the form of muscle). Diets can also be used to maintain stable body weight and improve health.
Several diets to promote weight loss have been devised: low-fat, low-carbohydrate, low-calorie, very low calorie and more recently flexible dieting.
A meta-analysis of six randomized controlled trials found no difference between low-calorie, low-carbohydrate, and low-fat diets, with a 2–4-kilogram weight loss over 12–18 months in all studies.
At two years, all calorie-reduced diet types cause equal weight loss irrespective of the macronutrients emphasized.
In general, the most effective diet is any which reduces calorie consumption. Several diets are effective for weight loss of obese individuals with similar results, diet success being most predicted by adherence with little effect of the type or brand of diet.
Dieting appears more effective than exercise for weight loss, but combining both provides even greater long-term results.
Meals' timing schedule is known to be an important factor in any diet. Recent evidence suggests that new scheduling strategies, such as intermittent fasting or skipping meals, and strategically placed snacks before meals, maybe recommendable to reduce cardiovascular risks as part of a broader lifestyle and dietary change.
Some weight loss groups aim to make money, others work as charities. The former include Weight Watchers and Peertrainer. The latter include Overeaters Anonymous, TOPS Club, and groups run by local organizations.
There you have it – a comprehensive list of best diet apps. If you have any personal favorite or other recommendations, feel free to drop them in the comment section below.
Get the most important happenings in your inbox weekly