Do-it-yourself home security is very important nowadays because they allow you to be flexible enough with how and when you want to monitor your home. And with uncertainty with security all across the globe, they will not be out of trend anytime soon. See the best options in our list of 7 Best DIY Home Security Systems:
1. SimpliSafe Home Security:
SimpliSafe has been around since forever and it is a very useful alternative to ADT and other professional firms.
Must Read: Wanting to Make a Smart Home? Start with These 5 Items..
The brand has lots of accessories and they are quite affordable for lots of users. However, you will need to part with a minimum of $15 every month to access any remote security features. Top performance is guaranteed for owners too.
2. Abode:
This brand has several standard sensors and devices for a simple entry-level security system. It connects smoothly with Amazon Alexa, IFTTT, and Nest if you need voice-enabled arming and disarming.
Must Read: 6 Best Smart Home Hubs
You can even add accessories to the system and professional monitoring will cost $30 monthly. Abode is also home to Zigbee and Z-Wave, meaning, users can easily connect the system to a large list of 3rd-party devices to control things from the application.
3. Nest Secure:
This alarm system starter pack is available with 1 Guard hub, 2 Tag key fobs and 2 Detect door/window/motion sensors.
Must Read: 6 Best Smart Security Cameras
Users can easily arm and disarm the system by typing in a PIN code on the Guard's integrated keypad, or by altering the mode in the Nest application. Its Detect sensors help to temporarily disarm one Detect while continuing to track the remaining parts of your house.
4. Ring Alarm Security Kit:
If you need an uncomplicated home security system for a decent value, this is the one to go for. Version 2.0 was launched in 2020 and it works like the original, which is good news.
Must Read: 7 Best Smart Lamps To Buy
It comes with a base station, a keypad, a range extender, a motion detector, and 4 door/window sensors. It also possesses a simple application that can be installed seamlessly.
5. Honeywell Smart Home Security System:
This is a DIY kit and it grants you access to 1080p high-definition live streaming, a 145-degree viewing angle, and free 24-hour cloud storage. Owners can even add to the system with lots of non-compulsory accessories. Professional tracking is not allowed though.
6. Scout Alarm Home Security System: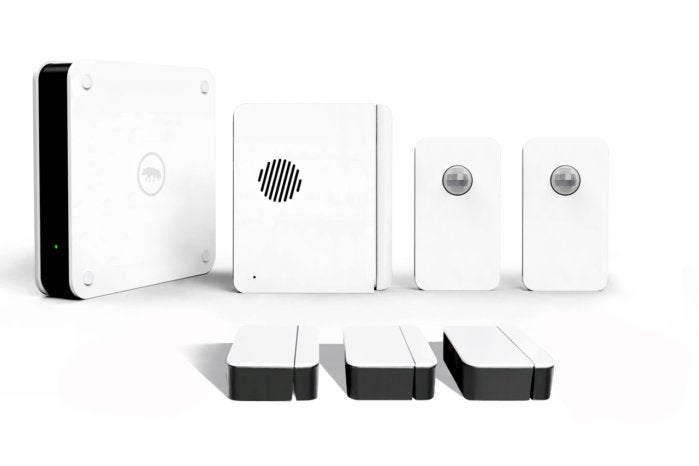 This system comes with a hub, door/window sensor, a motion sensor, and a water sensor. For professional monitoring, cellular and battery backup and other features, you must be willing to part with $10 every month. It functions with Amazon Alexa for arming and disarming, however, the accessories here are quite limited.
7. SmartThings ADT Home Security Starter Kit:
This kit is home to a 7-inch SmartThings panel, 2 door/window sensors and 1 motion detector. Its non-compulsory expansion kit possesses a smoke detector, a carbon monoxide detector, and a water leak sensor too. This brand also comes with a contract-free professional tracking from ADT.
More Information On Home Security:
Home security is both the security hardware in place on a property as well as personal security practices. Security hardware includes doors, locks, alarm systems, lighting, motion detectors, security camera systems, etc.
That are installed on a property; personal security involves practices such as ensuring doors are locked, alarms activated, windows closed, extra keys not hidden outside, etc.
According to an FBI report, 58.3 percent of burglaries in the United States involved forcible entry. Per the most recent statistics, the average burglary in the United States lasts for about 90 seconds to 12 minutes and, on average, a burglar will break into a home within 60 seconds.
Most thefts target cash first followed by jewels, drugs, and electronics. Common security methods include never hiding extra keys outside, never turning off all the lights, applying small CCTV stickers on doors, and keeping good tabs with neighbors.
One main component to home security is finding an area for easy programming and interaction for users. A control panel is implemented to arm and disarm a home security system.
The control panel is the main connection to the alarm company monitoring a home. It typically features a touchpad or buttons to easily maneuver the system, and some newer systems also feature voice control or wireless remotes (key fobs).
There you have it – a comprehensive list of 7 best DIY home security systems. If you have any personal favorite or other recommendations, do well to drop them in the comment section below. We would love to hear from you.