Golf is a beautiful sport and with legends like Tiger Woods, the best players in the game definitely earn the respect they deserve for playing their part on and off the pitch. If you love what Golf is all about and you need gadgets to help you improve, see 5 Best Golf Gadgets In July:
1. Bushnell Tour V5 Shift Patriot Pack Laser:
Bushnell is guaranteeing even more clarity and enhanced slope tech to their Tour V5 Shift. This improved slope algorithm provides a more apt display of slope, giving every player an amazing understanding of the course ahead of them. It possesses a built-in BITE Magnetic Cart Mount and a newly designed premium carry case. Every rangefinder also comes with CR2 battery and it spots 6x magnification that will reach targets up to 400+ yards.
2. Garmin Approach S42 Watch: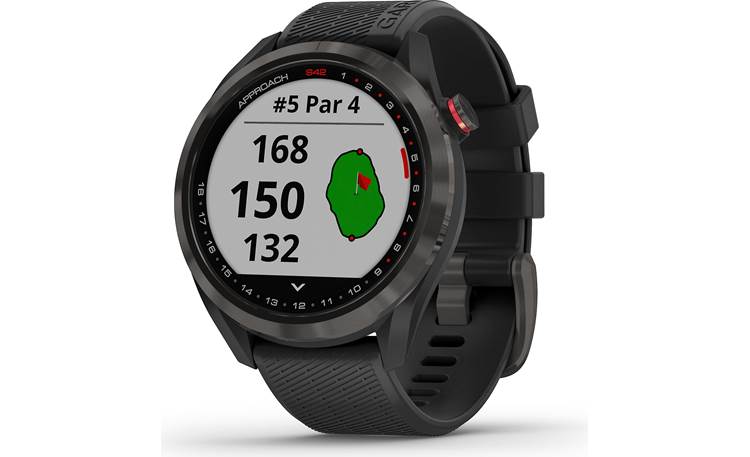 This GPS golf smartwatch puts information from more than 42,000 CourseView maps all across the globe on your wrist. In fact, its Green View feature aids manual pin positioning, therefore you can quickly reference distances to the front, middle, and back of the green, plus hazards and doglegs.
Must Read: 6 Best Garmin Watches For Running And Cycling
The AutoShot round analyzer even measures and auto-records detected shot distances for more automatic game tracking capabilities. You can also pair with the Garmin Golf app to participate in leaderboards and tournaments to gain more insights into your game.
3. Theragun Mini Percussive Therapy Device:
This one is powerful and portable, and it provides quality deep muscle treatment.
Must Read: 7 Best Massage Guns To Buy
It comes with an ergonomic grip, 3 speeds, and a proprietary brushless motor with QuietForce tech. A one-year warranty is included here.
4. Rokform G-Rok Wireless Golf Speaker:
Still on the topic of best golf gadgets in July. This is a brilliant Bluetooth speaker that immediately sticks to a golf cart and other metal surfaces through a super heavy-duty magnet while entertaining you.
Must Read: 7 Best Third-Party Google Assistant Speakers
This dope Golf speaker guarantees a 24-hour battery life, 30-foot range, and it is waterproof and dustproof.
5. Precision Pro NX9 Slope:
You just have to experience the super clear optics and high-speed measurements of the Precision Pro NX9 Slope Rangefinder. More features include pulse vibration to allow you to feel when you hit target.
It also guarantees target acquisition for precise measurements to the flag, and adaptive slope for elevation measurements. It comes with 2 years warranty.
Wrapping up
Now that you have been served with a comprehensive list of 5 of the best Golf gadgets in July, you can now proceed to take your Golfing up a notch. If you have any personal favorites or other recommendations, feel free to drop them in the comment box below.
More Information On Gadget:
A gadget is a small tool such as a machine that has a particular function, but is often thought of as a novelty. Gadgets are sometimes referred to as gizmos.
In the software industry, "Gadget" refers to computer programs that provide services without needing an independent application to be launched for each one, but instead run in an environment that manages multiple gadgets.
There are several implementations based on existing software development techniques, like JavaScript, form input, and various image formats.
The earliest documented use of the term gadget in context of software engineering was in 1985 by the developers of AmigaOS, the operating system of the Amiga computers (intuition.library and also later gadtools.library).
It denotes what other technological traditions call GUI widget—a control element in graphical user interface. This naming convention remains in continuing use (as of 2008) since then.
It is not known whether other software companies are explicitly drawing on that inspiration when featuring the word in names of their technologies or simply referring to the generic meaning. The word widget is older in this context.
In the movie "Back to School" from 1986 by Alan Metter, there is a scene where an economics professor Dr. Barbay, wants to start for educational purposes a fictional company that produces "widgets: It's a fictional product."