As you already know, video editing requires fast data transfer speeds compared with photo editing as video files are always much larger than still images. Therefore, when getting into video editing properly, it is never just a case of getting the cheapest hard drive around. See the best options to go for in our list of 5 best hard drives for video editing:
1. SanDisk 2TB Extreme PRO Portable SSD V2:
This is a very portable SSD and it guarantees fast transfer speeds of up to 2000MB/s, a USB-C connection with USB 3.2 Gen 2×2 speeds, plus it is small enough to slip into your pocket. It features a handle in which to fit a carabiner to attach it to another kit or a backpack, and it is designed to be rugged and water-resistant, with two-meter drop protection and an IP55 water/dust ingress rating.
2. G-Technology 1TB G-DRIVE Mobile Pro SSD:
Using a speedy Thunderbolt 3 connection, this portable SSD can transfer data at up to 2800MB/s, which is fast enough to multi-stream 4K and 8K footage at full frame rates without issue. You also get a 5-year limited warranty on these drives and it is both Mac and Windows compatible.
Must Read: 5 Best Cloud Storage Devices For Your Home
Even if there is no waterproofing, it can withstand a three-meter drop and is crush-proof at up to 1000lbs, so there shouldn't be an issue with water damage.
3. LaCie Rugged USB-C 4TB External Hard Drive:
This is a traditional spinning disk hard drive and it is built to withstand anything you can throw at it. Housed in LaCie's iconic orange rubber protective barrier, the hard drive is protected from drops up to 1.2m and is IP67-rated for protection against the elements such as water and dust. It is even crush-resistant up to 2205lbs.
4. SanDisk Professional G-RAID 2 8TB 2-Bay RAID Array: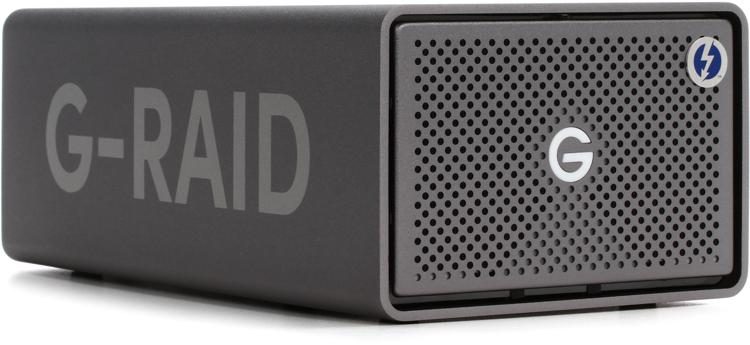 This dual-drive hard drive is perfect for home or in-studio use since it is rather large and has no weatherproofing to protect it from the elements outdoors.
Must Read: Top 10 Best Video Editing Software for PC
It is both RAID 0, RAID 1, and JBOD compatible which makes it effortlessly flexible to a range of users whether the priority is quick to transfer, vital and instant backups, or added storage space.
5. LaCie 2big Dock Thunderbolt 3:
For users that need fast backups and quick video transfer speeds, whether straight from the camera or from a standalone memory card, this hefty device has you covered.
Must Read: 5 Best Video Editor Apps for Android
Three Thunderbolt 2 connectors are complemented by a USB 3.1, USB 3.0, SD, and CF card ports. It also guarantees a DisplayPort connection for more versatility.
wrapping up: 
There is a whole lot of options available out there, but I am pretty certain the ones featured in this article are on the best hard drives for video editing.  If you have other recommendations or personal favorites, do let us know in the comment section below.
More Information On Gadgets:
A gadget is a small tool such as a machine that has a particular function but is often thought of as a novelty. Gadgets are sometimes referred to as gizmos.
In the software industry, "Gadget" refers to computer programs that provide services without needing an independent application to be launched for each one but instead run in an environment that manages multiple gadgets.
There are several implementations based on existing software development techniques, like JavaScript, form input, and various image formats.
The earliest documented use of the term gadget in the context of software engineering was in 1985 by the developers of AmigaOS, the operating system of the Amiga computers (intuition.library and also later gadtools.library).
It denotes what other technological traditions call GUI widget—a control element in the graphical user interface. This naming convention remains in continuing use (as of 2008) since then.
It is not known whether other software companies are explicitly drawing on that inspiration when featuring the word in the names of their technologies or simply referring to the generic meaning.
The word widget is older in this context. In the movie "Back to School" from 1986 by Alan Metter, there is a scene where an economics professor Dr. Barbay, wants to start for educational purposes a fictional company that produces "widgets: It's a fictional product."