Are you in need of crayons? If you own an Android or iPhone, there are several amazing coloring fun for your children or the kids-at-heart. Color by number, 3D coloring are all catered to with these applications whenever your kid wants to engage in coloring. Here is our list of Best Kid Coloring Apps:
1. Coloring Book of Dogs
This app is for whoever fancies dogs. Users will be able to color images of well-known puppies and even use a blank page to draw anything they fancy. It will definitely give you several hours of entertainment for all ages. The app functions well on a MacBook and iPad. It is free for iPhone but there are in-app purchases.
2. Colorfy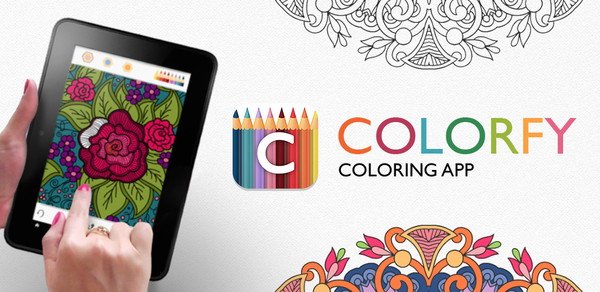 This is an app that focuses on the little details. It is popular for its high-quality pictures and gallery. It comes with a special virtual gallery, letting you see your artwork in the real world. Colorfy possesses a premium option that will unlock several coloring pages for unlimited entertainment. It is free for iPhone and Android devices.
3. Zen Coloring Book
This is a brilliant coloring book if you just want to relax. The lifelike color will be darker as you hold down your finger or mouse, and the designs are enticing enough to draw your children close. With this app, users can color on various textures like canvas, leather, brick, and silk. It will cost you something for Android but free for iPhone.
4. Recolor
This is another special coloring app. It lets you color flat pictures and color flat for your entertainment. A large selection of colors and ways to play it gives every age group a special experience.
Must Read: 7 Amazing Ways To Boost Your Creativity Instantly
With more than one thousand stands out images, this app will ensure your children are kept busy for a while. Its unlimited subscription provides new daily pictures and will unlock the full catalog for your enjoyment. It is free for iOS and Android.
5. Color by Number Coloring Book
This book gives you coloring and learning at the same time. Just click on any color you wish to begin with and color the corresponding pixels. For children, it makes them learn number recognition. For older children, it is a good way to kill boredom. The app is free for Android and iPhone.
6. Pigment
This is a useful way to be inspired. It comes with a built-in gallery that can be used to see artwork from across the globe.
Must Read: Best Apps For Apple Pencil
Users can color their own pictures, have it shared online and have it saved to be used in the future, whenever they want. This app has 24 different pencils, markers, and brushes, plus the biggest image library available. The app costs nothing on iPhone and Android.
7. Toonia Colorbook
Kids should love it. Whenever they color in a spot on their page, stars on the display will mark their victory. It comes with songs, cute characters, and a very decent coloring page that suits small hands. The app aids multi-touch, meaning your kid color with their friends as they also learn to share.
8. Color Coloring Book
It provides a fresh coloring experience with space colors and neon that will make the pictures pop. Children will appreciate the way their images sparkle.
Must Read: Top 4 Best Photoshop Alternatives for Designers
If you are through with coloring, your work can be added to your phone screen seamlessly with the app. You can also be a premium subscriber if you have money to spare.
9. Voxly
Still, on the topic of best kid coloring apps, Volxy is another app, you totally wanna check out. This app brings coloring to life in complete 3D. With simple colors by numbers, you will be able to create 3D images that feel like they will pop right off the display. It simplifies the process of sharing your artwork with friends and family via Instagram, Facebook, and messaging apps. It is free for iOS and Android.
10. Disney Color and Play
This app brings your favorite Disney characters to life. It has some playrooms that feature your preferred characters. Additional playrooms can be purchased. The app is free for iOS and Android and there are in-app purchases.
There you have it – a comprehensive list of best kid coloring apps. If you have other recommendations, feel free to drop them in the comment section below.